Launched in 2013, the Honda PCX made scootering stylish and fun, as evident by good sales in developed countries such as North America and Europe, where it is sold in variants ranging from 125cc to 153cc.
The latest iteration of the PCX assembled by Boon Siew Honda Sdn Bhd here sports a 149cc engine, making it road-tax free for Malaysian riders.
Like all other modern scooters, the PCX comes with a dry type automatic centrifugal clutch mated to a continuously variable transmission (CVT), promising convenience and superb fuel economy.
In my extended testing of the PCX lasting close to 10,000km, the system really delivered: the "worst" consumption figure I got was 42km per litre (kpl) of RON95, and the best, close to 48kpl.
Average consumption for city riding under heavy traffic yielded an average of 44kpl, putting the PCX as a good long range ride as it comes with an eight litre fuel tank.
And all there are achieved without even resorting to another fuel-saving feature called the idling stop feature, which puts the engine is "sleep mode" when it is idle for more than three seconds.
I found this feature disconcerting, and turned it off as I also wanted to ensure the battery remains in a good state of charge, given that the PCX does not come with a kick starter as backup.
Strangely, riding on expressways did not improve consumption figures, given the scoot was running at full throttle.
It is easy to hit full throttle riding this scooter as it is not designed for top speed - the PCX struggled to hit 110kph even on a downhill incline as there is a built-in speed limiter.
The PCX is not built for expressway speeds, but that is fine as most of my rides are below 90kph.
The PCX boasts a host of innovations found in the more luxurious two-wheelers, such as an anti-theft alarm, LED lights and indicators all around, and a beautiful, uncluttered LCD instrumentation panel with clock, digital tripmeter and fuel consumption tracker (there is no tachometer though, while speedometer remains analogue).
Underseat storage space is good, with no hassles involved when one needs to stuff a full-faced helmet.
There is also a helmet hook for putting a second helmet securely, so there is a lot of thought that went into making this scooter a commuter-friendly one.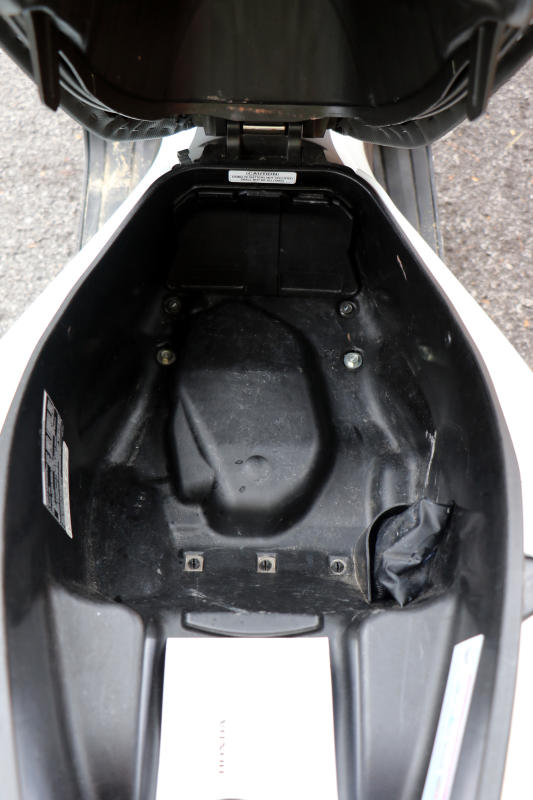 There is also no need to hold the seat when accessing the storage space as the seat is fitted with a hinge that will keep it upright as long as you need it to be.
The icing on the cake would be a lockable 12-volt adaptor for charging devices such as phones and GPS units.
Overall, built quality is good, and the pearl white finish is gorgeous (the other colour is Candy Red).
The combined braking system (left lever operates front and rear brakes simultaneously) is adequate for bringing its mass of 131kg to a stop (for more on this brake system, go to world.honda.com/motorcycle-technology/brake/p4.html)
Incidentally, another fun aspect of a CVT scoot is not having to oil any drive chain at all, which also makes for a cleaner experience when inflating the rear tyre.
The Achilles heel of the PCX is its suspension, especially the pair of rear shocks, which feels like jelly.
Many riders have gotten around this weakness by replacing them with aftermarket parts to gain a more acceptable ride feel, and I am strongly considering this option.
My other complaint is the slightly odd placement of the horn button, which to me is a departure from the "normal" Japanese switch configuration.
The handlebar is also slightly too wide for manoeuvres through extremely heavy traffic - it touched car side mirrors a couple of times - so one would have to exercise extreme caution or patience.
Like all good things in life, there is a price to pay for all these, and the PCX will set one back by RM11,340.94 with GST.
The PCX is expected to face some serious competition when Yamaha's 155cc NMAX hits the road next month, priced at RM8,812.84.
But until then, the PCX remains the king of the 150ccc scooter segment.
If you have more cash to spare, the 299cc Kawasaki J300 scooter is now available for RM31,489.