Twin-cylinder bikes are a good choice for those upgrading from 250cc or smaller rides.
In-line four engines, where four cylinders are lined up alongside each other in a straight line, are known for their smoothness.
However, their complexity means that production costs are higher.
With two cylinders, production costs can be lower, but the fun factor is not any less.
In fact, in-line two-cylinder engines produce more torque at lower rpms, and that is why they are still around today, especially when they come from Kawasaki.
In 2006, Kawasaki Inc introduced a 649cc parallel-twin engine called Ninja 650R Sport that pumped out around 65hp and 61Nm of torque in North America.
In Europe, the same bike was marketed as ER-6, in both faired and naked versions.
When the ER-6n made it into our shores in CKD form in 2010, there was such an agonising waiting period for delivery, so much so that some compared it to the wait for a Proton when it was first launched 30 years ago.
The overwhelming reception is understandable, given that there were not many motorcycles above 500cc priced below RM35,000 (the price had crept up slightly since).
The in-line twin is a proven formula, and I had lots of good memories with the first in-line twin I owned – a Kawasaki ZZR-250.
Nine years later, I am glad to report that the ER6 still remains relevant, with its refreshed look keeping up with the times.
The 2012-2014 model retains all the goodness that made the bike successful, and all the incremental enhancements only serve to retain its appeal across a broad audience.
The ER-6n's muscular appearance is matched by a reasonably responsive and torquey engine, which in this case is a liquid-cooled, DOHC, 8-valve engine that delivers where it matters.
The bike is all about fun and easy handling, though this by no means suggests that only novice riders should look at it.
The parallel-twin powertrain produces just enough amount of power and torque so that nearly all of them could be extracted by most riders, without bordering on outright dangerous behaviour on public roads.
The good weight distribution of the bike contributes to its agility when maneuvering tight spots, such as between cars in a traffic jam, or cruising and looking for a parking spot. However, the relatively beefy feel, no thanks to a curb weight of 204kg, is a mild liability when you have to push it around.
Thankfully, Kawasaki had the sense to build in a pair of functional grab bars, so I was never in any danger of dropping the bike when pushing it.
The ER-6n is considered rider-friendly to the extent it is now almost the default choice for driving schools, though I did my test on the now-discontinued Yamaha Virago 535 in the pre-ER-6 days.
At 1.64m, I felt at ease with the bike, which has a seat height of 805mm.
I get the feeling that I was one with the bike; as though it was designed just for me.
Other things that tick the boxes that matter to me are the dual tripmeters, other than the odometer.
At its worst, the bikie still returned at least 21km per litre of RON95, which I suppose is okay for a bike of this weight.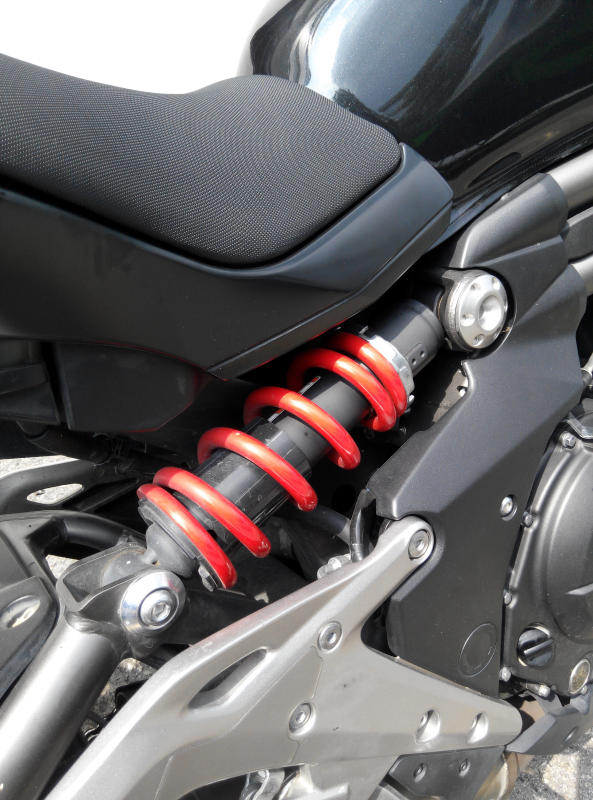 The seat is comfortable, and that goes for the pillion as well (wifey gave her full approval for this one).
Shifting is reasonably smooth, and I don't remember encountering false neutrals during my test.
The 16-litre fuel tank is nice as it minimises the need to refuel.
The design of the fuel tank inlet is also practical as it allows me to easily observe the level of fuel when the tank is about to be full.
Topping the cake for me is what I consider to be the best helmet hook design I've seen in a long time.
Engineers who need to know how to make a proper helmet hook should take a serious look at this fine example.
That said, this bike is by no means perfect.
Attempting to inflate the front tyre proved nearly impossible as the massive twin-discs get in the way.
In the end, I managed, but that proved to be a sweaty struggle to connect the air pump nozzle with the valve.
Available in black and red, the ER-6n costs RM35,039 nett.
Due to widespread adoption by Malaysians, many fine used examples are also around for less than RM20,000.
Riders here have a lot to be thankful to Kawasaki for the ER-6n, as it has opened the way for them to move up confidently from 250cc or smaller motorcycles to something that rightly belongs in superbike territory.