Believe it or not, the Kawasaki Ninja H2 SX SE is able to clock 0 to 100kph in just below 4 seconds. And I am a living witness to it.
This is the fastest bike I have ever ridden. If you are afraid of high speed biking, don't even bother trying out the Ninja H2 SX SE.
Riding the Ninja H2 SX SE and not pushing it beyond 200kph is a sin. The H2 SX is categorised as a touring motorcycle.
However, the sitting position on this bike is more aggressive than any other touring bike.
The riding position for the Ninja H2 SX SE was designed with both sport riding and comfort in mind.
Under the H2 SX line-up, there are three different variants - the base SX followed by SX SE and the finally SX SE+. The engine and tuning remain the same across the platform.
The Ninja H2 SX SE's riding position offers a more relaxed bend for both the elbows and knees.
Realising high-speed performance with an upright riding position is difficult to achieve, the bike was given superb wind protection and a riding position more comfortable than that of the Ninja ZX-14R.
The position is good for both in-town riding and long touring, while still enabling the rider to enjoy sporty riding on the hills.
The suspension delivers a combination of ride comfort and sport performance ideal for street riding and touring.
Both front and rear suspension are fully adjustable, allowing me to get my desired riding style and conditions.
Also, a remote rear preload adjuster allowed the bike to accommodate a passenger and/or luggage.
This 988cc supercharged in-line-four made me realise how it feels to have a powerful motorcycle at my disposal.
It is true what they say that with great powers comes great responsibilities.
This bike comes with a full-fairing bodywork which contributes to both wind protection and the Ninja sporty looks.
A must mention here is the instrument panel. The advanced, high-tech design of the instrumentation contributes to the Ninja H2 SX SE flagship-level quality.
The analogue-style tachometer is complemented by a full digital screen and Kawasaki's first use of a high-grade full colour two selectable display modes (Touring, Sport) allowed me to prioritise the information that I want to see depending on the kind of the setting I was on.
On the highway, I decided to twist the throttle gently. Every twist of the throttle launches me off like a missile.
On the Karak Highway towards Genting Highland, I could go way beyond the legal speed limit effortlessly after three upward gear shifts without realising it. I dropped my speed to the legal limit as I was on public road.
The gear change and the clutch play were seamless and smooth. Every upward or downward gear shift was blissful.
This bike has been designed to deliver power in a more linear manner for better low and mid-range performance.
Despite a long distance ride on a hot day. I did not feel any heat around my leg area.
The heat management on this bike was awesome and Kawasaki claims that the design of the frame on the machine allows the hot air pass through quickly rather than lingering around the engine area.
I also experienced a bit of the wind hitting my helmet at high speed, thus making my head bob a little.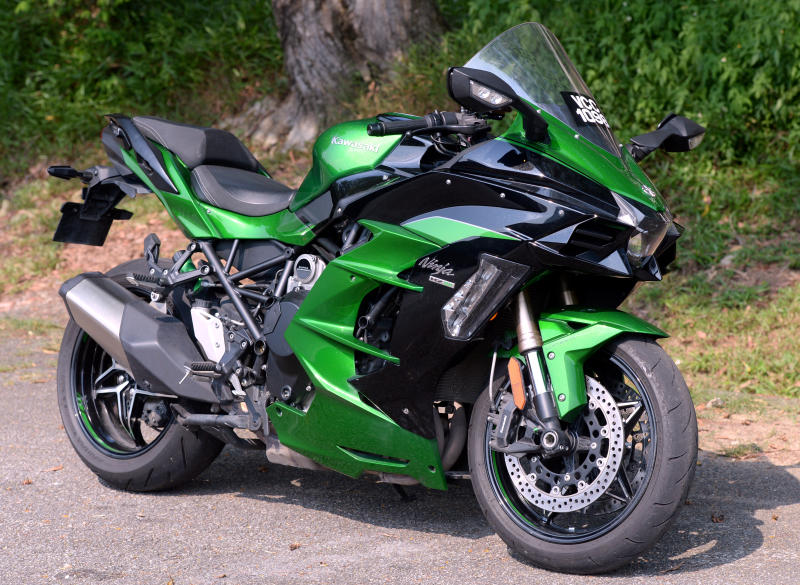 But few of my other friends who rode this bike, never had a problem like this. The SE variant has a bigger screen compared to the base model.
The Ninja H2 SX SE comes with fully loaded with array of rider's aid. Few might complain that it is complicated. But believe me, it took me about 10-15 minutes to understand how to work these aids.
Among the rider's aids are the Kawasaki Traction Control which has three levels and followed by three power modes – Full (max power), Middle (75% of max, milder throttle response) and Low (50% of max, mildest throttle response).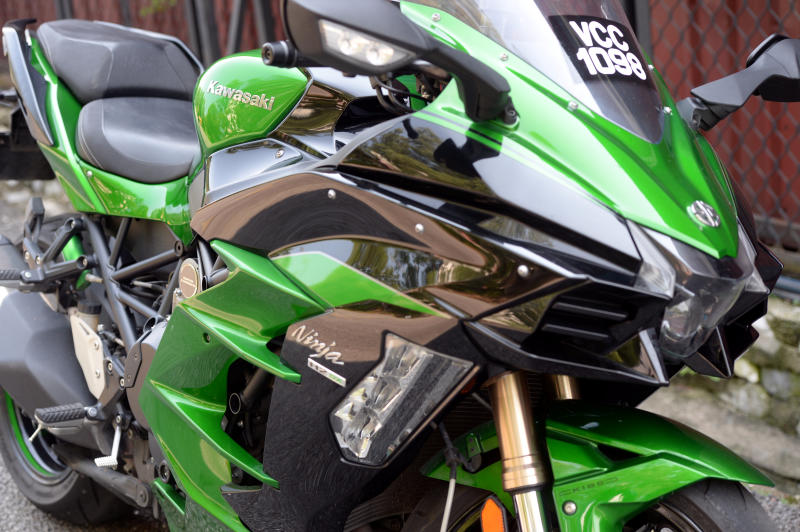 I preferred the Middle power because I was in control of the machine compared to the Full. Full is meant to be on the tracks and apt for speed demons.
Not to forget the cornering lights and launch control are switchable and even engine braking are adjustable. During my ride to Lumut on the backroads of Bidor, I rain into heavy rain. The bike did well in all the corners and bad roads.
In every corner the bike was planted, the rear slide was under control. And the minute the bike was out of the slide, the rear wheel regained enough power to exit the corner as I turned on the throttle.
This whole experience was awesome... you can't see but you can feel Kawasaki's technology at work here to keep me safe. This bike has been dubbed as one of the fastest sports tourers on the streets.
With such reputation, one will be very careful managing this beast. But the reality is this machine is nimble and easy to use. One must get used to the abundance of power it can offer.
Priced at RM128,686 (without SST), this bike is not only for those who are fond of high speeds but to those who thrive on speed.
This is one bike that feels at home around corners as well as straight roads.
SPECIFICATIONSKawasaki Ninja H2 SX SEEngine:
998cc, liquid-cooled, supercharged in-line four
Maximum power:
200hp at 11,000rpm
Maximum torque:
137Nm at 9,500rpm
Transmission:
Six-speed
Front suspension:
43mm USD fork, fully adjustable, 4.7-in travel
Rear suspension:
Uni-Trak single shock, fully adjustable, 5.5-in. travel
Front braking system:
Dual 320mm semi-floating discs with 4-piston monoblock calipers, ABS
Rear braking system:
Single 250mm disc with 2-piston calipers, ABS
Fuel capacity:
19 litres
Range:
331km
Wet Weight:
260kg
Features:
Electronic cruise control, Kawasaki Engine Brake Control (KEBC), MU-based Kawasaki Corner Management Function (KCMF), Kawasaki Traction Control (KTRC) and; Kawasaki Intelligent Anti-Lock Brake System (KIBS), ABS, LED cornering lights and Kawasaki Quick– Shift.
Price:
RM128,686 (without SST)