Besides pleasing to the eyes, Moto Guzzi's retro-designed motorcycles are also delightful to ride.  The V9 Roamer is one example.
MOTO Guzzi is one of the oldest motorcycle brands in the world.
The brand made its presence to the world in 1921 and was synonymous with racing - winning many championships.
Fast forward to the 21st century and Moto Guzzi has been trying hard to capture their own legion of riders.
Slowly but surely, this Italian brand is getting some traction.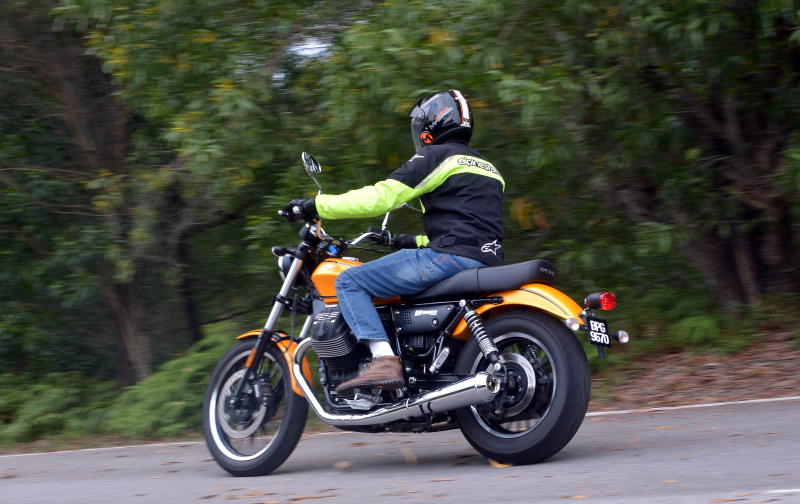 On our shores, Moto Guzzi's exclusive distributor in Malaysia, Didi Resources Sdn Bhd is working very hard to build up the brand's name.
In line with this, Moto Guzzi in Malaysia has brought in the latest models, such as the V9 Roamer, V9 Bobber, V7 Stone and V7 Racer.
I got the opportunity to review the all-new mid-size V9 Roamer recently with its deliberately slanted 853cc engine that's faithful to the brand's unique engine placement.
At first glance over the bike, you will notice the retro-looking design with a dash of modern influence, making it relevant to the present trend.
Overall, the whole design of this Italian bike is eye-catching.
The unit I rode was in striking yellow with matt black wheels.
The upright riding position is comfortable and the foot pegs are a bit more rearward, thus giving me a comfortable sitting posture and more space to move around on the wide yet firm saddle.
There are also plenty of room for the pillion and ample space for leg movements.
The handle bar is wide and allows you to stand for a bit if you need to ease the strain on your back.
In fact, such a handle bar is very useful if you intend to take this bike through some mild off-road sections - but of course it'd be best to change the tyres to knobbies.
Meanwhile, the instrument panel is of a retro design that's complemented with useful information for any rider.
It comes in a classic round housing and features an analogue speedometer and a digital display.
Info available include odometer and trip meter reading, ambient temperature, gear position, traction control setting, available distance-to-fuel remaining and an indicator for when the bike is in neutral gear.
While riding the bike, I realised that it felt very light and its 200kg of wet weight seem to have been distributed evenly.
I was told by the folks at Moto Guzzi Malaysia that the brand's engineers are very mindful to ensure that their bikes are light.
In the city, this machine handled traffic jams and tight spaces between vehicles like a champ.
Stop-go traffic wasn't a problem at all.
The bike's low-end torque is confidence inspiring.
While weaving in and out of traffic, it became more apparent that this motorcycle's agility is akin to that of a bicycle.
A 'must' mention here is that if anyone were to start a Moto Guzzi engine, the vibrations will always pull the bike slightly to the left first and then to the right.
Basically, the engine comes to life from left to right - a rather unique characteristic of a Guzzi engine.
But once the bike moves on, the engine settles to a silky smoothness regardless whichever gear it's in or whatever speed it's travelling at.
On the highway, I could easily exceed the legal speed limit.
Should the bike be travelling in the incorrect gear, the machine will prompt the rider to change the gear. A rather smart machine.
But regardless if it is in first or sixth gear, the shifts were seamlessly effortless and barely audible.
I took a few sharp corners at around 120kph and the low centre of gravity and lightness of the motorcycle gave me all the confidence to pull off this manoeuvre.
The entry and exit from corners were easily executed and the bike felt very planted.
Mid-way through the entry of the corner, I knew that this bike will not fail me.
The handling characteristics was simply spot on.
The Kayaba suspension system also performed well over small humps and bumps while at low speeds, but kick it up to around 80kph while heading over more prominent ones, the suspension didn't seem to live up to my expectations.
It ultimately felt stiff and while the 40mm front forks are not adjustable, the rear shocks are.
However, the V9 Roamer does not dive badly during an emergency brake.
On a few occasions, I decided to ride the bike hard around corners and managed to scrape the foot pegs.
It felt so nimble right out of the box and it just riled me up and got me excited enough that I rode it like a sports bike.
But, the truth of the matter is that even though it rode well, the character of a cruiser does seem to surface.
Stopping power comes from a set of Brembo brakes with a four-pot calliper at the front that clamp down on a single 320mm disc, while the two-pot calliper at the rear gives the squeeze on a 260mm disc to give me all the necessary stopping confidence.
And of course, there's also an anti-lock braking system (ABS).
This six-speed transmission from Guzzi comes with a patented two-level Moto Guzzi Traction Control system, where the first setting is for dry conditions and the other is for the wet.
Traction control of these sorts definitely give much confidence to any novice riders, knowing that their machines are continuously looking after their safety.
The bike costs RM69,466 (without GST) and the V9 Roamer is definitely an ideal bike for any novice or even seasoned riders who are looking for a mid-sized bike that's both user-friendly when in the city and confidence-inspiring on interstate expeditions.
SPECIFICATIONS - Moto Guzzi V9 Roamer

Engine: 853cc, air-cooled, 4-stroke transversely-mounted 90-degree V-twin, pushrods with two valves per cylinder, wet sump lubrication
Power: 55hp at 6,250rpm
Torque: 62Nm at 3,000rpm
Transmission: Six-speed
Front suspension: Telescopic 40mm fork with 130mm travel
Rear suspension: Cast aluminium dual swing arms, twin shock absorbers, adjustable spring pre-load, 97mm travel
Brakes (with ABS): Front - single 320mm disc with opposed four-piston floating caliper, Rear - single 260mm disc brake with twin-piston floating caliper.
Weight (wet): 200kg
Fuel capacity: 15 litres
Price: RM69,466 (without GST)