Nobody will deny that the latest addition to the Benelli family - the Benelli TNT 300 - is a punchy and yet smart-looking fella.
The striking red colour and the red coloured tubular steel frame got me drooling over it.
Many felt that the design was not cool, but I personally thought the design was very refreshing. It was not over the top, yet not old school either.
The sitting position on the TNT 300 is ergonomically friendly, making long trips and city rides comfortable during rush hour.
The saddles are definitely very comfy as the seat to foot pegs and handle bars are geometrically well-positioned.
As such, there is no reason for anybody to be unhappy with the ergonomics of this Italian bike.
While riding the 183kg bike, I will admit that this bike is extremely nimble. The bike is small and narrow thus making it ideal to squeeze through traffic.
I felt little engine heat on my legs while braving the evening rush hour along Kuala Lumpur's Jalan Tun Razak but that did not bother me at all. The TNT 300's heat management is good.
Below 5,000 rpm, the machine feels lazy and needs a bit of power rush before it gets all excited. Twist the throttle up to 5,000rpm and the machine becomes wide awake.
Every single throttle after that point is simply fun and exciting.
Meanwhile on corners be it tight or wide, TNT 300 does it as good as the bigger bikes. One has only to trust the machine and TNT 300 will do the rest.
The TNT 300 is stable and stays planted to the road. I have total control.
During my ride to Bagan Lalang, Sepang, it was very apparent that the TNT 300's engine is very smooth and crisp.
One thing that I must mention is when I was in the region of 4,000rpm plus, I felt light vibration coming from the belly of the bike.
But once I reached the 5,000rpm, the engine was all perked up to give me an unforgettable riding experience.
While riding on the back roads of Bagan Lalang, I encountered a few bad stretches riddled with potholes, pebbles and uneven surfaces.
If not for the quality suspension of this bike, I would have had second thoughts attempting those routes.
The suspension, complemented by a sturdy and reliable chassis, was able to absorb the humps and bumps with ease.
The ride was close to perfect. Also, the TNT 300's brakes are decent. The front and rear offered me enough bite during several hard brakings.
The massive twin 260mm front disc and single 240mm rear disc with dependable 4-piston and double piston calipers respectively on 17-inch alloy rims (rear and front) ensured confident braking power and feel.
In fact, I did not have to apply all my fingers to pull the brake lever to bring this machine to halt. I used three fingers for hard braking and two for soft braking. For your information, the brake lines on this bike are steel braided.
On the highway, this small fella has loads of power for its size.
During the first hour, I did not even realise I was touching 100kph in the early third gear. I was very impressed.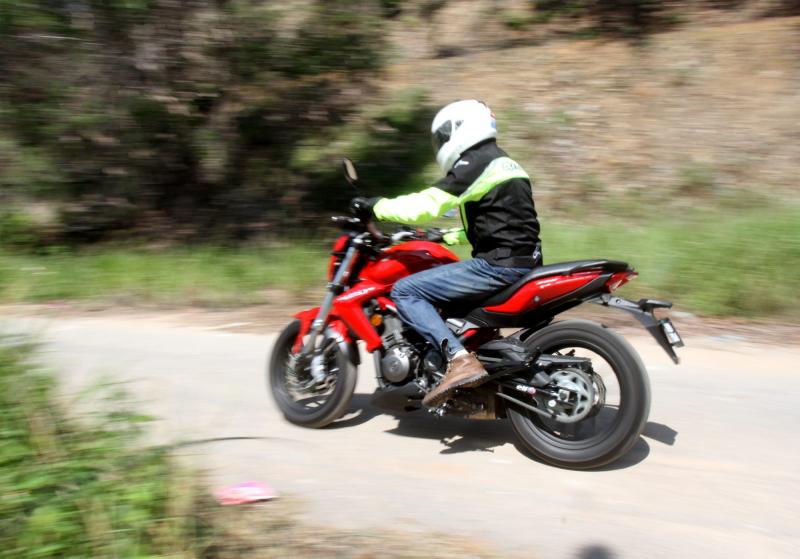 Around 5,000rpm plus, I am in my sixth gear and tearing the highway with ease.
My only niggle with this bike is that it's engine reaches the red line too soon for my liking. The gear shift on this bike is smooth; I was able to downshift quickly from the sixth gear to the first and vice versa.
The clutch and the gear worked in unison complementing my every movement. I was impressed with the lightning fast shifting.
A few journalists commented that shifting to neutral from second gear was difficult but I did not face any such problems.
The TNT 300 is definitely a must-have for any newbies who are deciding to progress to a clutch bike. This RM18,990 Benelli is an excellent bike for any novice rider who wants to find out how far he can push himself on a motorbike.
It's also suitable for a daily commute and outstation runs.