The freezing cold of Finland was a rare occasion to try out Audi's quattro system in the S4 Avant wagon.
Save for the evergreen pine trees, the landscape as far as the eyes could see was white from our whereabouts in the middle of a frozen lake in Muonio, Finland.
The breath-taking view under a sub-zero temperature is also akin to The Empire Strikes Back's Battle of Hoth scene except there were no Imperial walkers and Rebel snowspeeders battling it out.
Being 200km north of the Arctic Circle, snowfall and iced-up lakes and rivers are the norm for this part of Finnish Lapland until summer.
This makes it an ideal place for the Audi Ice Experience where participants can learn steering, counter steering and how to stabilise an out-of-control car on sheet ice.
As many of us from the tropics seldom get to drive on winter conditions, the ice driving experience was something to look forward to.
According to Audi, Muonio was also the birthplace of its quattro drive system, which was developed in the late 1970s to give permanent all-wheel drive traction to normal road cars.
With better grip on the tarmac and dirt roads, Audi's trailblazing quattro-equipped race cars were able to dominate the World Rallying Championship from 1982 to 1984.
This success also ended the rear-wheel drive race car era in rallying as they could not keep pace with quattro, prompting Audi's rivals to develop their own all-wheel drive versions.
The quattro also proved its prowess on tarmac racing as the Audi 200 Turbo quattro overwhelmed rivals in the 1988 Trans-Am Series despite having a less powerful engine against the competitors' V8 blocks.
Production cars fitted with all-wheel drive will perform better on any road conditions compared with front- or rear-wheel driven types.
The quattro, which is in its 37th year, has been refined to be more intelligent and fuel efficient, comes standard in Audi's flagship and high-performance line-ups.
The training unit for the ice experience was the S4 Avant quattro, fitted with a 3.0-litre V6 TFSI engine with 354hp and 500Nm of torque.
Transmission is an eight-speed tiptronic and the S4 Avant is quick and can sprint from 0-100kph in 4.9 seconds and gets a top speed of 250kph.
Though the S4 Avant is a wagon, it has been tastefully styled with taut lines, an elegant rear and quad exhaust pipes.
Inside, the car is sporty and advanced with a 12.3-inch virtual cockpit instrument panel, flat-bottom steering wheel, leather-wrapped gear selector and doses of metallic inserts against dark trimmings.
Fire up the engine and the car growls with a hearty note.
During normal driving, the S4 Avant's all-mechanical centre differential sends 40% of the torque to the front axle and 60% to the rear.
If slip occurs at one axle during extreme driving, the differential will send up to 85% of the torque to the other axle to maintain drive.
Our Austrian instructor, Josef "Sepp" Haider, a former rally driver and Rally New Zealand 1988 winner, was already 64 years-old but still very sharp and quick behind the steering wheel.
He started the programme by getting our media group to re-acquaint themselves with the right seating position – an upright position with elbows bent when holding the steering wheel at 9 and 3 o'clock position.
With the 7km-long circuit on the frozen lake slippery like a wet marble floor, the S4 Avant had to use winter tyres fitted with studs for traction.
Upon arrival at the frozen lake from Lapland Hotel Olos, we had to drive gingerly as our steering and braking were not as responsive as they had on tarmac.
Then came a bombshell from Haider – switch off the electronic stability control (ESC).
I thought he was joking as deactivating the stability control would cause the S4 Avant to be difficult to steer and handle on the slippery surface and increase the risk of crashing into the circuit's snow embankment.
It was moments later that I understood the reasoning of Haider's "illogical" instruction.
Switching off the ESC would allow the driver to have more manual control over the S4 Avant and get it to slide sideways and maintain a crab-like crawl.
You will get more snow falling onto your windows rather than on the windscreen.
With ESC switched on, the S4 Avant will automatically brake certain wheels to keep the car on a safe driving line and hence putting a stop on whatever fun and exciting drifting or sliding manoeuvres that Haider want us to do.
To make the car drift on ice, it's all in timing and execution.
Drive into a corner while maintaining a fast steady speed and keep the steering wheel slightly turned until the rear wheels start to slide.
Let the rear wheels slide for a while and then you turn the steering wheel the opposite direction and accelerate hard to induce and maintain a sideway crawl.
The steps sound easy to the ears but is rather hard for the eyes, hands and right foot to co-ordinate into one fluid delivery.
Most of us crashed during the first few attempts, knocking fresh snow up the air.
But we managed to improve our runs with more practice and coaching until our rhythm got spot-on.
From there onwards, we all were grinning ear-to-ear.
It would take much longer for us to learn ice drifting if the S4 Avant did not have quattro.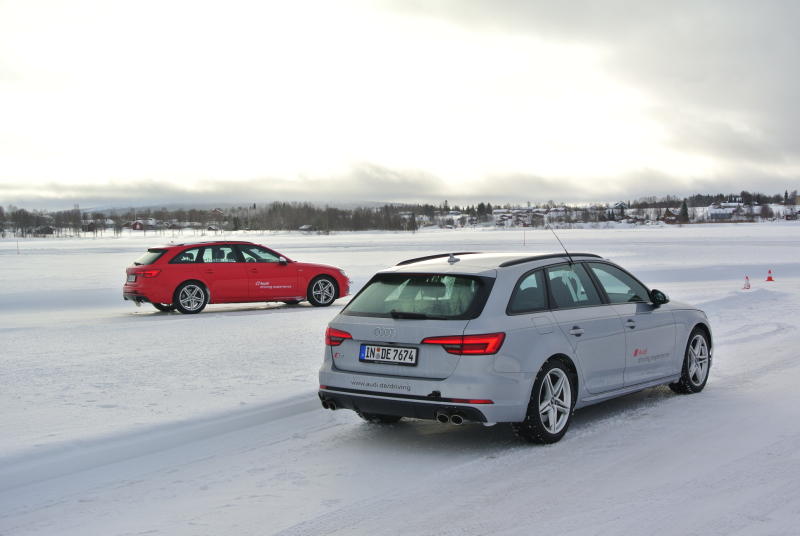 Having done ice driving in a rear-wheel drive car a few years ago, it is difficult to steer precisely on slippery surfaces if the front wheels don't do some "pulling."
While Audi production cars with front-wheel drive already have good handling, quattro brings the performance to a higher level.
Finally, we got a bonus at the end of the session – a helicopter ride to see Haider with a few instructors race their S4 Avant cars on the circuit at high speed while drifting around corners effortlessly with precision and grace.
Audi Malaysia head of corporate communications Isaac Lee Mathew said quattro has long been a core of the Ingolstadt-based car maker's driving philosophy and the all-wheel drive system comes to life in real adverse driving conditions like during the Audi Driving Experience.
"While we are unlikely to see snow in Malaysia, each and every one of the models we offer in Malaysia have a quattro variant simply because we believe that a permanent all-wheel drive tested in some of the most adverse driving conditions would be the best equipped for a sporty and safe driving experience under any circumstances," he said.
Currently, the S4 Avant is not offered for sale by Audi Malaysia.
However, local Audi fans will be delighted if the high-performance RS or S models would officially make it to Malaysian shores.
> Get an idea of what ice driving is all about in this Audi video clip below.