THE 2018 iterations of the Volkswagen Golf model range get some powertrain upgrades, exterior updates, redesigned bumpers, LED tail lights and extra features.
This is not a full model change, but a rather late-life revision that makes the seventh generation of the iconic hatchback even more enjoyable to drive.
Recently, Volkswagen Passenger Cars Malaysia organised a 400km drive from Bangsar, Kuala Lumpur to Nusajaya, Johor for a bunch of writers to get a taste of the 2018 updated Golf R-Line and the exhilarating Golf GTI.
The beastly Golf R was also thrown into the mix, albeit only for a brief dynamic driving session at a open-air car park area near Hotel Jen Puteri Harbour, Johor.
The prices (0% GST, excluding insurance) are RM160,608 (Golf R-Line); RM227,060 (Golf GTI) and RM280,060 (Golf R) and all the cars are sold with a 5-year manufacturer's warranty, 3-years free maintenance, and 5 years of roadside assistance.
Notable safety features include Manouvre Braking, which helps to automatically brake the car when it senses objects up to 10kph to minimise minor damage during parking. There's also Automatic Post Collision Brake System, which triggers automatic (emergency) braking down to a vehicle speed of 10kph, once a collision is detected.
Also standard is the a large 12.3-inch high definition Active Info Display (AID) which replaces the typical analog meter display; the new AID looks brilliant and is in tune with today's digital technology.
Volkswagen Golf GTI
On the way to Johor, we took the iconic Golf GTI powered by a 2.0-litre turbocharged engine with 230PS and 350Nm of torque, mated to a lightning quick 6-speed direct shift gearbox (DSG).
Volkswagen's famous performance hot hatch is always a wonderful car to drive, and this updated model is better in every sense.
For one, it is packed to the brim with lots of comfort features that underlines its dual nature as both a performance car and a practical family ride.
All the three Golf variants here get comfortable leather upholstery and front sport seats, a 8-inch touchscreen mated to eight audio speakers, a space saving electric parking brake with Auto Hold, rear air conditioning vents, and automatic headlights and wipers.
Our only niggle with the Golf GTI was that we found only one USB port to charge our smartphones.
Like the Golf R-Line, the Golf GTI has 380 litres of boot space and this was more than adequate for our overnight luggage storage.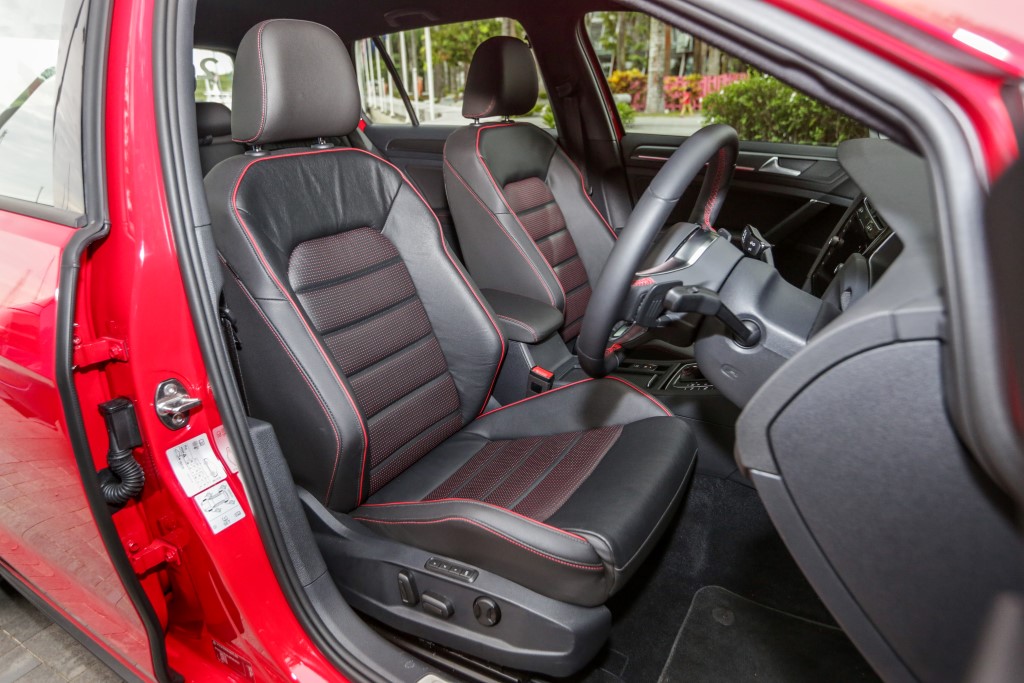 However, compared with the 1.4-litre turbocharged Golf R-Line, the Golf GTI gets extra kit like Adaptive Chassis Control (DCC) and a 12-way powered driver's seat with memory and electric lumbar support, and Dynamic Light Assist (DLA).
The DLA is a safety feature that allows the main beam to be left on continuously without dazzling oncoming traffic, thanks to a masking function which can partially dip the main-beam headlights.
The Golf GTI also has sporty exterior trim including the GTI twin chrome tipped exhaust tailpipes.
Meanwhile, DCC is an electrically controlled damping system that automatically responds to road conditions, and this comes with Driving Mode Selection (DMS) - so you get a choice of Eco, Comfort, Normal, Sport and Individual settings.
Once we hit the North-South Highway on our way to a lunch stop in Melaka, we switched from Comfort to the more exciting Sport mode, and the Golf GTI instantly feels more responsive and aggressive.
Running on 225/40 R18 tyres, the Golf GTI slices through highway curves with ease at high speeds and we always had to keep in check a silly temptation to drive even faster and run the risk of getting a speeding fine.
Floor the throttle pedal, and the Golf GTI reacts instantly with breathtaking acceleration, and overtaking slower moving cars on the highway is ridiculously easy.
We took a detour to some twisty roads near Jalan Bukit Putus (Gunung Angsi trailhead), Negeri Sembilan and tackling the twists and turns in the Golf GTI was sensational, especially with the powerful and progressive brakes.
The car's Extended Differential Lock (XDS) reduces understeer, gives better traction and improves road holding during fast corners - as result, the Golf GTI is a very forgiving car for inexperienced or over-enthusiastic drivers.
After lunch in Melaka, we participated in a quiz game and somehow ended up on a 5km potholed, rut-filled road in a plantation before hitting the North–South Expressway. We switched to Comfort mode to improve ride quality on the badly maintained plantation road, and the ride became less bone jarring.
Volkswagen Golf R
The next morning, there was a dynamic driving session with the all-wheel-drive Golf R, armed with a 290PS/380Nm 2.0-litre turbocharged engine and a 7-speed direct shift gearbox, at an open-air car park in Nusajaya.
The Golf R is readily identifiable by its R quad exhaust tailpipes with sports flap valves, and runs on grippy 235/35 R19 tyres.
The Golf R's 4Motion all-wheel drive did a lot to provide high levels of poise and composure as we did fast swerves on a quick slalom through a cone-filled course on the car park.
Volkswagen Golf R-Line
Following the dynamic driving session, we took the 1.4-litre turbocharged Golf R-Line with 150PS/250Nm on tap via a 7-speed direct shift gearbox, back to Kuala Lumpur.
Running on 225/45 R17 tyres, this is the Golf model that's meant more for family outings and leisurely long distance drives.
However, the Golf R-Line is not an entirely tame animal, and with 250Nm of torque available from as low as 1,500rpm - it can easily do fast sprints when you feel the need for some speed.
You also get a athletic-looking R-Line exterior trim with sporty bumpers, a front grille with chrome strip, a rear spoiler and twin trapezodial exhaust trim.
There's no Adaptive Chassis Control on the Golf R-Line, and the suspension is tuned to be much more comfort oriented compared with the Golf GTI.
It also comes with Driving Mode Selection, and we mostly kept the car in Comfort mode on the drive to Kuala Lumpur.
The Golf R-Line still gave us a fast, sporty drive albeit with much more comfort and less aggression compared with its fire-breathing Golf GTI and Golf R siblings.
SPECIFICATIONS

Volkswagen Golf R-Line

Engine:
1,395cc 4-cylinder petrol, direct injection, turbocharged
Maximum power:
150PS from 5,000 to 6,000rpm
Maximum torque:
250Nm from 1,500 to 3,500rpm
Transmission:
7-speed direct shift gearbox (DSG)
Acceleration (0 to 100kph):
8.2 seconds
Fuel consumption (combined cycle):
5.2 litres per 100km
Comfort features:
Engine start-stop system with regenerative braking, dual-zone automatic air-conditioning, push-start ignition, leather seats, 12.3-inch high definition Active Info Display (AID), 8-inch touchscreen, USB and iPod/iPhone interface, SD card slot, AUX-IN, Bluetooth, eight speakers, electric parking brake with Auto Hold, rear air conditioning vents, automatic headlights, automatic wipers, LED headlights, LED daytime running lights, LED tailights
Safety features:
7 airbags, Anti-lock Brake System (ABS) with Brake Assist (BA) and Electronic Brakeforce Distribution (EBD), Anti-skid Regulator (ASR), Automatic Post-Collision Braking System (APCBS), Brake pad wear indicator, Driver Alert System (Rest Assist), Electronic Stability Control (ESC), Engine Drag Torque Control (EDTC), Extended Differential Lock (XDS), Hill Hold Control (HHC), Intelligent Crash Response System (ICRS), Proactive Occupant Protection System (POPS), Tyre Pressure Loss Indicator (TPLI), ISOFIX child seat anchors, Dynamic headlight range control with dynamic cornering light, Park Distance Control (4 front and 4 rear), rear view camera, Manouvre Braking
Price:
RM160,608 on-the-road price (inclusive of 0% GST, excluding insurance)
After-sales:
3 years free maintenance; 5 years manufacturer's warranty; 5 years roadside assistance
Volkswagen Golf GTI

Engine:
1,984cc 4-cylinder petrol, direct injection, turbocharged
Maximum power:
230PS from 4,700 to 6,200rpm
Maximum torque:
350Nm from 1,500 to 4,600rpm
Transmission:
6-speed direct shift gearbox (DSG)
Acceleration (0 to 100kph):
6.4 seconds
Fuel consumption (combined cycle):
6.4 litres per 100km
Comfort features:
Similar to Golf R-Line features - addition of Adaptive Chassis Control (DCC), 12-way powered driver's seat with memory and electric lumbar support, LED front footwell lighting
Safety features:
Similar to Golf R-Line features - addition of Dynamic Light Assist (DLA) advanced light beam control, front LED fog lights, Park Assist 3.0 (parking steering assistance)
Price:
RM227,060 on-the-road price (inclusive of 0% GST, excluding insurance)
After-sales:
3 years free maintenance; 5 years manufacturer's warranty; 5 years roadside assistance
Volkswagen Golf R

Engine:
1,984cc 4-cylinder petrol, direct injection, turbocharged
Maximum power:
290PS from 5,500 to 6,500rpm
Maximum torque:
380Nm from 2,000 to 5,400rpm
Transmission:
7-speed direct shift gearbox (DSG)
Acceleration (0 to 100kph):
5.1 seconds
Fuel consumption (combined cycle):
6.9 litres per 100km
Comfort features:
Similar to Golf GTI features - addition of 9.2-inch touchscreen, 10GB Jukebox, Gesture Control
Safety features:
Similar to Golf GTI features - addition of 4MOTION (All Wheel Drive)
Price:
RM280,060 on-the-road price (inclusive of 0% GST, excluding insurance)
After-sales:
3 years free maintenance; 5 year manufacturer's warranty; 5 years roadside assistance