SUSSEX, England: As part of the media programme at the 2018 Goodwood Festival of Speed in West Sussex, England, Maserati organised a three-hour drive of the 2019 updated Levante S in GranSport trim.
The 177km route was a mix of narrow village and town roads, and smooth highways and it was mostly a relaxed, leisurely drive with us slowing down to a crawl occasionally for horses munching on grass next to countryside roads.
There were numerous speed limit cameras along the route, especially on the highways and we did not want to risk getting a speeding fine.
We started from New Milton town in south west Hampshire, and stopped for a quick tour of iconic gin-maker Bombay Sapphire's distillery in Laverstoke before driving towards a lunch stop at the charming Beaverbrook country house hotel near Leatherhead, Surrey.
READ MORE:
2018 Goodwood Festival of Speed: Maserati MC12 GT1 Centenario
2018 Goodwood Festival of Speed: Maserati Levante GTS world premiere
Maserati updates 2019 Levante with new styling and kit
The units we drove in England were left-hand drive, which felt a bit odd as we were in a right-hand drive country although we quickly got used to this.
We were snugly ensconced in the 12-way power sport front seats, and found features like the plush leather upholstery, 14-speaker Harman Kardon Premium sound system, Alcantara roof lining, surround view camera system, power-adjustable sport steering wheel with aluminium gearshift paddles, and the sharp and accurate Electric Power Steering to our liking.
The car's large rear cargo area of 580 litres was more than enough for our luggage bags.
To recap, the Levante S has a petrol-powered 3.0-litre twin-turbocharged, direct injection V6 engine with 430hp at 5,750rpm and 580Nm of torque in Sport mode between 1,750 and 5,000rpm.
In Normal driving mode, the torque rises to 500Nm in the lower rev range, reaching the 580Nm maximum at 5,000rpm.
On the few occasions where we stomped on the accelerator pedal, the result was a very satisfying, visceral engine roar and quick adrenaline-inducing sprints in the Levante S.
The Levante S accelerates from 0 to 100kph in 5.2 seconds and has a top speed of 264kph.
The V6 engine's specific torque of 194Nm per litre is the best in the luxury SUV class, as is its specific power (144hp per litre).
The eight-speed automatic ZF gearbox is silky smooth, and we mostly kept the car in Sport drive mode for faster response - not that it made a lot of difference as we did not drive like madmen.
It's worth noting that by default, the car is set to Auto Normal mode, but by pressing a button, the driver can select other drive modes - Off-Road, ICE (increased control and efficiency) and Sport.
ICE (increased control and efficiency) is for even better traction in slippery conditions while also reducing fuel consumption.
The Levante S is very well appointed with high-end features like Air Suspension, electronically controlled Skyhook shock absorbers and the Q4 AWD (all-wheel-drive) system, which come as standard equipment.
The aluminium front double-wishbone and rear five-link suspension layout provides exceptional comfort, control and performance.
Our co-driver, a writer from Singapore, was not keen on using the car's Lane Keeping Assist function which we easily switched off via the car's 8.4-inch multi-touch screen.
Advanced Driving Assistance Systems (ADAS) in the Levante S includes Forward Collision Warning (FCW), Highway Assist, Lane Keeping Assist, Active Blind Spot Assist and Traffic Sign Recognition.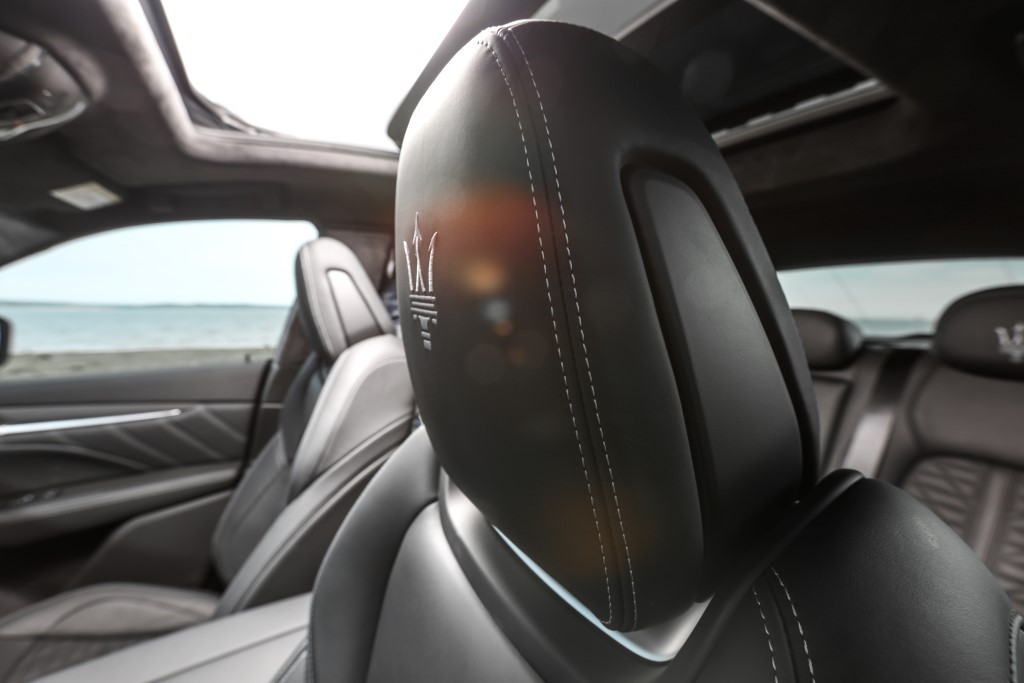 The Brembo brake system provides outstanding stopping power as we found out when we once had to step hard on the brakes as traffic suddenly slowed on the highway.
The current edition of the Levante S was launched in Malaysia in November 2017 by Naza Italia, the official importer and distributor for Maserati.
It is priced from RM788,800 (inclusive of local taxes and duties) and includes a 3-year warranty with unlimited mileage plus a Maserati Premium Service Plus of 3 years/60,000km (whichever is first).