The new fifth-generation Subaru Forester five-seater sports utility vehicle (SUV) is a much improved machine compared with its predecessor, and we experienced its improved ride quality, better handling and advanced EyeSight driver-assist technology on a 280km drive from Kuala Lumpur to Kuantan.
To recap, the all-wheel driven Forester was launched locally in August and came in three 2.0-litre variants namely i-L (RM139,788); i-S (RM149,788) and i-S EyeSight (RM159,788). Prices are on-the-road without insurance.
Produced in Thailand, this Forester has a new 2.0-litre direct injection 4-cylinder engine, with 80% redesigned parts.
It offers better fuel efficiency, throttle response and power delivery (compared with the previous port-injection 2.0-litre unit).
Compared with the previous engine, the new engine produces 156PS (6PS more) and 196Nm (2Nm less).
It's always worth noting that Subaru's horizontally-opposed Boxer engine layout provides a lower centre of gravity, optimum weight balance and low vibration - which helps with stable handling and a more comfortable ride.
The Lineartronic CVT (continuously variable transmission) is also new, and now has seven speeds (previously it was six speeds).
By expanding the gearbox's ratio coverage, acceleration and fuel economy have improved.
Subaru says the transmission is also lighter, thus improving fuel efficiency.
Also, Subaru's Auto Stepped Speed Control helps to match engine noise with the vehicle's acceleration.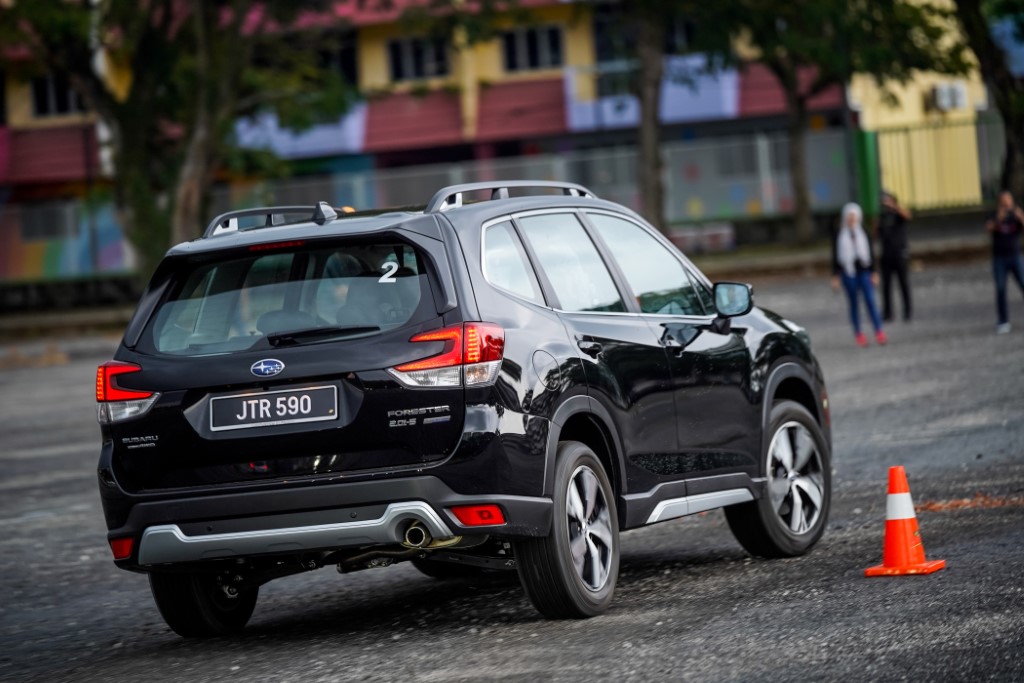 Off-roading at Most Fun Gym
The Forester also has Subaru's Symmetrical All-Wheel Drive (SAWD) that delivers engine power to all four wheels and is active all the time, and provides outstanding road grip and control especially on slippery surfaces.
Now, the top two Forester grades (i-S and i-S EyeSight) also gets a X-Mode dial switch to help traverse tricky terrain.
Located next to the gear shifter, the X-Mode dial switch has two drive modes namely Snow/Dirt and Deep Snow/Mud.
The difference here is Deep Snow/Mud drive mode cuts off traction control, and allows more wheel spin while the engine quickly generates maximum torque at low rpm levels - very useful on muddy terrain as we found out during an off-road exercise at the Most Fun Gym (MFG) motorcross park in Sungai Penchala, Kuala Lumpur.
These drive modes help the Forester to move better in rough off-road situations and escape from scenarios where tyres may get stuck.
Also, X-Mode activates Hill Descent Control (HDC) and its efficacy was amply demonstrated on the hilly terrain at Most Fun Gym, as we did not apply the brakes during our descent on steep slopes, and let HDC retard our descent speed for us while we focused on steering the SUV.
It is also worth noting that the Forester has a ground clearance of 220mm - similar to a Mitsubishi Triton pick-up truck - and it also has a 500mm wading depth, which comes in handy on water-logged roads.
Highway drive to Kuantan
The new Forester is also underpinned by the Subaru Global Platform (SGP) which replaces the old Impreza platform.
SGP provides improved chassis rigidity (increase of 40% or higher), less road noise, better handling and improved safety in collisions.
Driveability is also improved with a redesigned suspension system and a rear stabiliser bar that is now mounted directly onto the body, resulting in 50% less body movements.
This makes the Forester feel more planted, and we discovered improved refinement in ride quality during a high speed run on the winding Kuala Lumpur-Karak Highway, as we headed to Temerloh for lunch.
Running on Bridgestone Dueler H/P Sport 225/55 R18 tyres, we found nice handling is good when driven at speed, with very little body sway on highway curves.
The ride quality is supple and noise insulation is superb, with muted engine noise intrusion even when we pushed past 5,000rpm as we accelerated hard on the highway.
We don't think the 156PS/196Nm boxer engine is underpowered, and we had three adults in the car (1,544kg kerb weight) plus our overnight luggage for a night's stay in Gambang, Pahang.
The engine never felt strained although we accelerated hard and pushed past the 5,000rpm mark quite regularly, especially on the uphill stretches of the highway.
As for the interior, the fit and finish is impressive and we like the high quality feel of the black leather seats and smooth plastics.
We also found three USB charging ports including two 2.1A ports (below the rear air-conditioning vents) which really came in handy for us to charge our smartphones.
There are also plenty of storage options including door bins and front seatback pockets with a divided three pocket design on each seat which were very useful for storing small items.
We found lots of rear head and leg room, and this new Forester also has a slightly longer wheelbase at 2,670mm (30mm more).
Boot capacity is bigger at 520 litres (previous model had 505 litres) and can be expanded to 1,775 litres with the rear 60/40 split folding seats down.
Another useful feature is the powered tailgate with memory function, which takes only 5 seconds to open and close.
EyeSight technology experience
All the vehicles on this drive were the flagship i-S EyeSight variant, which uses a pair of stereo cameras to monitor the road situation.
EyeSight technology warns the driver with a buzzer and flashing in-dash indicator about potential danger from other road users.
However, it does a lot more than just providing a warning as we found out at a car park lot in Kuantan where we tested the effectiveness of the Pre-Collision Braking (PCB).
With PCB, the car automatically brakes itself to prevent a collision or reduce damage.
EyeSight also recognises pedestrians, bicycles, motorcycles and other objects.
For the PCB test, we were told to drive at a constant speed of 25kph towards a stationary printed canvas backdrop.
As we neared the canvas backdrop, a warning sound was heard and as we ignored it and kept going, PCB activated the brakes automatically and brought the car to a complete standstill with a loud grating noise.
The experience was quite unnerving as we ignored our instinct to step on the brake pedal, but this amply demonstrated the effectiveness of the PCB technology.
Besides PCB, other EyeSight technology on the Forester include Pre-Collision Throttle Management (prevents accidents or reduces damage when the vehicle accelerates due to driver error), Lane Sway Warning (alert sound emitted and warning indicator if vehicle is swaying in its lane during at 60kph or more), and Lane Departure Warning (driver alerted if vehicle departs from its lane at 50kph or more).
We also checked out another EyeSight feature called Lead Vehicle Start Alert, which alerted us with a beeping sound and warning indicator when we stopped at a traffic light and the car in front moved away a short distance from us.
This will be very useful for those who tend to get distracted by their smartphones when stopped on packed roads or traffic lights (resulting in irate drivers behind honking loudly).
There's also Adaptive Cruise Control (ACC) which is easily activated via steering wheel switches, and acts to track and follow the vehicle in front and automatically maintains a set distance up to speeds of 180kph.
With ACC, the Forester will automatically apply the brake and slow down if the vehicle in front slows down.
It's not a highly autonomous driving feature and we still need to steer the Forester and be alert while driving; however, we found it to be very useful in highway traffic as it reduced the need to constantly apply the brakes ourselves and keep a safe distance from the car in front.
In summary, the new Forester i-S EyeSight is packed with lots of comfort and safety features, and boasts new technology and many refinements over its predecessor.
SPECIFICATIONSSubaru Forester 2.0i-S EyeSightEngine:
1,995cc direct petrol injection, DOHC 16-valve, 4-cylinder boxer
Maximum power:
156PS at 6,000rpm
Maximum torque:
196Nm at 4,000rpm
Transmission:
Seven-speed Lineartronic CVT Fuel consumption: 7.4 litres per 100km
Features:
Symmetrical all-wheel drive (AWD), LED headlamps with automatic levelling, roof rails and spoiler, LED daytime running lights, LED front fog lamps, powered front seats, Auto Vehicle Hold, Electronic Parking Brake, keyless access and push-button start, paddle shifters, SI-Drive (Subaru Intelligent Drive), 8.0-inch display with navigation, Bluetooth, powered rear gate with Memory Function, rain-sensing wipers, dual-zone automatic air-conditioning, 225/55 R18 tyres
Safety features:
Seven airbags, ABS with Electronic Brake-Force Distribution, all-round disc brakes, Brake Assist and Override, Active Torque Vectoring, Vehicle Dynamics Control (VDC), ISO-FIX child seat anchors, Blind-Spot Detection, EyeSight Driver Assist, Lane Change Assist, Rear View Camera, Side View Monitor, Rear Cross-Traffic Alert, Steering Responsive Headlights
Price (on-the-road, without insurance):
RM159,788