READ ALSO
:
5 reasons to like the AMGs
Mercedes-Benz knew it had a runaway success with its compact series - the CLA, A Class and GLA.
With upgrades from its Mercedes-AMG tuning wizards, these transformed daily vehicles set class-leading standards in performance and panache.
MERCEDES-AMG CLA 45
The first AMG-tweaked model I got up close and personal with was the Mercedes-Benz E 55 AMG in 2007.
At the time of its release, the E 55 AMG was the fastest four-door Mercedes-Benz car and it was capable of doing the 0-100kph sprint in 4.7 seconds.
Enabling this tarmac-scorching feat was a mighty supercharged 5.5-litre V8 block that delivers 476bhp and 700Nm of torque.
The E 55 AMG's top speed has been electronically limited to 250kph, although the car can go much faster.
To put it bluntly, it was a fun-to-drive sizzling land rocket.
Even though it was based on the E Class (W211), this beefed-up luxury cruiser costs RM1.53mil, putting it only within the reach of the very wealthy.
Even the then flagship S 500L (V221) is some RM100,000 cheaper than the E 55 AMG.
With the Mercedes-AMG compact series - the CLA 45, A 45 and GLA 45 - ownership of an AMG variant is more attainable.
For instance, the CLA 45 which delivers a similar driving excitement of the E 55 AMG costs RM396,888.
You get the-shove-into-the-seat take-off as the CLA 45 can do the 0-100kph sprint a tad faster in 4.6 seconds.
A lighter body and a turbocharged 2.0-litre block dishing out 360bhp and 450Nm of torque enabled the CLA 45 to get a good power-to-weight ratio for a lightning-fast drive.
The quick shifting AMG Speedshift dual clutch seven-speed transmission with 4MATIC permanent all-wheel drive system ensure every ounce of power goes into propelling the CLA 45 forward.
The AMG bodykit, 19-inch wheels and quad exhaust pipes with a growling note indicate this variant means serious business.
While the dashboard styling is similar to the regular CLAs, the CLA 45 gets more carbon fibre trimming.
The CLA 45's speedometer has been calibrated to 320kph, up from the non-AMG variant's 260kph.
Also, the leather wrapped multi-function steering wheel with a motorsports-inspired flat bottom styling is nice to grip and has a meaty feel.
The electromechanical steering is well-weighted and provides ample feedback.
The front Recaro semi-bucket seats with adjustable side support and bolsters ensure you stay put during hi-jink manoeuvrings.
Its 19-inch wheels hold the CLA 45 well on winding roads so I could continue driving with gusto.
At high speeds, the car feels planted and this inspires confidence.
Large disc brakes are more than enough to bring the CLA 45 to a stop quickly and safely.
While the CLA 45 has traded some of the ride comfort synonymous with Mercedes-Benz for a firmer suspension and better roll control, the ride quality is still fine for my liking.
Pothole-riddled roads can still be driven on but preferably at a slower speed, more so because of the CLA 45's lowered ride height.
In addition to a sports car-like performance and DNA, the CLA 45 still has the makings of a practical car with a bootspace of 470 litres thrown in. - HONG BOON HOW
Our ratings
Overall score: = 8.3
Styling = 9
Comfort = 7.5
Performance = 9.5
Safety = 8
Value = 7.5
MERCEDES-AMG A 45
There are three letters of the alphabet which puts a sparkle in my eye and they are: A, M and G.
AMG or Aufrecht Melcher Grossaspach was set up in 1967 by former Mercedes-Benz engineers Hans-Werner Aufrecht and Erhard Melcher.Grossaspach is the birth town of Aufrecht.
AMG relocated to Affalterbach in 1978 and was acquired by Mercedes-Benz in 1999.
With its decades of experience and expertise in injecting the motorsports spirit into Mercedes-Benz cars, the A Class now becomes a predator.
I know what you're thinking.
I'm just being dramatic for the sake of bombastic description.
When does a car become a wild animal at the top of the food chain?
Actually, that tells me a lot about you. Because you haven't driven an AMG have you?
Otherwise, you'd know what I'm talking about.
So trust me when I tell you that the Mercedes-AMG A 45 4MATIC all-wheel drive is not a hatch which takes you from point A to B; it's for hunting (run GTI, run!).
At its heart, is the same powerful four-cylinder turbo engine used by the CLA 45 and GLA 45 with 360hp and 450Nm of torque.
And it's mated to the same AMG seven-speed dual clutch automatic transmission.
Figures are abstract, I know.
So let me describe what it is like to just start the engine.
You take the key fob and insert it to the ignition and twist (just like back in the day) and the engine roars to life. Literally.
The sounds coming out of this car is nothing short of amazing.
And I'm not only talking about the exhaust note, which is sublime as it snarls aggressively all the way up to redline and then bawls and spits on the upshift like an untamed beast.
Make no mistake, this car is loud and rude.
While it sounds like a hooligan, it also exudes so much class.
The car is dressed to the nines with the AMG-styled front and rear aprons, side-skirts, front splitter, 19-inch multi-spoke alloy wheels, twin tailpipes and that rear spoiler lets you know that it's a bad boy sporting a tux.
The craftsmanship on this car is another high point with the impeccable fit and finish of the interior.
The A 45 has copious amounts of matt carbon fibre on the centre dash, contrasting red stitching along the dash and flat-bottomed steering wheel wrapped in Nappa leather.
You've got race-ready bucket seats which hugs you tight and a short-and-sweet hammer-shaped shift lever which lets you know you're sitting in something special.
Performance-wise, the A 45 just loves to redline even when in Comfort mode ... just floor it and see.
In Manual and Sports mode, it rears its ugly (or pretty) head with an even throatier exhaust and longer rev range.
Unsurprisingly, the car is stable on straight-line acceleration and is planted around corners.
No doubt, it's a lot of fun speeding around in the A 45, however, doing the opposite is just as engaging.
You want to roll the window down and rest your elbow as you stroll along, occasionally waving to the envious passerby.
Yup, the A 45 is that cool.
The A 45 may be the most affordable AMG at slightly under RM350K but it's the rudest of them all in my opinion. - RIZAL JOHAN
Our Ratings:
Overall score = 8.3
Styling = 9
Comfort = 7
Performance = 9.5
Safety = 8
Value = 8
MERCEDES-AMG GLA 45 EDITION 1
The GLA 45 Edition 1 isn't as compact as the A 45 nor as sleek as the CLA 45 or even as fast off the line, just two-tenths of a second slower to 100kph at 4.8 seconds from the other two.
But, it does trump both the A 45 and CLA 45 in terms of practicality that's simply bigger in both convenience and wheels sizes...try 20 inches of 10-spoke light AMG alloy wheels for size.
Headroom, both front and rear, could even be deemed generous when compared to its other two stablemates.
It just feels less constricted inside, perhaps even a little wider than the A 45 and rear passengers would generally find it quite acceptable to be seated in the rear, unlike the A 45 and particularly the CLA 45 with the largest boot capacity.
Furthermore, loading and unloading the GLA 45 Edition 1 with an electric tailgate adds practicality, but it's not the largest of the trio nor the smallest and rear-seated passengers actually have some decent headroom.
For in-car entertainment, the Harman Kardon sound system is very capable of "rocking" your world.
In short, although the GLA 45 Edition 1 may seem more bulky of the three with its wide hips and higher stance, it definitely has more function.
The 4MATIC does a seamless job of switching from front wheel drive to all fours and there never seems to be an instance where there's a lack of grip – allowing drivers to concentrate on steering and paddling through the seven-speed dual-clutch transmission.
The transmission is perpetually smooth and up shifting once reaching the rev-counter's redline gets a nice "turbo" pop that's suddenly accompanied by a "I want to go-faster" sensation.
The suspension initially felt stiff from the get-go, but after driving it around at more comfortable and responsible speeds, the GLA 45 Edition 1 was surprisingly compliant when faced with uneven roads – given it wore 20-inch wheels to begin with.
The vehicle constantly speaks to the driver in terms of traction, pitch and roll (or the lack thereof), but thankfully it doesn't try to overwhelm the senses to a point where going over so much as a grain of sand could be sensed.
The GLA 45 Edition 1 is simply not that intimidating, although it has all the sporty decals, bodykit, wheels and tyres to say otherwise, but it's the overall shape that tones it all down and makes it feel much less intimidating than its other two stable mates.
It's a vehicle that a driver would enjoy driving all-day everyday and according to whims and fancies thanks to that all-powerful 2.0-litre turbocharged engine, strong performance brakes, motorsport-like bodykit and the only one in the lineup with decent amount of headroom. - JAY WONG
Unique features: Harman Kardon Logic 7 surround sound system, AMG Performance suspension, electric tailgate and 20-inch AMG 10-spoke light alloy wheels with 235/40 series tyres. - JAY WONG
Acceleration (0-100kph): 4.8 seconds
Top speed (electronically controlled): 250kph
Price with GST but no insurance: RM375,888
Our Ratings:
Overall score = 8
Styling = 8.5
Comfort = 7
Performance = 9
Safety = 8
Value = 7.5
Mercedes-AMG CLA 45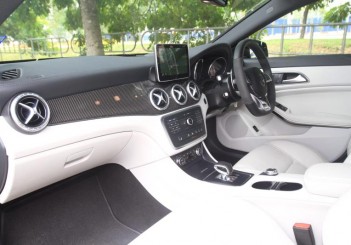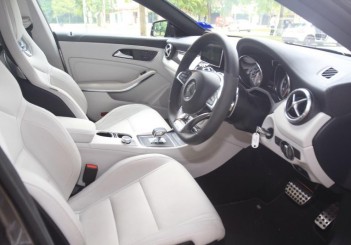 Mercedes-AMG A 45

Mercedes-AMG GLA 45 Edition 1