These days real driving skill is increasingly difficult to flex in a sports car. Sure there are lots of good coupes and amazing roadsters out there, but few come in the manual version that spells unadulterated, exhilarating engagement with the act of driving.
So it was particularly fun the other week to drive the 2017 Aston Martin Vantage GTS Coupe. It's the only V8 manual vehicle you can buy from Aston, period. And there are only 100 of them.
McLaren, Mercedes, Audi, and Porsche all make excellent competitors to this Vantage. But each of them uses a paddle- shifting transmission. On the other hand, chief executive Andy Palmer has gone on record saying that he wants Aston to be the last manufacturer on earth to offer a manual sports cars.
As the first journalist to test drive the Vantage, I can safely say it's strong evidence that he means what he says.   If you are in need of a daily driver sports car that will give you hours of stick-shift delight, call Aston and buy this one. I'd get on that right away, too. Fewer than 10 are left unsold.
A driver's drive
The dawn of the upcoming Aston Martin DB11 later this summer has overshadowed this new V8 a bit, and that's a shame, because the Vantage GTS is the most aggressively playful thing I've driven all year.
It has the same 430-horsepower mid-mounted engine set on a 6-speed rear-wheel drive. It'll take you to 100kph in 4.6 seconds, which is not the fastest sprint time ever, but this is a clear case of qualitative excellence versus on-paper specs (the 490Nm of torque does help.) Top speed is 306kph.
Driving this Vantage through Santa Monica streets and up the 405 before the morning rush hour felt like a vacation from my problems. Later, the curves on Mulholland Drive were the perfect match for its sport suspension and dynamic stability control-it took them with the elegance of a manta ray.
Aston has given us a thick sport wheel and tight rack-and- pinion power-assisted steering here; the turning radius is something to love. The gear box is comfortable to shift through, and the clutch is easy. (Hill-start assist comes standard.) The steel disc brakes respond well when you need them.
It's also welcome to note that the Vantage is just over 172 inches, a full 10 inches shorter than, say, the Ferrari F12 Berlinetta, and five inches shorter than even a base Porsche 911. You feel the difference-the Vantage gathers itself closer and tighter than those, with an steering radius that puts all others to shame.
I'm not going to make the tired cliché James Bond comparison here that unfailingly accompanies every Aston Martin review. I'll just say this car gives you an extra pep in your step when you finally alight.
Perfect proportions
As expected, the 2017 Vantage GTS Sport Edition I drove got plenty of attention from the police. Not to issue me a ticket, luckily. Just to come over, ask about the engine, and snap a few selfies on the hood. They also wanted to hear the stainless steel sports exhaust system roar awake a few times. I was happy to oblige.
They're not wrong. Similar to the Porsche 911 and Jaguar E- Type, the classic Aston Martin body looks so good because of its proportions. The ratio between the length of the hood, angle of the roofline, stacked rear haunches, and tight back end unlocks the pleasure centre of the brain. There is such a thing as absolute beauty-a topic for a different column-so suffice it to say that with its sleek body, halogen projector headlamps, and five-spoke alloy wheels, the Vantage GTS is an objectively beautiful machine.
The cobalt blue paint and 19-inch rims like the ones I had come standard; you can personalize other wheel options ranging from US$2,690 to US$3,785. There are also plenty of carbon fiber options for the mirrors, handles, and headlamps to match the standard front splitter and diffusers. Do it. You might as well go all-in.
Smart options, no clutter
Inside the Vantage GTS, it's mostly cosmetic differences between this edition and the regular models. Aston gives us special GTS badging on the doorsills, cool indented detailing on the cockpit seats, and suede-like Alcantara on the steering wheel and roof. The gearshift is surrounded by carbon fibre.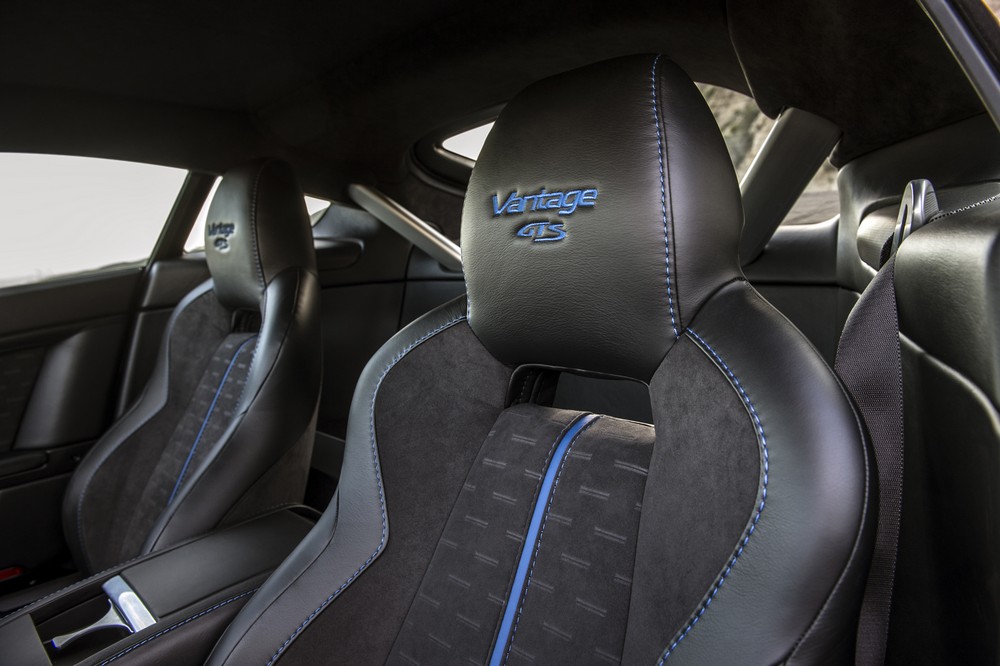 There are slight blind spots right at the tip of each shoulder, of course-this is to be expected. And you'll find yourself stopping for gas a lot; combined mileage on this thing is only 15 mpg. But the generous ledge for holding a valise behind you, and the ample seating area makes you forget the inconvenience. The Vantage has plenty of head-, shoulder- and legroom for tall folks like us.
Want more options? You can buy a custom umbrella that matches the car (US$295), a special glass key (US$750), and a 1,000- watt Bang & Olufsen sound system (US$8,330). I like that there isn't too much else on offer here to clutter up the interior. You will be focusing on the driving, anyway.
The choice for manual fun
The V8 Vantage GTS Sport Edition I drove cost US$139,000, which includes some options and the destination charges. That's a little less than a Porsche 911 Turbo, which is about US$160,000, and a lot less than a McLaren 570S, which costs around US$185,000.
Those are great cars. And yes, you might get some side-eyes from ignorami who wonder why you didn't choose the Vantage V12. But I'm willing to bet most people who do that haven't driven this. If you want a real manual driving experience in a high-end daily driver, buy the 2017 Vantage GTS Coupe. After all, you worked at those skills, don't let them go to waste. —
Reviewed by HANNAH ELLIOTTNote: The Vantage GTS is only available in the United States.