By THOMAS HUONG and JAY WONG
Honda's HR-V has been ruling the compact SUV scene since day one with its fresh styling and youthful persona. Can it hold out against the Toyota C-HR, the new kid on the block?
Since its introduction in February 2015, the Honda HR-V has been the runaway leader in the compact SUV (sport utility vehicle) segment in Malaysia thanks to its stylish exterior and spacious interior as well as attractive prices.
Assembled at Honda Malaysia's Pegoh plant in Alor Gajah, Malacca, the HR-V is offered in four trims priced from RM92,545 to RM112,111 with zero rated GST (Goods and Services Tax).
A new challenger that arrived in March this year is the Thailand-built Toyota C-HR, which is priced at RM137,300 with zero rated GST.
The massive price difference is due to the HR-V getting tax incentives as a locally assembled vehicle as well as by virtue of the C-HR being better equipped in comfort and safety kit.
We chose to pit the C-HR against the top-grade Honda HR-V (V grade) priced at RM110,819 with zero rated GST.
Of course, our HR-V test drive unit in Dark Ruby Red Pearl was spiced up with optional accessories such as bumper garnishing, side running boards, illuminated side steps and door visors as well as window tint film which brings its cost up by some RM6,300 to RM7,800 (depending on window tint film package).
But even with all that extra kit, the price difference is still around a princely RM18,700 to RM20,000.
It is tough to justify the big price difference although the C-HR is better equipped with an extra airbag, full leather seats, a Blind Spot Monitor (BSM), Rear Cross Traffic Alert (RCTA) and a tyre pressure monitoring system.
Still, the top-grade HR-V is not without its extra attractions like LED headlights (C-HR has projector halogen headlamps) and two USB ports (C-HR has three).
Also, it should be noted that while both cars use a MacPherson strut front suspension, the C-HR has a more expensive double-wishbone rear set-up (HR-V has a rear torsion beam which is less costly, simpler, lighter and more compact).
The double wishbone suspension is usually preferred by premium and performance cars as it provides a better balance between handling and ride comfort.
What's also interesting about the C-HR is that it was built using the Toyota New Global Architecture (TNGA) platform, which was announced three years ago as helping Toyota to make cars using fewer resources.
So, unlike the HR-V which is based on the popular Honda Jazz's compact platform, the C-HR uses the TNGA platform which means a low-stance design, thus giving it a lower centre of gravity and in turn, translates into better stability and handling.
Both cars have hidden-type-design or integrated rear door handles, which increases the style quotient.
In terms of size, the C-HR measures 4,360mm (length); 1,795mm (width); 1,565mm (height) and 2,640mm (wheelbase).
The HR-V measures 4,294mm (length); 1,772mm (width); 1,605mm (height) and 2,610mm (wheelbase).
This means the C-HR is a little longer, wider and lower than its Honda rival.
Both cars have 1.8-litre petrol-powered naturally aspirated engines mated to fuel economical CVTs (continuous variable transmission), and are fitted with 17-inch wheels.
The 142ps/172Nm HR-V outputs a bit more power at slightly higher engine speeds than its 140ps/171Nm Toyota rival, and with a 1,267kg kerb weight, it is also lighter by a substantial 138kg than the C-HR.
The weight difference probably explains why in impromptu off-the-line sprints, the HR-V easily outpaces the C-HR in acceleration.
As for fuel economy, both cars claim nearly similar figures with the Toyota just edging the Honda (6.5 litres per 100km on the C-HR versus 6.6 litres per 100km on the HR-V).
Of course, in the reality of daily commuting, one can never achieve anything close to those claimed fuel consumption figures.
On the HR-V, the rear door is wider and the rear cargo floor is also lower, making it much more convenient when loading heavy stuff into the back of the car.
The HR-V also wins with much better rear cargo room (437 litres versus 388 litres on the C-HR) and its rear Ultra seats which can be folded flat or tipped up (compared with 60:40 split fold rear seats on the C-HR).
In summary, the HR-V offers more room and storage options as well as better convenience and practicality when it comes to storing cargo.
Honda HR-V 1.8L (V grade)
The Honda HR-V has ample power on tap thanks to its 1.8-litre SOHC i-VTEC engine and relatively athletic 1,267kg kerb weight, drives well enough with a responsive and accurate steering, and has an impressively roomy cabin for its compact size.
With its ingeniously designed rear Ultra seats and the low-loading level and wide rear hatch door, there is no doubt that Honda engineers deserve high praise in maximising the cargo storage room of the HR-V.
Looking at the strong global sales of the HR-V, Honda certainly hit a sweet spot when it set out to build a crossover with the feel of a coupe and the utility of a minivan, and which bridges the gap between upper SUVs (sport utility vehicles) and entry level sedans.
We found ample rear legroom and headroom for 1.7-metre adults, and the mixed fabric-leather seats provided more than adequate comfort.
The HR-V also comes with the typical green Honda ECON button for those who prioritise fuel economy, and pressing it will change the throttle response, air-conditioning and transmission settings to reduce petrol consumption.
The interior design is easy on the eyes, and we like the chrome door handles, 7-inch touchscreen display and touch controls for air-conditioning.
Only the driver's window has the one touch up/down function.
The three air-conditioning vents directly facing the front passenger seat, are a boon in our hot tropical climate and our passengers certainly appreciated them.
Regarding storage space for small items, there isn't a deep centre storage box to be found here.
However, the cleverly designed cubby holes and arm-rest between the front seats, door bins on all four side doors, and front seat-back pockets are more than adequate to store items like water bottles and a SmartTAG device.
The HR-V in V trim is also well-packaged with a HDMI (High-Definition Multimedia Interface) port, two USB ports (instead of one) and a 12V/180W power outlet in front - certainly welcomed in an era where most people want to charge their electronic devices on the move.
Honda Malaysia has packaged the top-grade V trim for the HR-V rather attractively, as it gets extra kit like LED headlights, chrome outer door handles, cruise control, a multi-angle rearview camera, mixed fabric-leather seats, a 7-inch touchscreen display, six audio speakers, and six airbags.
All variants of the HR-V are also nicely fitted with kit such as automatic headlights, daytime running lights, front and rear fog lights, a tilt and telescopic steering wheel, the marvellous rear Ultra seats for more storage options, and safety systems like Hill Start Assist (HSA) and Vehicle Stability Assist (VSA) as well as a space saving Electric Parking Brake and the convenience of Automatic Brake Hold in stop-and-go traffic.
Running on Yokohama BluEarth E70 tyres sized 215/55 R17, the HR-V feels well planted when taking corners at speed.
While the interior is quiet enough, with minimal intrusion from wind and engine noise, we did feel that noise insulation can be better, with tyre noise being quite apparent although we did not think it was overwhelmingly loud.
The HR-V is a smooth-driving car, and we noted that on the highway at 80kph, the tachometer needle hovered at a low 1,500rpm.
At 90kph, the tachometer needle on the HR-V was at 1,600 to 1,700rpm.
At 100kph, the needle hovered at around 1,800 to 1,900rpm and at 110kph, it was at 2,000rpm.
While the HR-V is quite zippy in off-the-line sprints and has engaging throttle response, it doesn't quite match the Toyota C-HR in terms of driving refinement and silky-smooth motoring.
In the Toyota rival, we noted that the highway at 80kph, the tachometer needle hovered at just under 1,500rpm.
At 90kph, the tachometer needle on the C-HR was at 1,600rpm.
At 100kph, the needle hovered at around 1,750rpm and at 110kph, it was at 1,900rpm.
The Toyota C-HR's engine revs slightly lower at the same cruising speeds, but it must be said the differences here are really very minor.
Overall, the Honda HR-V is a marvellously designed and packaged car with a smooth and efficient powertrain.
Toyota C-HR
WITHOUT any doubt, Toyota's C-HR (Compact-High Rider) is the most attractive compact sport utility vehicle (SUV) in its segment and it's been the talk of the town ever since it was launched in Japan in late 2016.
The sheet metal adds a muscular disposition to its already compact dimensions.
Overall, there's very little overhang all-round, its frontal design gives it an aggressive look and the rear-end has a futuristic design to it.
Aside from its good looks, the C-HR comes with a hefty price in its segment - RM137,300 on-the-road without insurance, and praise should be accorded due to the inclusion of added safety kit such as seven airbags, blind spot monitoring system, rear cross traffic alert and tyre pressure monitoring system as standard.
Not to mention, there's a host of convenience that entails it and include items such as Follow Me Home function, automatic headlamps and wipers, DVD Player, Wi-Fi, internet browser, voice recognition, HDMI, USB, Bluetooth, dual zone automatic climate controls, one-touch power windows, electric parking brake and automatic brake hold function.
Inside, the keyless entry with push-start system proves to be effortless. The handles are touch sensitive to activate and deactivate the central-locking system and the push-start button is located to the right of the steering column for added familiarity.
The cabin is generally soft on the eyes as it is to the touch with the addition of some gloss-black accent panels for some sophistication.
At the front, the cockpit is driver-centric that have simplistic, intuitive controls and are easily in reach.
The inclusion of that stubby brushed-aluminium gear knob feels ergonomic and premium in the hand while providing a sporty disposition.
At the rear, or rather the 'dark end' of the cabin due to the lack of window real-estate, there is an adequate amount of head and leg room, which seems to have encroached into the boot's territory, leaving it with 318 litres (expandable to 1,112 litres) of space.
Combined with the significant amount of bolstering from the leather-upholstered seats, it all adds up to an inviting comfort-oriented cabin that provides for a somewhat commanding view up front.
While at idle, the engine runs quietly smooth and ride comfort takes on the same qualities to soak up the 'impurities' our roads have to offer for a rather refined ride.
Although this SUV comes equipped with a continuously variable transmission, power delivery feels adequate and buttery smooth.
Not to mention, its pickup from standstill doesn't feel rushed and only at higher engine speeds will the engine's scream permeate its way into the cabin.
While at speed, wind noise becomes apparent off the large wing mirrors as the suspension provides a re-assuring drive when getting thrown around corners with a controlled amount of pitch and roll.
The steering feels precise in the hands with a good amount of 'bite' coming from the brakes and the 17-inch wheels with 215/60 series tyres gives it a planted feel for a confidence-inspiring drive.
But the C-HR isn't without a few chinks in its armour.
Although the driver has a good amount of forward and side vision, peering out the rear left-hand side proved to be problematic with the thick C-pillars and getting in and out will require a minute amount of hop.
Also, the rear window port is limited in height due to the amount of rake it possesses from its intricately designed rear end.
During reverse-parking duties, the reverse camera's video feed with static parking lines on the 7.0-inch colour touchscreen has a little lag to it.
A little nit-picky, but it needs to be mentioned none-the-less.
Aside from that, it still makes for a very usable vehicle that will fit nicely into anyone's lifestyle as they fall in love with the premium fit, finish and ride.
VERDICT
THESE two compact SUVs - the HR-V and C-HR - are closely matched and can equally trade blows against each other in terms of kit.
In the HR-V's corner, it has price on its side, costing RM110,819 before adding up to RM7,800 worth of accessories that this test unit came with.
That's still up to RM20,000 less against the CH-R's asking price of RM137,300.
Additionally, the HR-V accelerates faster than the C-HR, has better ease of getting in and out thanks to larger door opening, a far more accommodating 437-litre boot and has a lower tailgate.
Going against it though, the looks of the HR-V are starting to feel dated - even more so when placed next to the C-HR.
With the pedal to the metal, the ride on the HR-V can get choppy as its suspension tries its level best not to allow itself to bounce too much over uneven roads, and the steering does feel a little more blunt from its excess idle in comparison.
Now, if there isn't such a huge price difference between the two cars, the C-HR would definitely be our choice for the daily commute.
Firstly, the styling is able to razzle and dazzle with its futuristic design that isn't overly aggressive
Inside, the driver-centric cabin feels premium thanks to the soft rubber-like dashboard, black leather-upholstered seats and intuitive controls that are both ergonomic and easily accessible.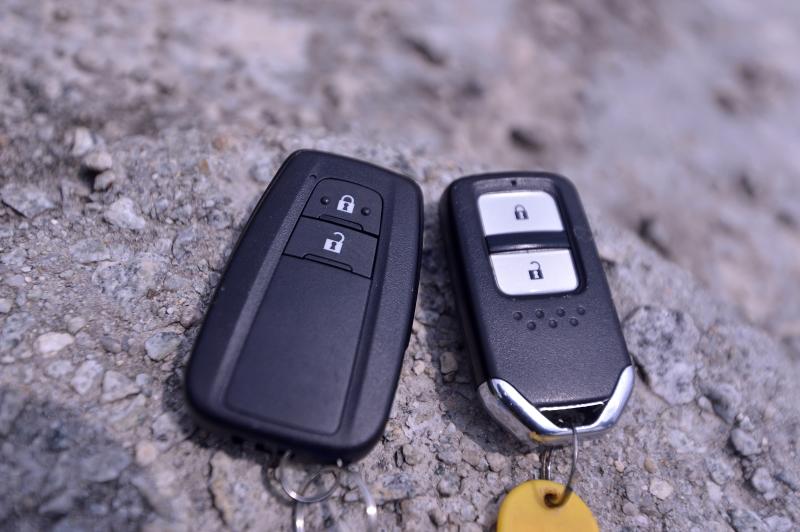 Noise, vibration and harshness levels are significantly lower than the HR-V.
As for road-holding qualities, the C-HR is able to maintain its composure well against the HR-V.
Flinging it around tight corners and the CH-R will not only soak up the uneven surface, but it'll track rather well with the rear end kept in check.
Combine everything together and the C-HR takes the win - not to mention it being the harder vehicle to relinquish at the end of the test drive period.
2018 Toyota C-HR 1.8LEngine:
1,798cc 4-Cylinder, In-line, 16-Valve DOHC with dual VVT-i
Max Power:
140ps at 6,400rpm
Max Torque:
171Nm at 4,000Nm
Gearbox:
CVT with 7-speed Sequential Shiftmatic
Fuel consumption (combined cycle):
6.5 litres per 100km
Rear cargo area:
318 litres (seats up) and 1,112 litres (rear seats down)
Fuel tank:
50 litres
Kerb weight:
1,405kg
Comfort features:
Projector halogen headlamps with Follow Me Home function, automatic headlamps, LED daytime running lights, front and rear fog lamps, LED rear combination lamps, automatic wipers, 6 audio speakers, DVD Player with 7-inch touchscreen, Wi-Fi, Internet Browser, voice recognition, HDMI, USB, Bluetooth, reverse camera, smart entry, push-start ignition, dual zone automatic climate control, black leather seats, 60:40 split fold rear seats, 3 USB charging ports, auto up/down function for all windows, Electric Parking Brake, Automatic Brake Hold, Toyota Premium Security and Solar Film
Safety features:
7 airbags, Anti-lock Braking System (ABS), Electronic Brake-Force Distribution (EBD), Brake Assist (BA), Vehicle Stability Control (VSC), Traction Control (TRC), Hill-start Assist Control (HAC), Blind Spot Monitor (BSM), Rear Cross Traffic Alert (RCTA), tyre pressure monitoring system, front and rear parking sensors, ISOFIX child seat anchors, all-round disc brakes
Price:
RM137,300 on-the-road without insurance (at zero rated GST)
Warranty:
5-years, with unlimited mileage
Honda HR-V 1.8L (V grade)Engine:
1,799cc 4-Cylinder, 16-Valve, SOHC i-VTEC
Max Power:
142ps at 6,500rpm
Max Torque:
172Nm at 4,300Nm
Gearbox:
Continuous Variable Transmission (CVT)
Fuel consumption (combined cycle):
6.6 litres per 100km
Rear cargo area:
437 litres (seats up) and 1,032 litres (rear seats down)
Fuel tank:
50 litres
Kerb weight:
1,267kg
Comfort features:
LED headlights, automatic headlamps, LED daytime running lights, front and rear fog lamps, LED rear combination lamps, smart entry, push-start ignition, multi-angle rearview camera, mixed fabric-leather seats, automatic air conditioning, 7-inch touchscreen display, 6 audio speakers, 2 USB ports, 1 HDMI port, Voice Recognition, Electric Parking Brake, Automatic Brake Hold
Safety features:
6 airbags, Anti-lock Braking System (ABS), Electronic Brake Distribution (EBD), Brake Assist (BA), Vehicle Stability Assist (VSA), Hill Start Assist (HSA), reverse sensors, ISOFIX child seat anchors,
all-round disc brakes
Price:
RM110,819 on-the-road without insurance (at zero rated GST)
Warranty:
5-years, with unlimited mileage and Free Labour service up to 6 times within 100,000km or 5 years (whichever is first)