Let the duel begin. In one corner is the Mercedes-Benz C 350 e. In the other, the BMW 330e.  — Photos by AZHAR MAHFOF
To spur adoption of fuel-efficient hybrid and electric cars, Government incentives in the form or tax rebates or purchase subsidies are vital.
This is where cars like the BMW 330e and Mercedes-Benz C 350 e plug-in hybrids benefit tremendously from tax incentives designed to spur local assembly of EEVs (energy efficient vehicles).
For example, without the EEV incentives, the BMW 330e M Sport would be priced RM130,000 higher. As it is, the 330e which is seen here in M Sport form, is priced at a more accessible RM258,800.
Meanwhile, the C 350 e is priced at RM289,888 (Avantgarde trim); RM294,888 (with AMG Line interior); RM299,888 (AMG Line exterior and interior). Both the 330e and C 350 e use lithium-ion batteries that can be recharged by plugging to a charging station or wall socket.
For example, with the 330e, a full charge using a conventional domestic power socket would take five hours. The BMW Wallbox Pro charging station, meanwhile offers a quicker charge time of 3.5 hours.
Compare this to the C 350 e, where the lithium-ion battery can be fully charged from 10% to 100% in about one hour and 45 minutes with the 230V 16A 3.7kW single-phase wallbox (RM7,000) or about two hours with a 230V 13A 3.0kW wall socket.
What the lithium-ion batteries provide is the juice to run the cars in pure electric mode; up to 35km in the BMW and 31km in the Mercedes-Benz. Fuel consumption for both cars can be as low as 2.1 litres per 100km.
However, in reality, it is quite impossible to achieve although judicious use of the hybrid driving modes can result in fuel consumption of around 4.5 litres per 100km, as seen on a fuel economy challenge for the C 350 e earlier this year.
Now, the batteries and electric powertrain also add volume and weight. This results in the 330e M Sport having an unladen weight of 1,735kg which is 190kg more than the non-hybrid 330i M Sport. As for the C 350 e, it has a kerb weight of 1,780kg which is 300kg more than the non-hybrid C 250.
Due to the batteries, both cars also lose boot space – the 330e M Sport has a 370-litre boot, compared with a 480-litre boot in a typical 3 Series. The C 350 e has a smaller 335-litre boot (compared with a 480-litre boot in the C 250).
Depending on trim package, the C 350 e is priced at least RM31,000 higher than the 330e. At the higher price tag, the Mercedes-Benz buyer gets extra kit such as the Airmatic air suspension which is provided as standard, for outstanding ride comfort with minimal road roar and tyre vibration.
Also standard on the Mercedes-Benz is an exceptional sound experience from a Burmester surround sound system, consisting of 13 speakers, a 9-channel DSP amplifier and an output of 590 watts. The BMW, meanwhile, gets a 205-watt, nine-speaker HiFi audio system which we feel also provides top-notch audio playback quality.
Both cars have run-flat tyres, and the Mercedes-Benz gets bigger 19-inch wheels compared with the BMW, which has 18-inch rims. The Mercedes-Benz possesses a powered tail gate for convenience.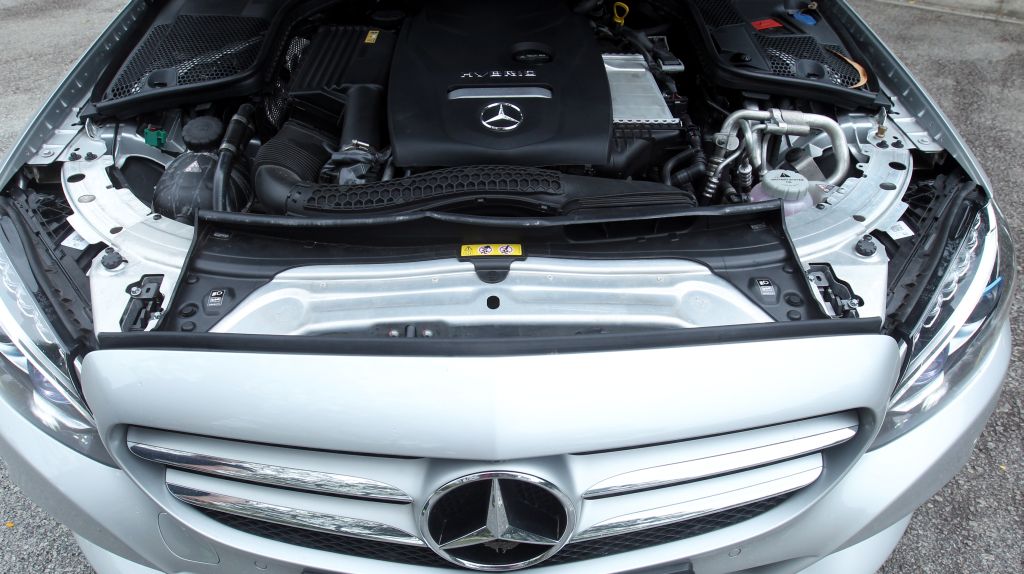 Still, a big draw here is that the C 350 e is a more powerful machine. Both cars have 2.0-litre turbocharged engines, but the C 350 e outputs an adrenalin-inducing 279hp and 600Nm of torque, while the 330e generates 252PS (249hp) and 420Nm of torque in comparison.
However, this does not mean the 330e is a laggard as its zero to 100kph sprint is done in a respectivle 6.1 seconds (compared with 5.9 seconds for the C 350 e).
BMW 330e M Sport

After four decades of existence, no one would have guessed that the sixth-generation BMW 3 Series (F30) would be the one to get a plug-in hybrid drivetrain, let alone, receive the 330e nomenclature.
While draped in Mineral Grey, our eco-friendly 330e, costing RM258,800, also happens to have the M Sport designation and if you have guessed it right, it is practically a 330i M Sport with a set of 18-inch double-spoke M light alloy wheels with 225/45 (front) and 255/40 (rear) tyres.
Difference is, there is now a 5,700kW/h lithium-ion battery tucked under the 371-litre boot floorboard, powering a 87PS (86hp) / 250Nm electric motor and a M Sport suspension package that sits the car 10mm lower instead of the adaptive suspension system found in the 330i.
Consequently, the new additionals mean that the car has gained some 190kg at 1,735kg (kerb).
But just to make it a little more distinguishable, there is also a flap located just aft of the front left wheel which opens up for 'charge' duties and there is also an 'e' in place of the usual 'i' after the numbers 330 as well as the 'e-Drive' badges planted on both C-pillars to help it stand apart from its internal combustion-powered stablemates.
Even though the 2.0-litre turbocharged four-potter is supposed to push out 252PS and 350Nm – as in the 330i, output has been detuned to 184PS and 290Nm, but thankfully, the electric motor bumps up the total system output to 252PS (249hp) and 420Nm (+70Nm), which subsequently gets managed by an eight-speed dual-clutch transmission.
Other than the usual driving modes of Eco, Normal, Sport and Sport+ (a favourite with this writer), the 330e also comes with three other modes of AUTO eDRIVE which lets the car determine the use of engine, electric motor or both; MAX eDRIVE uses mostly electric motor; and SAVE BATTERY uses the engine for most of the time.
Other than the additional parts, the cabin's layout and controls are pretty much identical, save the 'e-Drive' badge at the base of the gear selector and the simplistic layout allows drivers to concentrate on their main duty – driving.
The Dakota black leather upholstered sports seats are tough yet plush.
The 330e will move off silently at first in electric power and as soon as it detects slightly more throttle input, the engine smoothly joins in with just a touch of vibration as an indicator. In full electric mode, the 330e is perfect for those who commute daily to and from work within a relatively short distance.
As long as it remains charged there won't be a need for petrol usage. In Eco Pro or Normal mode, everything remains smooth and gentle in response.
In Sport+ mode, the 330e's steering just got heftier, throttle becomes responsive and power surges in quicker. Throw it into a corner and it wants to soak up the lateral g-forces before spitting out the exit with smoking rear tyres or with scalpel-like precision – the choice is really yours.
Mercedes-Benz C 350 e
The test drive unit here has the Avantgarde exterior kit, with AMG Line interior, and is priced at RM294,888.
The AMG Line interior which costs RM5,000 more than the Avantgarde interior trim, provides upgrades like a 360-degree Surround View camera which enables all-round visibility, including a bird's-eye view – a top-down view of the car and its immediate surroundings. This is great help especially when parking and manoeuvring in tight spots.
There is also an upgrade from a regular sunroof to a panoramic sliding sunroof, with two powered sunblinds as well a more sophisticated COMAND Online multimedia system with DVD player.
To recap, the C 350 e uses a seven-speed 7G-Tronic Plus automatic transmission to manage the familiar 2.0-litre (1,991cc) M274 aluminium engine – producing 211hp at 5,500rpm and 350Nm of torque from 1,200 to 4,000rpm.
With an electric motor to generate 80hp and 340Nm, the car's combined output is a beefy 279hp and 600Nm of torque. The lithium-ion battery is under the boot's floor board, and this reduces the boot volume – but rear storage space can expand to 1,370 litres with the seats folded down.
In addition to the Dynamic Select driving modes of Eco, Comfort, Sport, Sport+ and Individual, drivers also have four hybrid modes of Charge (uses combustion engine to help recharge battery while driving), E-save (uses combustion engine when driving and saving electric charge for later use), E-mode (uses electric motor when driving), and Hybrid (uses combustion and electric motor for best efficiency).
You get a silent start in electric mode, as the combustion engine is not active at start-up.
Take-offs are silky smooth, as the switch from all-electric mode to using the combustion engine is quite seamless – there are no unpleasant jerks.
There is a lot of innovative technologies here, including Collision Prevention Assist Plus, which protects against collision at speeds of over 7kph and, if the danger remains and the driver fails to react, can also undertake autonomous braking at speeds of up to 200kph.
We were also impressed by how the Airmatic air suspension in Comfort or Eco mode soaks up the bumps and uneven road surfaces very well at low speeds, despite the C 350 e being shod with low profile tyres wrapped around 19-inch wheels.
Rear knee and head room is quite accommodating for 170cm people, and in terms of ride quality and cabin appointments, the C 350 e is impressive.
There is a lot of power here for performance-oriented drivers, which seems to be at odds with its frugal hybrid powertrain. Power delivery is linear, and the C 350 e provides marvellous refinement.
You get the best of contrasting worlds – lots of muscle for brisk drives, a fuel economy champion and a luxuriously appointed interior.
Verdict

With both plug-in hybrid cars hailing from Germany, the Mercedes-Benz is from Stuttgart and the Bimmer from Munich - they ultimately appeal to two very different types of drivers.
Both cars are similarly-sized, both on the outside and inside, but it is the C 350 e that appeals to those who demand comfort and sophistication, while the 330e will draw in those who are attracted to something more along the lines of sporty-aggressive and each car has been built within these parameters.
Also, they both feature keyless entry with Start/Stop button but the C 350 e gets a powered boot.
Speaking of which, the 330e has the bigger boot space at 370 litres with a wider opening, but lacks width inside and while the C 350 e has lesser at 335 litres with a more cavernous appearance, its opening isn't as accommodating and the floorboard is not flush.
In terms of cabin feel, the C 350 e is the winner thanks its combination of plush seats, polished/brushed metallic surfaces, intricate details etched into the controls and perhaps to a degree the changeable ambient lighting system with three colour options to help bring about even more sophistication.
This makes the 330e's interior, with its blue metallic stripe that runs through the dashboard to indicate performance and its relation to the M Sport family, seem rather rudimentary.
While the C 350 e's cabin controls are nicely presented in a single row, it is quite comprehensive though some acclimatisation may be required for quick operations.
On the other hand, the 330e's controls is less complicated on the centre dash with the audio controls above and climate controls below it – making it more intuitive and with ease of reach thanks to its driver-centric layout.
In terms of performance, the C 350 e's system output of 279hp and 600Nm means that it catapults from 0-100kph in 5.9 seconds - 0.2 seconds faster than the 330e and its 252PS (249hp) and 420Nm output.
Introduce some twists and turns into the test drive and it's the 330e that is more agile.
While the suspension of the C 350 e will stiffen up in Sport and Sport+ modes, there's still some wallowing on fast corners.
On the other hand, the 330e's suspension is already set to firm and this will help the driver push its handling closer to the limit.
The C 350 e is without doubt a luxury-laden eco-friendly road rocket. Though the comfort-oriented Airmatic suspension system is undoubtedly great at providing smooth rides over rough roads, the C 350 e's steering feel and high speed handling are behind the 330e's.
This is where the 330e shines the most.
Along with the planted feel, uber quick down-shifts, abrupt up-shifts, responsive throttle and a neutral balance for a rather confidence-inspiring drive in Sport+ mode - the 330e is simply easier to manhandle and drive.
Don't get us wrong, it's not to say that the C 350 e is not a fun car, but the 330e seems to be able to perform the same acts with more excitement.
Our pick is the 330e as we essentially enjoy having an engaging drive.
And at roughly RM36,000 less than the C 350 e along with an additional year of warranty over it, three years free concierge service, BMW Tyre Warranty Programme package and five years free scheduled services (up to 100,000km) – the 330e seems quite compelling. —  
JAY WONG and THOMAS HUONG
SPECIFICATIONSBMW 330e M Sport
Engine: 1,998cc four in-line, petrol, twin-scroll turbocharger
Maximum power: 184hp at 5,000 to 6,500rpm
Maximum torque: 290Nm from 1,350 to 4,250rpm
System output (with electric motor): 252PS (249hp) and 420Nm
Top EV speed: 120kph
Transmission: 8-speed automatic with Steptronic
Features: Airbags, Dynamic Stability Control (DSC) including Cornering Brake Control and Dynamic Traction Control, M Sport suspension, LED headlights, two-zone automatic air-conditioning, run-flat tyres and flat tyre indicator, cruise control with braking function, Parking assistant for parallel and lateral parking manoeuvres, rear view camera, electric glass roof, push-start ignition
Price (on-the-road with GST without insurance): RM258,800
Warranty: 5 years, with unlimited mileage and free scheduled service for 5 years or up to 100,000km
Mercedes-Benz C 350 e Avantgarde
Engine: 1,991cc four in-line, petrol, turbocharger
Maximum power: 211hp at 5,500 rpm
Maximum torque: 350Nm from 1,200 to 4,000rpm
System output (with electric motor): 279hp and 600Nm
Top EV speed: 130kph
Transmission: 7G-Tronic Plus automatic
Features: Airbags, Pre-Safe system, Collision Prevention Assist Plus, Tyre Pressure Monitoring System, run-flat tyres, Airmatic air suspension, reverse camera, Park Assist with Parktronic, automatic climate control, LED headlights, Adaptive highbeam assist, sunroof, attention assist, push start ignition
Price (on-the-road with GST without insurance): RM294,888 (with AMG Line interior)
Warranty: 4 years, with unlimited mileage.