MUNICH: BMW in Malaysia has been pushing its hybrid electric vehicle agenda with the recent roll-out of the X5 plug-in hybrid. Next on the cards is the 330e.
Munich's clear blue skies, cool winds and stretches of winding country roads are best enjoyed with one of Bavaria's latest offerings - a BMW 330e iPerformance plug-in hybrid electric vehicle (PHEV) that pays tribute to the German automaker's slogan of "sheer driving pleasure".
Externally, the 330e maintains the look of any other F30 (BMW's internal code for the current generation 3 Series) out there, but those with a keen eye will first notice the 330e nomenclature, the "e-drive" badge on the C-pillars and an unusual trapezoidal flap located just aft of the front-left wheel.
The company's reputation tends to precede itself in that whenever a vehicle rolls out with a blue and white roundel, it's usually nothing less than a 'driver's machine'.
However, it can be confusing for some, since a few Japanese carmakers have practically set the ball rolling in the direction of hybrid vehicles being anything "but" performance oriented.
While they may help save precious pennies and lessen the impact on the environment, they just aren't able to strike an emotive chord with its performance and handling.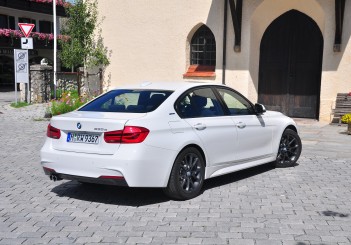 BMW, unfortunately, isn't the first German carmaker to try and dispel such a notion - that belongs to a German sportscar maker some 230km away from Munich in Stuttgart, but what it has done is merge the best of both worlds (the internal combustion engine and the electric motor) into one.
That is to say that new owners will have the comfortable confines of this German luxury sedan with all its glory on one hand and the abilities of a Nissan Leaf on the other.
What lies beneath the hood is a 2.0-litre (1,998cc) four-cylinder turbocharged engine that's mated to an eight-speed automatic transmission from long-time transmission-provider ZF, and adds on Steptronic manual mode as well as paddle-shifters.
The combustion engine gets its petrol from a 60-litre fuel tank to produce 135hp and 290Nm of torque that's combined with the abilities of an electric motor capable of 88hp and 250Nm of torque alone.
Total system output for the 330e now resides at 252hp and 420Nm of torque, allowing it to sprint from 0-100kph in 6.1 seconds and onwards to a top speed of 225kph.
What was interesting was that we picked up the car in Garching - a district within Munich and home to BMW M GmbH high-performance/motorsport vehicle research and development centre, and proceeded to drive it all the way purely in electric mode back to Munich's city centre, some 20km during evening traffic.
There was virtually nothing to indicate that the electric motor was struggling to get the car moving, especially when we found ourselves trapped in stop-go traffic.
Finally, we made it past one of the Autobahn's congested exits and the road finally opened up once more.
Although the electric motor with 88hp might sound like an under achiever, it's really the 250Nm of torque that's available from 0 to 2,500rpm - yes it's that instantaneous.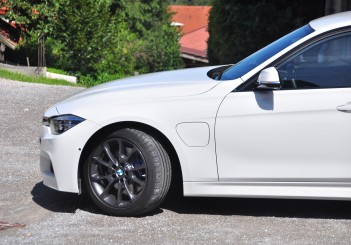 It's the torque that helps get the 1,735kg (kerb) car moving with effortless gusto as the electric motor whirs away like a barely audible jet engine firing up.
As we comfortably reached a maximum cruising speed of 120kph in pure electric mode, there was just the slight intrusion of wind and tyre noise from the 18-inch wheels with grippy 225/45 (front) and 255/40 (rear) Michelin Pilot Super Sport tyres.
We also found that if more power was demanded with the accelerator pedal while at maximum electric speed, the battery's charge levels begin to diminish at a quicker rate.
Almost an hour later, our humble German hotel was in sight and the battery's power levels was close to its end, but unlike some other hybrids, the battery didn't seem to struggle to provide the necessary power.
Since we didn't have access to a plug-point to help recharge the car's battery pack, we started the next day with roughly about 10% charge left which depleted quickly due to city congestion and higher temperatures compared to the previous day.
If only we had access to a charging station or just a normal wall plug, we could have actually spent the next 20-odd kilometres in electric mode again and conserve fuel for the more winding sections.
We headed south to visit Munich's various lakes and after almost two hours of driving, we stopped at the small town of Steinach to take in some good German food, the fresh air and the scenic Austrian hills.
Pushing the 330e through the tight and twisties wasn't half as bad in the handling department, despite its additional 160-190kg over its 330i sibling.
Although the accelerative performance could be felt, the excess weight seemed to have slightly dulled the cornering performance, but it still manages to keep its composure around the bends thanks to the Adaptive M suspension system that lowers the car by 10mm when at speed and Michelin's high-grip tyres.
In the braking department, the 330e was equipped with the optional Brembo-sourced M Sport braking system for a little more consistency in brake feel, which uses a set of four-piston (front) and two-piston (rear) 'M'-logo blue callipers to bite down on the 345mm (front) and 340mm (rear) solid discs.
The car, however, was weighed down by three adult males averaging a modest 80kg each and our luggage that filled up the 370-litre boot, while the hefty 7.6kWh lithium-ion battery resides beneath it, which made us wonder if we could better gauge the car if it weren't so laden.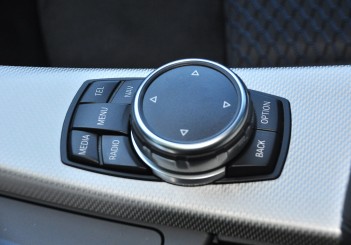 The electric motor is actually located up front, replacing the torque converter, for better efficiency and weight savings, which means the 330e's weight distribution is now a little more towards the aft.
As for the combustion engine, it simply gives when the foot demands, but when there's a greedy moment, the electric motor kicks in seamlessly to cover any of the engine's short-comings.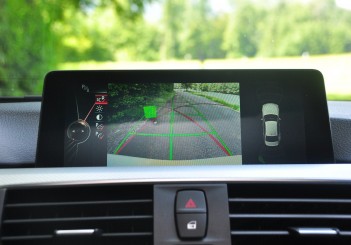 With the Start-Stop function active, there's going to be a hint of 'shake' when the engine fires up - this is also evident when the engine kicks for more power while in electric mode at low speeds, but nonetheless a smoother transition compared to the Bavarian brand's long-time rival.
Before the day ended with the 'shaking' of hands (no pun intended) and the parting of good company, we had clocked nearly 400km on the odometer with just a little more than half the fuel tank depleted thanks to a few good spirited sessions.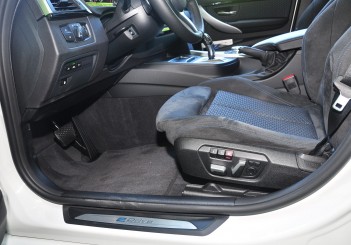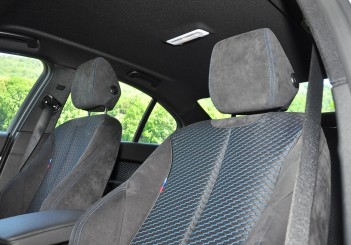 We find it hard to pin-point any of the 330e's misgivings especially after having put it through its paces.
Because of its wide range of abilities, many should find it more of a bundle of joy especially when it comes with fuel-cost savings; that sporty BMW-handling (flat, grippy and composed) and the effortless, smooth or visceral acceleration to name a few.
In our books, the 330e has certainly managed to stamp out the negative stigma of PHEV's being boring vehicles by adding some proper performance and handling to the mix that translates into both a joyful and satisfying drive.
And since it left a deep and lasting impression, we deem it more than worthy enough for anyone who can cough up the just under RM250,000 (estimated) asking price following its launch during the BMW Innovation Days at Desa Parkcity, Kuala Lumpur from Aug 26 till 28.
READ MORE:
BMW X5 xDrive40e launched at RM389k