This Citroen DS3 Racing is not for sale.
The limited edition model was on loan to carsifu for a few days, as part of a media programme to highlight the design and sports engineering capabilities of Citroen.
Naza Euro Motors, the official distributor for Citroen in Malaysia, told us they have no plans to sell the DS3 Racing here.
This three-door hot hatch is what the standard DS3 can be, thanks to the expertise of the engineers at the Citroen Racing team.
Citroen has claimed numerous victories in the Manufacturers' category of the World Rally Championship, as well as in the Drivers/Co-drivers category with Sebastien Loeb and Daniel Elena.
There is a lot of sporty elements here; an air diffuser, an exhaust with a twin chrome tailpipe, and carbon trim on many body parts.
It does look fast when standing still, especially with its attention-getting colour scheme.
Its dark body is contrasted with a bright orange-coloured roof and side mirrors, while the alloy wheels and front grille surround are finished in orange chrome.
But the real highlight here is what lies under the hood.
The DS3 Racing's tuned and turbocharged 1.6-litre THP (turbo high pressure) petrol engine develops 202bhp and 275Nm of torque, and is mated to a six-speed manual gearbox - a combination that provides sizzling performance.
To give the DS3 Racing a higher level of road-hugging qualities, Citroen Racing engineers also fined-tuned the dampers, fitted stiffer suspension springs, widened the front and rear tracks by 30mm and lowered the car by 15mm.
Of course, this meant we had great fun with the handling quality of the car on twisty stretches.
The steering is sharp and precise, and provides good feedback.
At parking speed, we did not find the steering to be heavy.
The DS3 Racing is certainly a fast sprinter, and it can reach 100kph from a standstill in 6.5 seconds.
When driven hard and tackling road bends, we found abundant grip from the Bridgestone Potenza RE050A sized 215/40 R18 tyres.
Citroen also put its world-first "Reverse" technology in the large 18-inch wheels, where the well base is moved from the outside (conventional design) to the inside.
Citroen says that from a visual standpoint, this makes them the equivalent of 19-inch wheels, for increased inertia and lower weight.
Now, what surprised us what the decent level of ride comfort, considering that this is a sports-oriented car.
The suspension is very well sorted out, and it strikes a good balance between sportiness and comfort.
It is comfortable enough - we won't have a problem using it as a daily drive or commute.
While some might prefer an automatic transmission, we enjoyed using the 6-speed manual stick shifter.
There are also nice creature comforts and conveniences, like the GPS Navigation and, automatic lights and windscreen wipers, and an eight-speaker audio system with subwoofer and USB connectivity.
The front sport seats fitted our 1.7-metre bodies snugly, and we like the mixed or combination fabric-leather seats.
However, in the rear, we found headroom to be a bit cramped for 1.7-metre adults.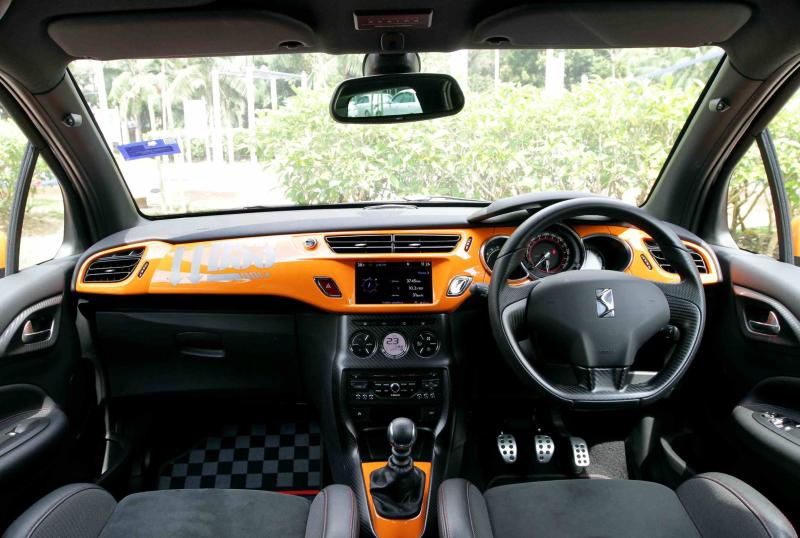 Now, at 110kph and in sixth gear, we noted that the tachometer needle was hovering around 2,250rpm.
The DS3 Racing is fitted with high quality noise insulation materials, and we found wind, engine and road noise was quite muted even at high speeds.
Noise intrusion into the cabin is quite muffled at the red line, which is slightly above 6,000rpm.
If we had a trivial criticism, it would be the lack of spicy turbocharged engine roar, due to the well-insulated cabin.
In summary, we found this hot hatch to have plenty of punch when we stepped hard on the accelerator pedal for some spirited driving, and marvellous handling quality.
At the same time, it comes with a surprising level of ride comfort and refinement.