Aesthetics plays a big part when it comes to attracting car consumers today. When a car looks outstanding, heads immediately start turning and they rush to the nearest showroom like moths to a flame.
And it has been proven. Just look at the new Honda Civic sedan. Its radical new design attracted a whole lot of people to a car and segment, which previously, has been trending downward.
And Honda knows this all too well. The Japanese marque knows that the way to your heart starts with the eyes. And when that design catches your attention, you will be even more endeared with its features and price. Just like the new BR-V. Prices range from RM85,800 to RM92,800.
Since its official launch in early January, it has already received bookings of around 8,700 units in just two months. How is it that an MPV (Multi Purpose Vehicle) is suddenly garnering so much attention? To be sure, we are talking about a mom-and-dad car of which there are cheaper alternatives.
Is it the features? Surely 11 cup holders isn't the reason the BR-V is being snapped up as it is.
It's all about the looks and the BR-V stands apart from other MPVs because it doesn't look like a boxy MPV. No, it looks like a sprightly SUV (Sports Utility Vehicle) and the parents who have had to make serious life choices of owning an MPV for the sake of the family can now drive such a car while holding their heads up high. Why? Because the BR-V has style!
The BR-V is offered in two variants - E and V - and standard equipment includes rear air-conditioning vents, electric power steering, 195/60 R16 tyres, halogen projector headlights, LED daytime running lights, roof rails, 11 cup holders, and a four-speaker audio system with USB, Bluetooth and hands-free features.
Standard safety features include two airbags, vehicle stability assist (VSA), hill start assist (HSA), anti-lock braking system (ABS), electronic brake distribution (EBD) and ISOFIX points for child car seats.
For the drive to Penang, we travelled with the top-specced V variant which features front fog lights, chrome outer door handles, electrical tailgate lock, smart entry with engine push-start button, audio controls on the steering wheel, automatic air-conditioning, leather upholstery, and a 6.1-inch display screen with HDMI port, and rear view camera.
Honda, however, didn't just bank on looks for the BR-V. This seven-seater has the biggest trunk space in its class at 223 litres.
And if you want even more space, its multi-configuration seats for the second row has an easy one-touch tilt and tumble in a 60:40 configuration, while third row has 50:50 tilt and tumble.
It was also built with passenger comfort and spaciousness in mind and we appreciated the leg and head room in the second row when travelling to Penang. The third row is also suitable for adults as it still has plenty of headroom but less so with leg room.
The rear air-cond vents also kept the car cooler all around during the trip.
Honda also dropped in a 1.5-litre SOHC i-VTEC engine delivering 120PS at 6,600rpm and 145Nm of torque at 4,600rpm. It is mated to a CVT (continuous variable transmission), which we found very capable indeed.
Getting up to highway speeds was done effectively as we watched the speedometer needle climb smoothly and surely without being heavy footed with the throttle.
We even had three passengers and luggage on our way back to Kuala Lumpur and never once did I feel that the BR-V was struggling.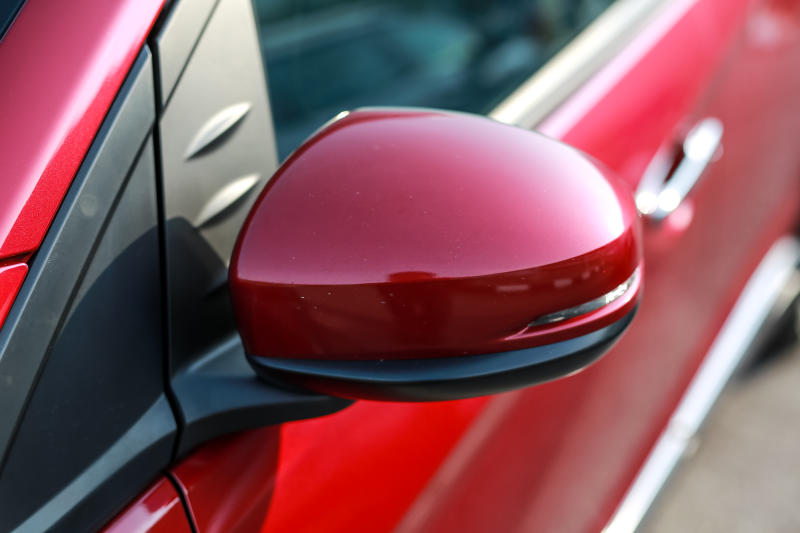 Also noise, vibration and harshness (NVH) were low. The CVT transmission does drone but it's not immediately obvious and the quietness adds to the level of comfort.
What was impressive though is the car's handling. For a tall vehicle, with an overall height of 1,666mm, it is surprisingly stable.
Driving around the windier strecthes of Penang island to get to the heart of Balik Pulau, I was expecting the car to roll around the bends but instead, it held up really well. It felt as if I were driving a sedan. And mind you, the BR-V has a higher ground clearance than the average sedan at 201mm.
The suspension also helped absorb bumps and potholes, enhancing ride comfort.
Another thing I liked is that the roof rails aren't just for show as it can carry loads of up to 30kg.
The BR-V is already a success for Honda Malaysia and the package it offers is tough to beat. It comes with a five-year warranty with unlimited mileage, and service intervals are every 10,000km and up to six free labour services are offered (alternating with paid services) up till the 100,000km mark.
It's sure to keep everybody in the family happy.
READ MORE:

Honda BR-V launched

First drive of Honda BR-V in Bangkok + video