Update
: The latest BMW 5 Series launches in Malaysia today.
Slightly over-roasted peanuts, a dash of evaporated milk and ice that's shaved just right, keeping it's snowy texture. All that little things that make a simple
ice kacang
, a great one.
Likewise, the new BMW 5 Series sedan is just like that. The engineers refined the already great sixth generation F10 5 Series and made it safer, smarter, faster and way cooler.
So, when I was given the chance to test drive the G30 BMW 5 Series sedan in Lisbon, Portugal, I was curious to find out how far the improvements go.
The exterior
The new BMW sedan on the outside looks super sleek with its new design. It's new Adaptive LED headlights connect seamlessly with the kidney grille while the rear end is lower and wider and boasts a symmetrical arranged exhaust tailpipes.
"For the first time, the new BMW 5 Series Sedan brings together two traditional BMW design elements which are normally separate from one another," said BMW design chief Karim Habib (he has since left BMW to join Infiniti).
The swage line turns up as it heads rearwards, moving from shadow to light and sweeping up the Hofmeister kink in its path rather than continuing into the rear.
This upwards motion lends the car a forward-surging character, and the expressive, swooping surface imbues it with an undeniable muscularity."
The interior
As I got into the car, I was warmly greeted with illuminated aluminium door sill strips with the BMW logo.
With luxurious leather seats for both front and back, the interior is very comfortable, and it feels, looks somewhat futuristic with its stylish and elegant interior design which also includes an option to change the colour of the lighting panel according to your mood.
The car also feels much more spacious with more than enough room for my elbows and my legs to stretch.
For the test drive, I drove from Lisbon to Setubal in the south and up North to Penha Longa for a total of 157km.
This route would lead me through small towns, hilly and coastal areas, highways, and of course, Lisbon's famous landmark, Ponte 25 de Abril suspension bridge.
Driving assistance systems
The one thing that I never had any practice before this test, was driving on the right side of the road. But thanks to my co-driver, I would know when I accidentally drove on the wrong side of the road; when his voice pitch rises a notch.
However, driving through these unfamiliar places was a breeze and safer, thanks to BMW's driving assistance systems which really help keep me safe in my lane.
The driving assistance systems here include the Steering and lane control assistant, Lane change assistant, the Lane Departure warning system, the Side collision warning system and the Wrong-way warning, which obviously was very useful for me.
These driving assistance systems is supported by cameras, radar, and ultrasound sensors installed around the car.
These sensors and multi-cams even allows you to see a 3D view of the area around the car in real-time too and gives colour-coded proximity warnings to help in your manuevering or parking.
The improved projection surface Heads Up Display (HUD) is now 70% bigger and in high-resolution. The new HUD doesn't feel cluttered despite projecting all the relevant info.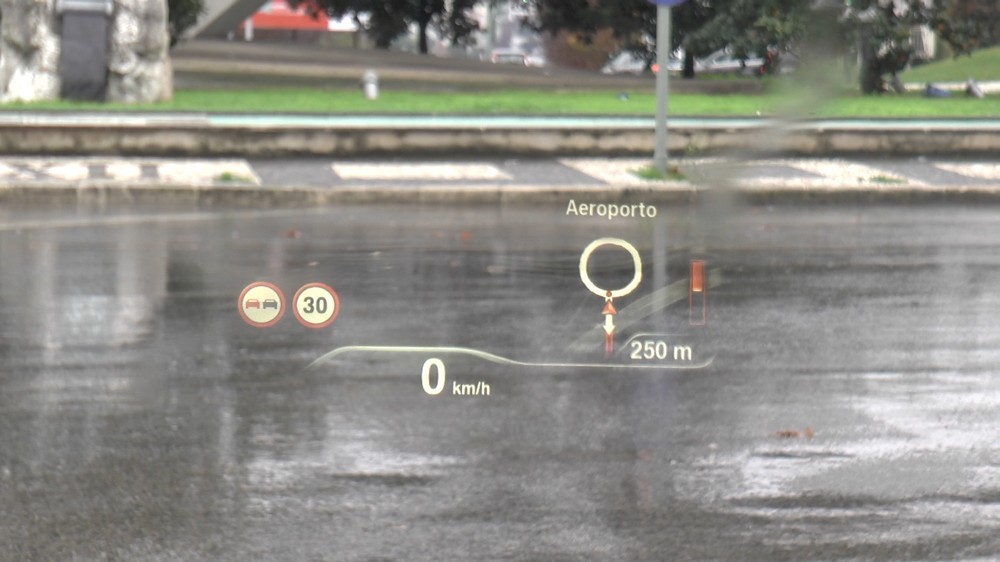 With its bigger display, it is easy on the eyes and the navigation clearly displayed, allowing me to fully keep my eyes on the road.
One of the interesting upgrades is the improved 10.25-inch touchscreen, which not only allows you to control key functions through the iDrive Controller, but now also allows you to control it using hand gestures and voice controls, which was only previously available in the 7 Series.
With gesture controls, you can adjust your car volume by moving your fingers in circular movements, zoom in and out by the pinching or pulling of your fingers, swipping your fingers to change menu and even using just two fingers to navigate home. Pretty cool and convenient.
Its Intelligent Voice Assistant is considered the most advanced level of natural voice control currently available. Instead of having to use set spoken commands, the driver can custom make their request in everyday language.
It also understands other various languages like Chinese, French, Portuguese and Japanese, depending on where the vehicle is being delivered to. Hopefully, it can understand our Manglish one day.
BMW Connected
BMW also prides itself in connecting people while on the go through technology. Its BMW ConnectedDrive technology allows drivers to sync emails, calender entries and contacts and edit them while inside the car for Microsoft 365 users.
Drivers can also transfer relevant driving information into their smartphones. If you hate getting tied up in knots over charging wires, the new sedan also supports wireless charging.
Another interesting to note is that, with its Remote 3D view, you can check on your car anytime in three-dimensional view of your car right in your smartphone.
The driving experience
As I slowly cruise along the road, it began to rain. This is where I found the sound absorbers here is excellent.
I can have a decent conversation with my passenger and co- driver without raisng my voice, even while driving through heavy rain. Driving the new sedan was quite an enjoyable experience. BMW's Integral Active steering and xDrive intelligent all-wheel feature really gave it more stability and control, especially when negotiating tight bends.
A little push to the throttle is enough to feel the engine's burst of power as I overtook another vehicle.
Suspension is great with almost smooth comfortable ride even while on uneven roads while the steering is very responsive to the touch without feeling clunky.
Little of everything for everyone
For the car enthusiasts, the new sedan comes in both petrol and diesel engines variant and features BMW's TwinPower Turbo technology and its lightweight all-aluminium construction.
The turbocharged direct injection engine delivers peak output of 252hp (up 7hp over its predecessor) between 5,200 and 6,500rpm, and has a maximum torque of 350Nm on tap from 1,450rpm all the way up to 4,800 rpm.
Eco-friendly drivers would be happy to find that with the new engine, it also lowers fuel consumption and CO2 emissions while still delivering a powerful drive.
BMW's SYNTAK (Synergy Thermoacoustic Capsule) technology also help reduce powertrain noise and improves the heat retention, which in turn leads to further reduced fuel consumption.
Parents with babies or toddlers or people who like to do lots of shopping, would be happy to find it comes with a much bigger boot space of 530 litres.
Not only that, you can open and close the boot with just a flick of your foot at the rear end of the car. No more fumbling for keys when your hands are full.
Final thoughts
Car enthusiasts will love its powerful engine and stylish designs. Its safety features and high quality finishing will wow the casual drivers.
For me, the one that draw me off the fence is the integrated technology that gives the sedan the added edge and make the drive more fun and more gratifying.
 — PATRICK CHIN