How's this for making an entrance? There they were – a bevy of blue and white Jags lined up aboard the ferry at Lepetane and ready for the drive-off after the Verige strait crossing. The setting made quite an impression on everyone.
And so did Montenegro with its rugged beauty and stunning mountain and valley views. It's a place few Asians have heard of, and fewer still have visited. Most tourists are from Russia, Serbia, Turkey and Ukraine. It's well worth a trip there if you are a sucker for exotic experiences and wild vistas that stretch for miles around. And no visa required for added convenience.
If you plan to go, drive as we did, to see more of the country from the coastline to the mountainous interior.You will come away awed by the natural magnificence and storied past of this small Balkan nation that was formerly part of Yugoslavia before the break-up. There's no direct flight from Malaysia. We flew into Heathrow and jetted out the next day from Farnborough airport near London to Tivat in Montenegro. Less than an hour after clearing Tivat airport, we were sitting in the F-PACE SUV and ready for the journey of discovery.
READ MORE:

Technical videos and more Jaguar F-PACE pix

Memorable stay at Aman Sveti Stefan

Ingenium petrol engine starts production
On the sample list were the First Edition, S and diesel R-Sport. Jaguar sought to put its best foot forward by offering the First Edition in the drive. It's basically the 3.0-litre supercharged petrol S but with a whole list of items thrown in that would otherwise be cost options at the showrooms. Only 2,000 units would be available globally. All, including the 2.0-litre diesel R-Sport, were all-wheel drive and mated to an 8-speed ZF automatic transmission.
Depending on markets, other powertrain options includes 2.0L diesel manual RWD/AWD; 2.0L petrol automatic RWD; 3.0L diesel automatic AWD; as well as 3.0-litre petrol automatic AWD with a detuned output of 335hp.
The F-PACE went through arguably its most important acid test in Montenegro, with a gaggle of motoring boys from around the world pushing Jaguar's first SUV hard and fast across variable terrain that would qualify as perfect for the job. The media feedback, in the end, were largely positive to Jaguar's delight (and relief, we imagine).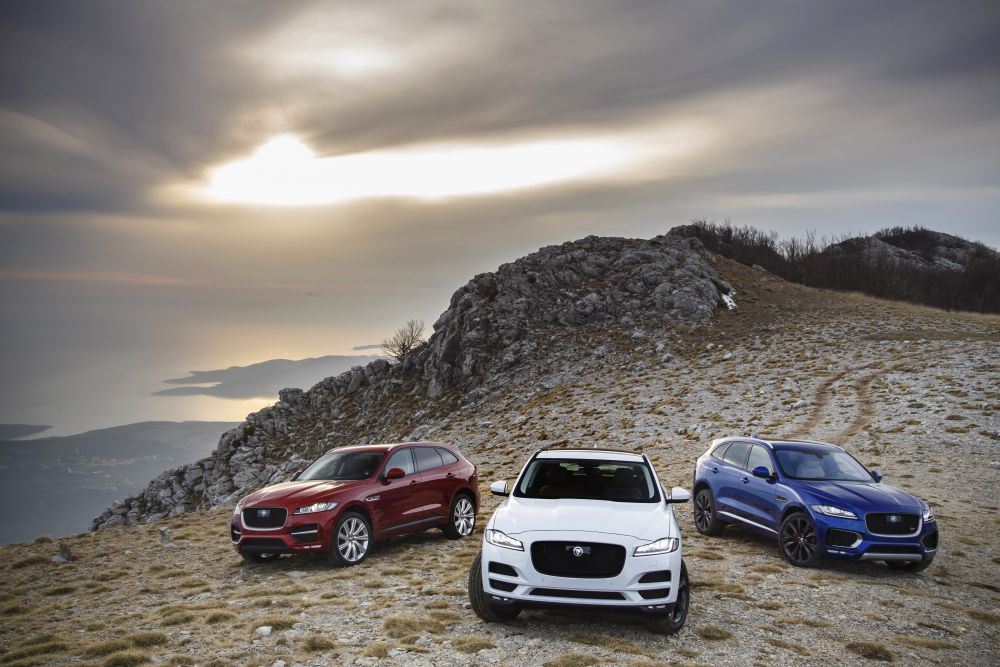 Outside
The car maker from Coventry has laboured to create an SUV that still looks and behaves like a Jaguar. On top of giving buyers the high-riding position they desired, the F-PACE manages to look assertive and athletic in build.
Jaguar bills the F-PACE as a performance crossover with everyday versatility. The large front grille and the long muscular bonnet hint at the performance potential of engines like the 375hp supercharged V6 found in the S and First Edition. Elements such as slender full-LED headlights, forged 22-inch wheels and short front overhang carry the design vision of the C-X17 concept through to production. A long rear overhang coupled with a long wheelbase and a slim greenhouse result in skewed proportions that suggest a sense of speed even when the car is at standstill.
While the F-PACE is guilty of basing some styling cues from the F-TYPE, most of it – Jaguar says 81% - of the parts are designed from the ground up for the F-PACE. As a result, the wheelbase, front and rear track are all its own.
It has a high shoulder line and swept-back roofline to imitate a coupe.Powerful rear haunches, fender vents and distinctive tail light graphics spark comparisons with the F-TYPE. A sculpted body sitting on big wheels,from 18-inch to 22-inch,project a purposeful stance.
Like the XE and XF, the F-PACE uses a monocoque that's made up of 80% aluminium. One-third of the bodyweight comes from recycled aluminium to bolster its green credentials, and the aim is to have 75% of the body in this form simply because recycled aluminium requires 95% less energy to produce, leading to much lower production costs.The suspension set-up is also the same with the two sedans - double-wishbone in front and multi-link in the rear.
Inside
When Jaguar talked about versatility, it was a reference to the interior space which is plenty for five people to get comfy in, with doors that swing wide open for easy entry and exit. Knee room and headroom are fine with elbow room being noteworthy because of the SUV's width.
For tall passengers in the rear, the headroom is a tad tight but if the car is specified with reclining rear seats, that should fix it and step up comfort somewhat. Unfortunately, the rakish rear windscreen leads to a constipated back view. The F-PACE out-paces rivals in boot space with 650l on offer and can be enlarged to 1,740l with rear seats flattened. A powered tailgate, a low loading height and a flat floor make boot access even more convenient.
Lined in leather, the dashboard looks premium and clutter-free, anchored by an impressive 10-2-inch infotainment touchscreen that's crisp and blazingly fast as it uses a quad-core processor, ultra-fast Ethernet link and solid-state drive. We had recently driven the entry level XE and the fascia resemblance is all too familiar.
Unless you are one of the lucky few in the world to get the First Edition, there's a whole lot of options to tick before you could make the interior, and the exterior, stand out. And the options package gets pricey quickly if you go overboard. Jaguar charges extra for such things as 4-zone climate control, 10.2-inch infotainment screen aka InControl Touch Pro (an 8-inch less powerful screen is standard otherwise), adjustable ambient lighting, surround camera system, gesture tailgate and Adaptive Surface Response. The InControl Touch Pro pack also includes a 12.3-inch HD virtual instrument cluster that could be set to navigation mode ala Audi TT-style. The alternative is to curb that itch by keeping the car stock and save a bundle for more important things in life.
An interesting bit of kit is the Activity Key, an optional accessory targeted at the active types. You know, people who like to go surfing, mountain biking or parachuting. It's a wearable wrist band that functions as a key so the F-PACE owner can leave the main key in the car. All the band user needs to do to lock or unlock the car is to place the rubberised band on the "J" in Jaguar on the rear tailgate.
We reckoned the two-tier buttons on the driver-side door would need getting used to. Our fingers kept going to the lower tier buttons when trying to open windows but they are for seat memory and central locking.
The 3.0-litre supercharged V6 petrol engine in the First Edition.
Drive impressions

We started out with the First Edition followed by the diesel variant then the S. All test cars came with the InControl Touch Pro Pack and adaptive dampers.
Draped in exclusive Caesium Blue paintwork, the First Edition builds on the S and embellishes it with, among others, 22-inch wheels, a laser head-up display, 17-speaker Meridian sound system, houndstooth-patterned leather seats and matching door inserts as well as reclining rear seats.
While the F-PACE rivals are the Audi Q5, Lexus NX, BMW X3, Mercedes-Benz GLC, Volvo XC60 and Land Rover Discovery Sport, Jaguar claims it's really the Porsche Macan that the F-PACE is gunning for. Such focus made its engineers work hard to realise an SUV with a sporty road-driving bias whilst trying to avoid stepping on the toes of Land Rover.
Pound for pound, the over 1.8-tonne F-PACE is bigger than the Macan yet lighter because of its aluminium make-up.
The intelligent all-wheel drive system in the F-PACE is rear-wheel-biased to cut down on understeer. In most cases, 90% of power ends up on the rear axle. But the front axle could just as easily get 90% power depending on the situation at play.
The driver sits low and snug while still enjoying good forward visibility. The SUV offers a great ride quality and the cabin is an oasis of calm on the main roads that we traversed. The ride is firm by default but not to the point of being jarring even when running on 22-inch wheels. For the best balance of comfort, aesthetics and handling, the 20-inch alloys would do nicely.
The few offroad exercises that Jaguar organised such as sliding down the side of a dam, fording through a waterlogged obstacle course as well as trudging through hilly and rocky terrain showed the F-PACE has some offroading skills though serious Camel Trophy manoeuvres are best left in Land Rover hands. The offroading stuff is more of a marketing point for Jaguar as we will bet most F-PACE owners will never drive their cars beyond the tarmac – not intentionally anyway.
The supercharged V6 petrol engine in the First Edition/S is swiped from the F-TYPE, producing 375hp at 6,500rpm and 450Nm of torque at 4,500rpm. It's a smoothie that starts with a low growl as it begins pulling revs and turns into a bellow as you gun it higher to its sweet spot. The exhaust note isn't as noisome or aggressive as in the F-TYPE but entertaining all the same. At times like this, it's almost like you are driving a sports car rather than a raised 4WD vehicle. It's a strange feeling still. Jaguar claims the accelerative force of the V6 will place it at 100kph in 5.5s. You might cross the line in 6s but that's okay; it's still fast for a mid-size SUV.
The SUV also borrows F-TYPE-derived chassis technologies such as torque vectoring, adaptive dynamics and configurable dynamics to offer a tuneable driving experience. Coupled with a rigid and lightened body, the SUV can turn on a dime, feeling grippy and composed in most situations with body roll well reined in. The 8-speed gearbox works smoothly and precisely and there's no hunting for gears during spirited driving. So it was with great confidence – or was it bravado? – that we powered the S down the famous 25 hairpins on Mt Lovcen as we hurried to catch the flight home on the last day in Montenegro. Those narrow two-way roads are amazing – you drive with minimal room for error as there's  a high mountain wall on one side and a steep drop on the other. But the view from up there is incomparable and unforgettable.
Speaking of the diesel F-PACE, its 178hp and 430Nm of torque make it no slouch in the go department. The smaller engine displacement means less weight in front, resulting in a drive that's more sprightly and more responsive to steering inputs. The diesel rattle from the new Ingenium engine has been dialled down at idle and isn't noticeable once the car is moving at highway speeds, thanks in part to the well insulated cabin. For extended offroad escapades, the diesel SUV is the better pick for the job with peak torque available from low down to tackle slippery trails and major undulations.
In short ...

Jaguar says 90% of the F-PACE buyers are expected to be new conquests and 10 years younger with one in three buyers being a woman. There's a lot riding on the F-PACE. After hours driving it over two days, we do think it has the flair to help Jaguar get to where it wants to go.
The F-PACE should show up locally by the end of this year. And you can be sure an F-Type powertrain will be rumbling inside.