Automakers are slicing the luxury sedan segment so thinly these days it's enough to make your eyes glaze over.
It takes real time to discern-or possibly, even care about-the difference between an XF, 5-Series, E Class, or an A6. (Porsche, to its credit, has made the Panamera seem somehow separate from those-it looks and drives substantially different-but that's a different column.)
They all operate with roughly 400hp and plenty of creature-comfort options. The choice between them often comes to matters of style rather than substance.
Here's what the US$72,100 (RM305,091) BMW M550i has going for it: It's the quickest 5 Series ever, it's the only V8 5 Series the brand is selling at the moment, and it makes a driver feel active and engaged. It's also the best big BMW you can get for the money-the 7 Series is phenomenal, but it's also way more expensive. If you're looking in this price range for a sedan-and congratulations if you are-look no further.
(There are other, much less-expensive alternatives to the M550i in the 5-Series line: Try the US$53,500 (RM227,000) 530i xDrive, which is less powerful but appropriately engineered and trimmed for its price range. The casual driver will not miss the difference between the two.)
Engineered to drive
The BMW M550i with xDrive (AWD) is a complete-package vehicle. It has BMW's stout, 4.4-litre turbo engine inside-good enough for 456 horsepower-and an eight-speed transmission with sport and manual shift modes. Zero to 100kph is an admirable 4.0 seconds; top speed is 250kph.
What that means in real life is that it can beat the Mercedes AMG E43 and the Audi S6 off the line and will stay up with them in third and fourth gears with little apparent effort. Of the four drive modes, Sport+ brings the best thrills; it tightens the suspension, adjusts steering-wheel resistance, and opens the throttle for maximum maneuverability at speed.
That means you can bear down on that S-Class in front of you with eager abandon.
In fact, pushing through New York City's winding tunnels felt like an easy jog on fresh legs. Adaptive M suspension minimised body roll to nil, and multiple systems engineered to monitor throttle control and compensate for brake fading mean the M550i hauls forward smoothly-stops squarely-whether around abrupt city corners or pulling through highway sweeps.
One note: If you're into the snap-crackle-pop engine sound that has become de rigueur to manufacture for even such things as five-person sedans (Exhibit A, B, C: Jaguar, Maserati, Mercedes), you'll miss that here. These Germans are more understated than that in this sedan-its engine note is quiet relative to other sedans in this segment.
Styled to the point
BMW has seen fit as well to match elegantly restrained interior design and trim of the M550i with its exterior. On the outside, while there is a back spoiler and chrome tail pipes, they remain small (the spoiler) and dark (the pipes) enough to fly nearly under the radar. They're the type people won't particularly notice until the third or four time they see the car-if, after the car has passed by, you asked a casual observer, "Did that car have a little lip on the rear trunk?" he or she would be hard-pressed to answer.
Adaptive full LED headlights, power-folding heated side mirrors, rain-sensing wipers, and illuminated door sills and ground lighting come standard. For the US$88,985 (RM377,000) final price of the Mediterranean blue metallic one I drove, Bowers & Wilkins sound, Night Vision, and extensive parking assist systems with excellent camera- and blind-spot positioning were thrown in, too.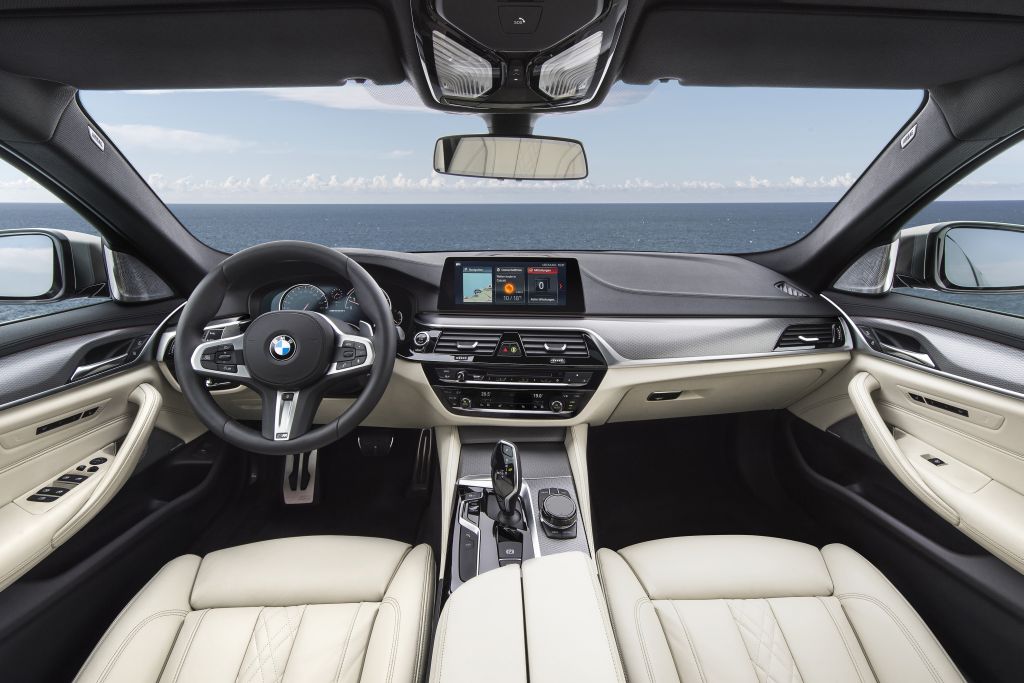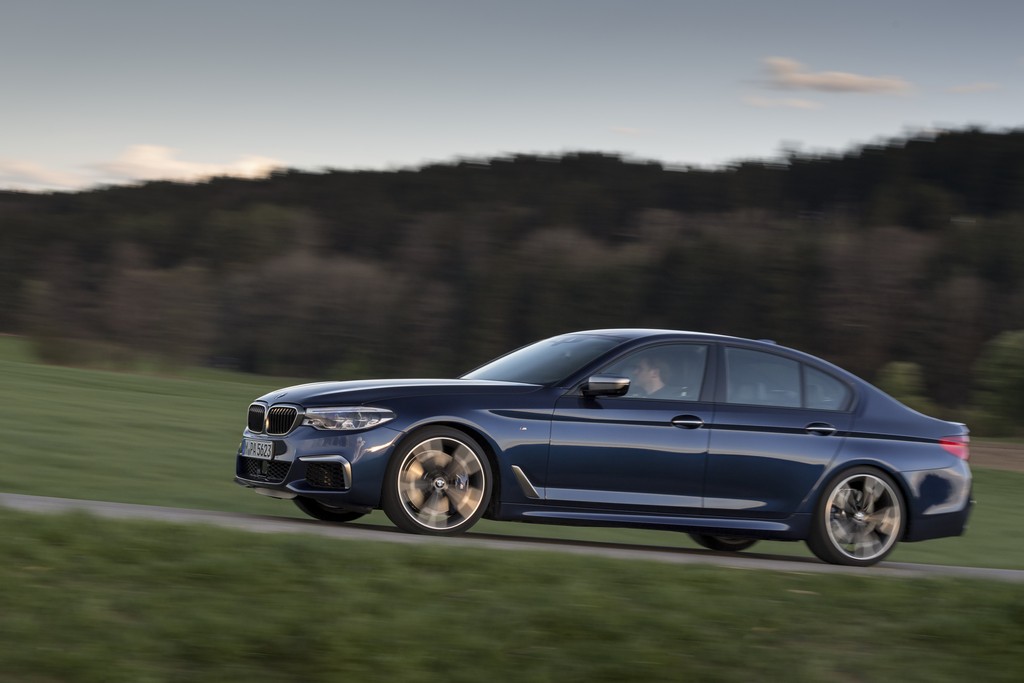 On the inside, BMW has always been generous with standard features, and the M550i is no different: Full iDrive dashboard technology, in all its knobbed glory, is there controlling Bluetooth, navigation, tunes, and climate. Trunk space remains ample (530l); shoulder and leg-room throughout the car are non-issues.
A priority has clearly been put on ambient lighting inside: It includes door handle-area lighting, illuminated driver and front-passenger vanity mirrors, front foot-well lights, front and rear reading lights, and 11 predefined selectable interior light designs-plus front map lights and rear reading lights. That, plus dual cup-holders front and back, are clearly included to present this as a slightly smaller (than the 7 Series) option for someone who wants to be driven around and work out of the back seat.
That easy versatility, plus an engineering prowess that has been refined for decades with champion cars (in such models as the M3, M1, and even the i8) is the reason why BMW sold more than 70,000 of these 5 Series globally last year. —
HANNAH ELLIOTTUsing a smartphone? Click this link
:
BMW 550i xDrive Specs