Surprised. That was how I felt about the new Honda Jazz after just driving it from The Royale Chulan Damansara hotel in Petaling Jaya, Selangor to the Petronas petrol station in Lentang, Pahang (just further up from the Genting Sempah R&R area).
I was really pleasantly surprised with the overall look and performance of the car (and mind you I was travelling with two extra passengers and a trunkful of sporting paraphernalia besides our individual luggage packs).
You see, a whole bunch of us (around thirty members of the media) were invited to drive the new third generation 1.5L Jazz up to Kuantan, Pahang recently and drive back to Petaling Jaya the following day.
There were ten cars and it was already pre-packed with a variety of stuff in the boot and the back seat (which can be folded up) of each car.
All three of us just carried a light backpack each but we did not have a problem fitting all of it into the already packed boot.
That was a nice surprise. I took the wheel of the top-of-the-range Jazz V variant (there are two other variants, the base S and the mid range E) for the first stretch of the drive and the car is pretty nimble to handle under urban conditions.
The steering is light and its got a good turning radius of 5.1m which is small so you can make tight turns without much fuss at all.
And then we were on the Karak highway which has its fair share of steep climbing slopes and again, there was not a hint that the Jazz could not cope with the load in the vehicle.
I guess that should not be too surprising since this compact car packs the same punch as its sedan sibling, the Honda City sedan.
That's right, the Jazz's 1.5-litre i-VTEC engine mated to a continuous variable transmission produces 120PS at 6,600rpm and a maximum torque of 145Nm at 4,600rpm.
It was such a comfortable drive too but the steering feels pretty light at higher speeds that it might rattle your confidence going through turns and bends.
There was nothing to worry though as the car handled well even in such conditions.
I was really enjoying the drive and before I knew it, we reached the driver change-over stop at the Petronas station in Lentang and it was my turn to be the back seat passenger.
The V variant Jazz, priced at RM87,800 (on-the-road with insurance), comes with a seven-inch touchscreen display and I noticed that it was difficult to see under sunlight.
This was while I was driving and I thought it might be different if I sat in the back from a different viewing angle but it was not.
The screen doesn't handle glare too well but this is by no means a deal breaker.
As soon I got in to the back, I noticed that there was more than enough legroom and headroom.
The new Jazz has a wheelbase of 2,530mm or 30mm more than the previous generation — so it's really roomy back there which, again was a very nice surprise.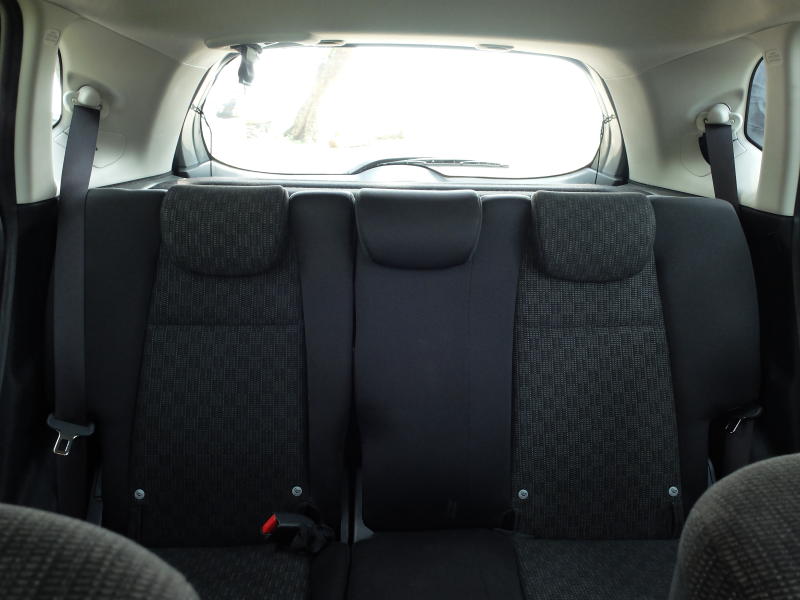 And boy was it comfortable back there.
Everybody who sat in the back would just fall asleep almost immediately and so did I.
Later on, we got off the highway and drove on the old road which had undulations and a rougher surface yet the Jazz's suspension just absorbed all of it.
Coupled with the fact that the cabin is pretty quite inside with minimal noise, vibration and harshness (NVH), makes for a really enjoyable experience riding in this car.
We overshot our destination (Kuantan) on purpose so as to have lunch in Chukai, Terengganu.
Interestingly enough, if you're in the market for keropok lekor - a fish cracker snack which originates from Terengganu - there are simply endless rows of shops and stalls selling the delicacy.
After lunch, we stopped by the beach nearby, Pantai Mak Nik, for a photography session and again the Jazz, when faced with really narrow roads had no trouble manoeuvring in and out of there.
In the end, I was left extremely impressed with the new Jazz.
I like the new look, which has shed its oval like appearance for a bolder yet still diminutive profile and the creases that run across its flanks are simply stylish.
The Jazz is flexible with the way the back and front passenger seats can be folded and reclined to fit long objects making it versatile where space and storage are concerned.
And safety-wise, it comes with six airbags (V variant only), hill start assist, emergency stop signal and vehicle stability assist which makes the new Jazz feature-packed, practical and just fun to drive.