YANGON (Myanmar): Hanging in mid-air on a bicycle above a lake, soaring on a zip-line above a massive sculpture of movie monster King Kong and a visit to famous Shwedagon Pagoda in Yangon were among the highlights of a three-day/two-night road trip in Myanmar with a bunch of premium Mercedes-Benz SUVs (sport utility vehicles).
It was another "Hungry For Adventure" programme organised by Mercedes-Benz Malaysia, and participants included Kuala Lumpur-based fitness celebrity Linora Low, Malaysian fitness model Alex Chee, beauty queen and model Charissa Chong, as well as Singaporean actor Joshua Tan and Indonesian actress Hana Prinantina.
Also present were "Hungry For Adventure" Instagram contest winners, selected media writers, and senior management of Mercedes-Benz Malaysia.
The "Hungry For Adventure" theme revolves around how the advanced technology, driving comfort, dynamic handling and superior utility of the premium Mercedes-Benz SUV range complemented the active lifestyles and adventurous demands of their owners.
"Our SUVs define new benchmarks, break conventions and provide our customers with their ultimate choice of vehicles for their unique and active lifestyles. The SUV range allows our customers to persevere through every challenge with its state-of-the-art safety systems and unrivalled interior value perception and comfort," said Mercedes-Benz Malaysia vice president (sales and marketing - passenger cars) Mark Raine.
After a two-and-a-half hour flight at dawn from Kuala Lumpur, we landed at Yangon International Airport which looked spanking new and designed to modern standards.
It was mid-summer in Myanmar, and the mercury can rise to to a scorching 42 degrees Celsius.
As we were bussed from the airport to the Mercedes-Benz Yangon showroom for lunch, we observed local denizens walking in the sweltering heat wearing the traditional longyi - a sarong-like tube of fabric worn by both genders.
While Yangon is also known for its decayed colonial architecture, we saw many new high-rise buildings and a few shopping malls, as well as various commercial buildings under construction in this fast developing city.
We also noted something odd - a bewildering mix of left and right-hand vehicles in a left-hand drive country.
We were told that this was due to heavy imports of JDM (Japanese domestic market) cars such as the popular Toyota Probox station wagon, commonly used as taxis in Yangon, for several years.
However, imports of right-hand drive vehicles were stopped two years ago, and all cars sold in Myanmar now must be left-hand drive.
This would definitely make our road trip in Myanmar more challenging, as most of the participants were from right-hand drive countries and we would be driving left-hand drive Mercedes-Benz SUVs on roads crowded with right-hand vehicles.
Still, there was one less headache about driving in Yangon - the complete absence of motorcycles which are banned in the city.
The reasons for the ban on motorcycles are steeped in urban myths, but regardless, we found the city to be refreshingly free from motorcycle exhaust fumes and noise pollution, as well as traffic mishaps involving fuel-powered two-wheelers.
After lunch at the Mercedes-Benz Yangon showroom, which is operated by Cycle & Carriage, a fleet of Mercedes-Benz SUVs awaited us.
These included the premium compact SUVs GLA 180 and GLA 200, four units of the GLC 250 4Matic and two units each of the GLE250d 4Matic, GLS350d 4Matic and the flagship GLS400 4Matic.
Paired with two other Malaysian writers, Carsifu took the powerful and huge GLS400 4Matic on a 30-minute, 10km drive to the Bogyoke Aung San Market - a popular tourist destination and hub of handicrafts, souvenirs, jewellery, artwork and clothing.
We drove carefully in a convoy, and enjoyed the quick response and swift acceleration of the big SUV powered by a 3.0-litre twin-turbo V6 engine with 333hp and 480Nm of torque, which is mated to a smooth-shifting 9G-Tronic automatic transmission.
Despite the bulk of the GLS400 4Matic, fitted with huge 20-inch wheels and ContiCrossContact UHP tyres sized 275/50, we did not find it difficult to manoeuvre in Yangon traffic.
We spent about an hour shopping at the Bogyoke Aung San Market, during which we experienced the brief electricity blackouts that Yangon residents have become accustommed to.
Later, we drove the GLS400 4Matic from the market to a hotel about 5km away, before freshening up for a sumptuous dinner at the famed Seeds Restaurant & Lounge, located next to Inya Lake Yangon and lush, lotus-filled tropical waters.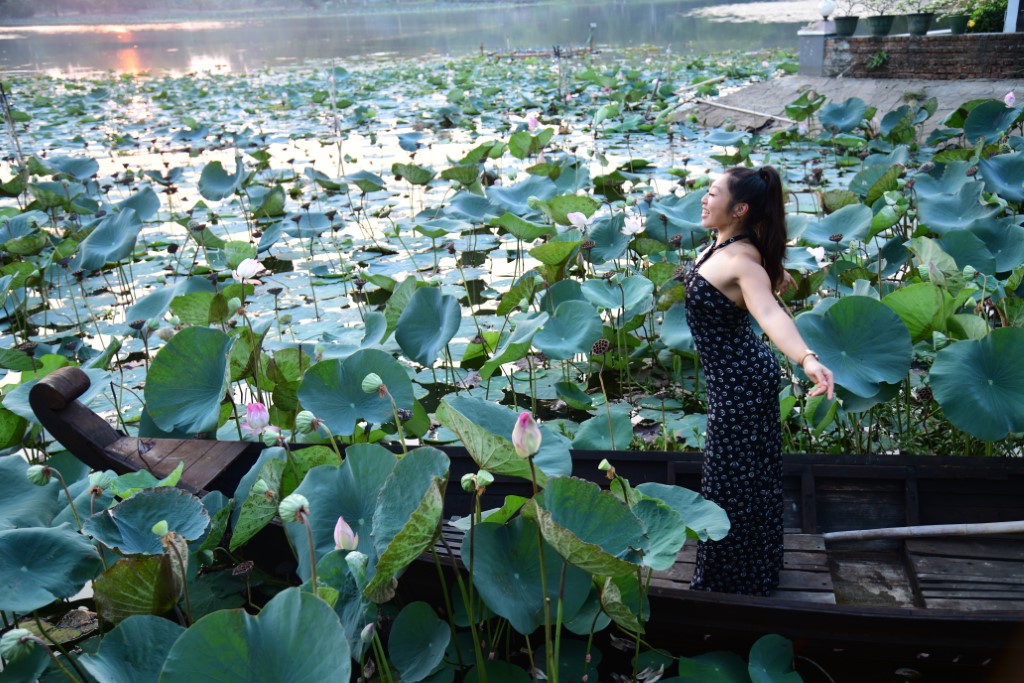 Shwedagon Pagoda and Sane Let Tin Adventure Land
Our second day in Yangon saw us waking up at 5am before sunrise and driving to the famous Shwedagon Pagoda, known as Myanmar's most revered shrine and reputed to be 2,500 years old or the oldest pagoda in the world.
This time, it was a 2.0-litre turbocharged GLC250 with 211hp and 350Nm of torque, and fitted with a 9G-Tronic automatic transmission.
There wasn't much traffic on the streets at that early hour, and we drove at a leisurely pace before arriving at the pagoda complex which is located on a 114-acre site on Singuttara Hill.
The legendary pagoda stands close to 110 meters and is covered with hundreds of gold plates.
According to the the pagoda's official website, the top of the stupa is encrusted with 4,531 diamonds; the largest of which is a 72 carat diamond.
Visitors need to adhere to a strict dress code; so we wore the traditional longyi to cover our legs, and wore sandals up the escalators into the pagoda complex.
As daylight began to bath the pagoda, we walked around and marvelled at the regal columns, big cast-iron bells, statues of Buddha in various poses and shrines, and the richness of the gold-plated and gilded stupas.
There were also many Myanmar families and couples praying, and monks meditating. We spent about an hour here before driving back to the hotel for breakfast.
Our next stop would be at Sane Let Tin Adventure Land, located 160km or a four-hour drive away in Mon State.
Our route was via the Yangon-Mandalay highway, and again, we took the GLC250 fitted with 19-inch wheels and Bridgestone Dueler H/P Sport tyres sized 235/55.
We made sure we stayed alert for stray dogs (quite a number of them in Yangon) and stopped cars in early morning city traffic, and the powerful, quick acceleration of the GLC250 made it easy to stick with our convoy.
Still, the roads in the districts outside the city were quite irregular, and we found the ride quality to be bouncy.
Once we hit the highway, the ride quality became smooth and we sped past grazing cows in sprawling, dry pastures and countryside pagodas.
Later, we crossed the huge Sittang River and drove on trunk roads dotted by roadside fruit stalls with thatched roofs selling durians and pomelos before arriving at Sane Let Tin Adventure Land at high noon.
This was a resort for adrenalin-filled activities like the zip-line, which is also known as Flying Fox, and a unique gravity-defying bicycle ride above a lake.
Regarding the bicycle ride, there were four bikes tethered to lines stretched across a small lake between two towers.
Riders are strapped to the top line for safety, and told to pedal in mid-air across the lake, and back and forth between the towers.
We found it to be an awesome experience, and there's nothing quite like hanging in mid-air on a bicycle above a lake, and being caressed by a cool, strong breeze as we took selfies.
Next, it was the zip-line where participants had to muster their courage to strap themselves into safety harnesses, before soaring in mid-air at high speeds on a zip-line above a huge water spouting King Kong statute.
It was a thrilling and exhilarating experience, before a lunch break and a one-hour or 38km drive to the Golden Rock, also known as Kyaiktiyo Pagoda.
Perched on the edge of a hill as if it was defying gravity, the legendary Golden Rock is a renowned pilgrimage site and venerated by thousands of devotees.
After arriving at the lower part of the hill, getting to Kyaiktiyo Pagoda turned out to be an adventure in itself, as this involved a kidney jarring ride in a light duty truck packed with 20 people, up the steep hill on a very twisty route.
Those seated at the sides or rear of the truck needed to have nerves of steel, as they constantly got a good look at the abyss below the hilly road, during the back-wrenching roller coaster ride which lasted 20 minutes.
Once we reached the hilltop, we wore the traditional longyi again and this time, walked barefooted on the hot pavement into the pagoda complex.
It is a huge area bustling with hundreds of praying devotees and monks, and it took us a while before we could be enchanted by the sight of the small pagoda resting on top of a giant gold-gilded boulder, which has been on its precarious position for centuries.
Later, we left for another hotel in the early evening, and the next morning saw us driving back to Yangon to catch our evening flight back to Kuala Lumpur.
The whole trip was certainly filled with exciting sights and experiences, and lots of driving in premium Mercedes-Benz SUVs featuring luxurious interiors with crisp audio quality, and armed with powerful engines and smooth transmissions.
READ MORE:
Hungry for Adventure was previously in Java, Indonesia