The D-Max has gone stylish but loses none of its ruggedness.
LAY your eyes upon this beastly beauty and there may be no turning back, because this is Isuzu's way of keeping budding owners visually poised in admiration with its D-Max V-Cross 3.0 Safari - dressed only in Venetian Orange Mica for our test.
Although the name can be quite a mouthful, this is one of three 3.0L V-Cross variants introduced in Malaysia last year.
Of late, the pickup truck has garnered substantial popularity, eventually becoming seen as a fun rugged vehicle to own rather than for its commercial applications in the past.
In this case, its not another fun rugged vehicle to own, instead the V-Cross Safari now adds a considerable amount of sporty styling with its bright orange sheet metal and matt grey external furnishings that includes the grille, front bumper guard, side steps, black roof rails and dark-grey 17-inch wheels with 255/65 tyres.
Furthermore, it comes with a V-lid that helps distinguish itself within the pickup truck realm and it's a stylishly sporty pick up truck that, without question, turns heads even though its priced rather steep at RM118,485.90 (OTR with insurance).
However, we realised that the longer we stood before the Safari, the more we wanted it.
For those who own a Chevrolet Colorado, the cabin will be a familiar sight, but for those who aren't it's a dark plastic affair with plenty of stowage compartments for keys, bottles and such.
The plush Italian leather seats with orange piping helps to add a dash of luxury comfort, as does the 6.2-inch live surround sound system with GPS-navigation and a reverse camera.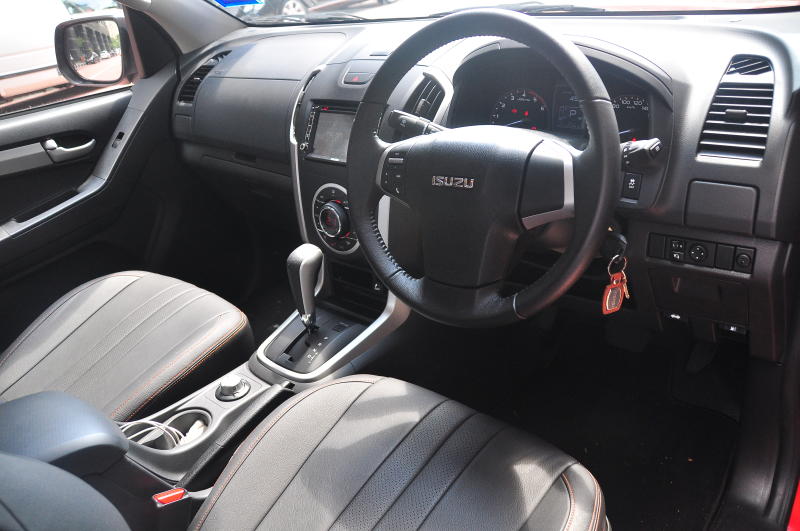 Under the hood, the Safari's five-speed automatic with sequential shift is married to a 3.0L 4JJ1-TCX Variable Geometry System (VGS) turbocharged diesel engine - producing 174bhp at 3,600rpm and 380Nm of torque from 1,800 to 2,800rpm.
There's a certain refinement that comes through to the driver, because rather than being bounced about within the cabin, the suspension soaks up much of the road's unevenness – a rarity that's hard to come by.
Prodding the accelerator, the Safari gets up to highway speeds with relative ease thanks to its 380Nm of torque on tap, but for those more familiar with 420Nm of torque, the difference is marginally.
But while there's much gusto (and roar) during acceleration, the front discs and rear drums are also able to pull on the reins to slow it down decently with quite a good amount of direct feel to it – another great plus point.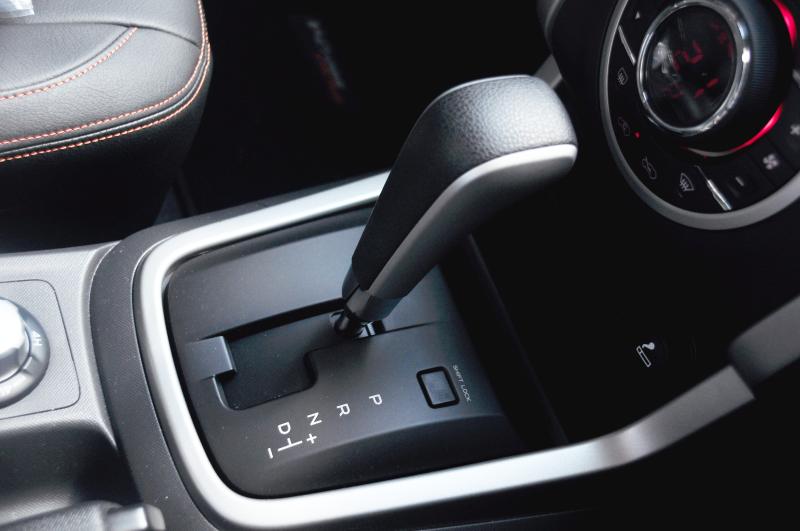 Other than being equipped with the standard two-airbag deal, the Safari is impressively equipped with a plethora of safety equipment as standard.
This includes an anti-lock braking system with electronic brake-force distribution and brake assist, traction control and the ever-important electronic stability control to keep the vehicle in check.
Pushing the Safari around tight bends will require a little more skill, especially when there's more weight to manage.
We were quite pleasantly surprised with the lack of apparent roll that usually puts drivers off from seeking out their vehicle's handling limits.
In short, the Safari's handling could be labelled as obedient or even confidence inspiring, perhaps just enough to keep up with the likes of a Ford Ranger / Mazda BT-50.
Overall, we'd dare seek to own this particular pickup truck from Isuzu, bearing in mind that this isn't the most powerful, nor the most accommodating in payloads, but heck it scores high in both the style and handling departments.
It's enough to say that Isuzu has done a praiseworthy job in making the Safari attractive enough to even warm up to the notion of becoming future truck owners.