It started to rain heavily that Saturday afternoon at Sepang International Circuit, just hours before the Lamborghini Huracan Esperienza 2014 evening session was about to start.
I was already anxious that I would be driving the Lamborghini Huracan LP 610-4, which packs a naturally-aspirated 5.2L V10 engine, the successor to the highly successful Gallardo, for the first time (in fact, this was the first time I would be driving a Lamborghini).
And driving on a wet track would have been a first for me too but that was not to be as the downpour slowly trickled to a stop.
Another storm appeared though and these would be the handful of Huracans ripping up the tarmac at Sepang.
The participants of the Esperienza consisted of about a half-dozen Lamborghini enthusiasts from Europe and three local motoring journalists, myself included.
We were briefed before hitting the track about how we would be "left alone in the car" meaning there would be no instructor sitting shotgun but we would have to follow a lead car instead.
The Esperienza was divided into two groups; a lead car followed by two Huracans for a three lap session.
Another eye-popping fact we were told was that the Huracan, which produces about 610PS at 8,250rpm and 560Nm of torque at 6,500rpm, already engages 75% of the maximum torque at 1,000rpm!
That's 420Nm of twisting force at such a low rev.
Now, there is nothing I disliked about the Huracan before I got into car and I could not find any faults after I drove it either.
I liked the way it looks what with that amazingly sleek silhouette, very clean lines and the hexagonal shapes which appears almost everywhere in the car, inside and out, giving it an air of quality like finely cut gemstones.
Even when the car was just idling in the pit lane, the design has so much movement that it looks so fast just standing still.
Then I stepped in the cabin and it felt like I was in a fighter jet cockpit and not a car.
The controls are very driver-centric as everything is either within reach or it is on the steering wheel.
And the main switch here is found on the bottom of the steering spoke called ANIMA (which is Italian for 'soul') and also stands for Adaptive Network Intelligent Management.
It is basically a driver mode selector and you can choose Strada, Sport or Corsa.
Depending on what mode you are in, it alters the gearbox logic, the all-wheel drive system, stability control, damper settings and even the exhaust system.
I was also impressed with the large 12.3-inch TFT instrument cluster which is beautifully laid out with vibrant colours and graphics.
I also liked that the labels which were in Italian like benzina instead of petrol or olio (oil).
The girth of the steering wheel is definitely the largest I've encountered bringing to life the idiom, 'take the bull by the horns' and yet it felt great to the touch and was comfortable to grip.
As we drove onto the track, I realised that the seating position was just perfect and had an exceptional view and that's really important when I'm speeding like a Formula 1 driver.
When you're driving a super powerful car that has a lightweight frame which is a hybrid of aluminium and carbon fibre (it has a dry weight of 1,422kg), you have to be looking ahead instead of in front of you.
I found that as soon as I looked where I wanted to go and hit the clipping points and corner exits, the car just brought me there with alarming accuracy.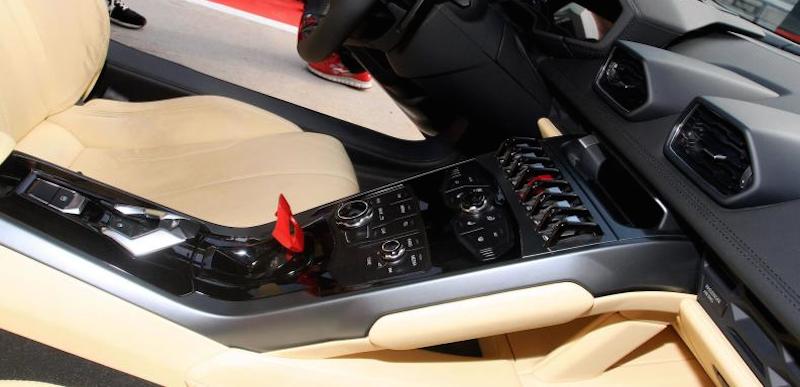 The power delivery was simply smooth and for a Lamborghini fitted with a dual-clutch transmission (via the seven-speed 'Lamborghini Doppia Frizione') for the very first time ... they got it right straight-away.
The carbon-ceramic brakes do not leave much room for progressive braking because they just catch and I found myself braking later into corner entry.
I felt so confident with the Huracan's precise steering.
It handled everything with ease and style whether I was taking fast corners or bombing it down the straight-line.
And even when I made mistakes of coming in too fast into a corner and doing things which they advice you not to do (like hard braking in a corner), the car would correct itself immediately when the rear broke loose.
I even tried a 'power over' move (flooring it at corner exit) and the Huracan's exhaust note roared to a crescendo and the rear gave out slightly.
But this car has so much traction and stability control that I was itching to do it again.
And the sound the Huracan makes is ferocious without being brutishly aggressive or shrill.
It is hard to describe but it was so satisfying; just like how I felt driving it.
As long as you observe the simple rules of timely braking, gear shifting, turning the steering wheel and keeping to the racing line, the car just carves out a golden path of speed and satisfaction.              
I think I finally understood that the golden bull is not just a representation of a fighting bull but a mythical beast come to life.