Luxury SUVs (sport utility vehicles) need to have a mile-long list of premium features, very high-powered engines, and top-notch cabin comforts to justify their astronomical price tags.
They aren't just for transport; these are four-wheelers that offer uncompromised cabin refinement and luxury for your family and business associates, and also, are symbols of your status in society. Which brings us to the latest Audi Q7 and Volvo XC90 plug-in hybrid.
Both are seven-seaters and have all-wheel drive systems, and a list of safety, convenience and drivetrain technologies that will require a few classroom sessions for you to fully understand them. They also carry price tags similar to that of mid-range residential high-rises in the Klang Valley.
Here, the Audi Q7 is nearly RM190,000 more expensive than the Volvo XC90, mainly because the German steed is fully imported while the Swedish family chariot gets tax breaks as it is locally assembled in Shah Alam.
The XC90 is also a plug-in hybrid, and the driver can switch to pure electric power where the range can be more than 40km. A full charge for the lithium-ion battery in the XC90, using a household power socket, takes three and a half hours. With a charging station, this can be reduced by an hour.
German-produced Hager Witty charging stations from Light and Energy Solution are priced at RM9,540 (indoor and outdoor use) and RM8,480 (indoor use only).
Both these seven-seater SUVs have distinctive looks, with the Q7 emphasising the trademark Audi Singleframe grille flanked by LED headlights and LED daytime running lights (DRLs) forming a double-arrow pattern.
Meanwhile, the XC90 has Volvo Cars' iconic arrow elegantly aligned with the diagonal slash across the grille and T-shaped "Thor's Hammer" DRL lights.
Audi Q7 3.0L TFSI quattro
The new Q7 has 3.0-litre TFSI V6 petrol supercharged engine with 333hp and 440Nm of torque, mated to an 8-speed tiptronic, and a quick 0 to 100kph sprint time of just 6.3 seconds. Its interior has a sporty design, with front occupants greeted by a continuous air vent strip that stretches across the instrument panel.
There is no touchscreen display here, but we are happy with the interface provided by the various buttons and dials on the centre console, as well as the Multi Media Interface (MMI) touch-sensitive control panel and 8.3-inch display screen which rises up from the dashboard when you start the car. The MMI touch-sensitive control panel comes with handwriting recognition, which we found useful when entering our destination into the car's navigation system.
You can enter characters on the touchpad surface or perform multi-finger gestures to zoom in on the map or scroll through lists. Our test drive came with the S line sport package, which includes mixed Alcantara/leather upholstery, and "S" embossed leather steering wheel, and door sill trims.
It looks imposing with huge 20-inch wheels with Pirelli Scorpion Verde tyres sized 285/45, and the adaptive air suspension provides smooth ride comfort and sporty handling. The adaptive air suspension can adjust the ride position of the vehicle body as required.
And, befitting its inflated price tag, the Q7 provides top-notch audio quality with a Bose sound system which has 3D technology often used in cinemas. The heart of the Bose 3D sound system is a 558 watt 15-channel amplifier, and 19 speakers including two speakers in the A-pillars that provide the spatial dimension of height, lending music an airy quality.
And depending on your mood and driving terrain, you can use Audi Drive Select to choose different driving modes such as efficiency, comfort, auto, dynamic, individual, off-road and all-road. Audi Drive Select changes the behaviour of the eight-speed tiptronic, electromechanical power steering, engine management, and automatic air conditioning.
You also get a heap of driver assistance and safety systems including eight airbags, LED headlights with automatic range adjustment, Park assist, and surround view camera. The Q7 is a thrilling creature to drive, partly thanks to its quattro all-wheel drive technology which has been refined via Audi Sport's rich 35-year racing heritage.
Basically, with quattro all-wheel, you get traction and cornering power that are far superior compared with cars that have only the rear or front wheels driven. This is because a car that distributes the power from its engine to all four wheels, can withstand higher lateral locating forces.
On a 35km drive from Kuala Lumpur to Semenyih, via the SILK and LEKAS Highways and some B-roads, we found power delivery to be smooth and linear, and road irregularities are absorbed without any passenger discomfort.
The Q7 just eats up the miles, and we can charge confidently through fast corners.
The Q7 delivers the dynamic handling of a sports sedan, thanks to a combination of its quattro all-wheel drive, quick-shifting tiptronic and well-engineered chassis.
Volvo XC90 plug-in hybrid
The Volvo XC90 is a dark horse when compared to the Audi simply because it came out of nowhere and straight away positioned itself in the luxury SUV segment. We were surprised at the level of quality and refinement in this car.
In fact, Volvo is not playing catch-up here. The XC90 belongs in the luxury SUV category. We both agreed that the XC90's drive and handling performance is the only weak link here compared to the Q7. Other than that, the XC90 offers great value at this price, RM403,888 on-the-road without insurance.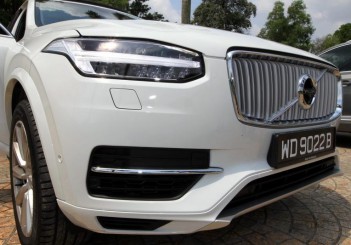 If European marques is your thing, then you can see the clear distinction in design between the Swedes and the Germans. The cabin of the XC90 is luxurious and extremely comfortable which gives a sense of homeliness to it, just like the furniture the Swedes design. Between the Q7, we would rather spend more time in the interior of the Volvo.
The XC90 has a four-corner electronic air suspension, and all-wheel drive, and a sophisticated turbocharged and supercharged 2.0-litre engine that produces 320hp and 400Nm of torque.
With its electric motor and plug-in hybrid system, its maximum driveline power can hit 407hp and 640Nm of torque. The interior of the XC90 has a luxurious blend of high-end materials such as wood, crystal and metal. Infotainment interface is via the Sensus touchscreen display, which allows you to control car functions, navigation, connected services and in-car entertainment applications.
You can also opt to use manual controls like buttons and switches, if you find the touchscreen a tad irksome. While Volvo Cars also boasts an illustrious racing heritage, the Swedish automaker is much more renowned for its automotive safety innovations.
In fact, Volvo Cars is so passionate about safety that its vision is that no one should be killed or seriously injured in a new Volvo car by 2020.
Verdict
When it comes to motoring joy, the Audi is the clear winner here.
Compared with the XC90, the Q7 feels more composed at high speeds and is more of a joy to toss around on twisty roads, or when under hard acceleration out of a corner. There is more of "Command and Control" sensation or better man-machine interface on the Q7, and the 8-speed tiptronic transmission provides ready-to-go power delivery.
There is a better point-and-shoot driving feel on the Q7, and less nose dive under hard braking. Now, unlike the Volvo XC90, the Q7 has no sunroof here but it's not something we would consider as a deal-breaker.
It does have something useful which the XC90 lacks, namely powered third row seats which at the press of a button, can also be folded down flat.
This is a really convenient feature, compared with climbing in the rear cargo space and manually adjusting the third row seats.
All-in-all, if you are caught between the Q7 or the XC90, you can't go wrong with either. Both have their pros and cons but there is no doubt, these luxury machines are worth their price. -
THOMAS HUONG and RIZAL JOHAN