Kampar was an excuse to take the Jaguar XE on a longish trip to gauge its capabilities. It was also a chance to try out the famous curry chicken bread of this Perak locale. It's always good to have something enticing to look forward to after driving far.
We took the old road from Petaling Jaya and returned via the North-South Expressway, giving the car varied surfaces, bends – and potholes – to run over. It was as typical a day trip as any we have done for years, with no runaway ostriches to distract us.
The XE,
available locally from January
, comes in three variants – Prestige, R-Sport and S.
The mid-range R-Sport on test came with optional 19-inch Venom wheels instead of standard 18-inchers. Like the Prestige, it packs the same 2.0-litre turbocharged engine but is tuned to gain an extra 39hp/60Nm to deliver 237hp and 340Nm. The S is an even sportier upgrade with a 3.0-litre supercharged V6 engine that makes 335hp and 450Nm.
The XE is a renewed push into the compact sports sedan arena following Jaguar's misadventures with the X-Type, which was widely viewed as a re-skinned Ford Mondeo with much of its mechanical trappings. It ended up a flop.
With Tata Motors taking control, Jaguar revisited the segment and came back with the all-new XE in 2015, long after the X-Type stopped production in 2009. For a car that aspires to be a BMW 3 Series beater, it looks the part of a modern premium compact sports sedan. What's more important is that Jaguar's smallest model is now rear-wheel drive, has a new suspension setup, a stiffened & light chassis, and near 50:50 weight distribution, all essential ingredients in a car that seeks to bring the fight to the Germans.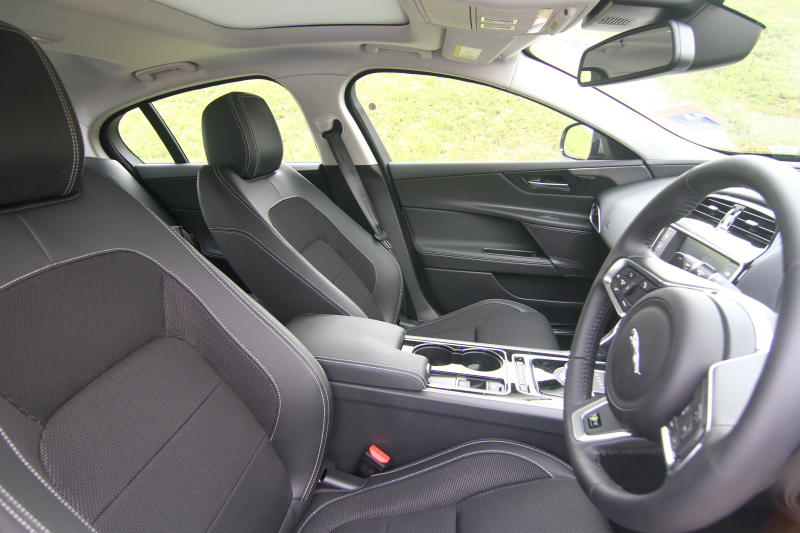 To start with, the XE carries a premium load. Standard across the three variants are keyless entry/start, 8-inch colour touchscreen, rear view camera, dual-zone air-conditioning with rear vents, auto high beam, dynamic stability control and traction control, interior mood lighting, 3 rear headrests, front/rear 12V power sockets, powered front seats and powered boot lid and six airbags.
The XE is undeniably a handsome car with proportions done right. Viewed full frontal, the natty bi-xenon headlights, underscored by LED daytime running lights meet the big grille to evoke strength at first glance, accentuated by large air intakes and a swollen bonnet that alludes to great grunt down under.
The side returns a view that shows off a coupe-ish roofline in a 4-door 5-seater with a high belt line. The blacked-out Venom wheels on mixed tyres and side power vents step up the sporty looks. The Leaper, meanwhile, makes a bold statement in the rear, which features twin tailpipes, but is otherwise a picture of restraint, stylistically speaking.
A panoramic sunroof lets light in to reveal an interior that is not bogged down by details. The  rearward-biased cabin is clean, simple and premium enough with a rotating 8-speed automatic transmission knob adding some distinction to the setup. Instrumentation are within easy reach and intuitive to use. The 8-inch centre infotainment touchscreen is responsive and includes sat-nav, with maps stored in an SD card slotted inside the front centre cubby box.
Jaguar achieved the coupe look at the expense of rearward visibility, which isn't great. Neither is the rear headroom if you are at all the tall type, with legroom on the stingy end of the scale. All seats except rear mid-row are comfortable and more so for front row, which get powered and well-bolstered seats. A combo fabric-leather upholstery help anchor everyone down when the going gets hairy.
Boot space is decent but is a tad smaller than those offered by the German camp.
Jaguar will tell you how the predominant use of aluminium in the XE body has improved handling and transformed its performance. The monocoque, made up of 70% recycled aluminium, is stiff and light. On paper, the XE in R-Sport trim weighs 1,535kg but that still makes it 30kg heavier than the BMW 320i.
Still with a Cd of 0.26, Jaguar says the XE is the most aerodynamic car it has ever built, helping its owner save some fuel and cut emissions.
The driver and front passenger sit deep and low with a high centre console that acts like a divider.
The XE excels as a highway cruiser delivering a ride that is calm and comfortable. The suspension does a fine job at damping noise and harshness from coarse tarmac. The suspension setup – double-wishbones in front and integrated-link axle in the rear – also resulted in high steering feedback and handling accuracy.
Don't be quick to judge the engine before you have given it a full workout. The power is ample but the engine note on urban excursions and start-stop traffic sounds insipid. Gun it on the open highway and fast flowing traffic, and it makes a delightful growl, showing off an agility and shove that run counter to first impressions.
The 340Nm of torque is available from 1,750rpm all the way to 4,000rpm, so there's no lack of grunt even when hurling the car uphill.
Swing the XE hard into corners and the rear-wheel drive car will exhibit typical oversteer but it's easy to recover from it either on your own steam or before the electronic nannies kick in to save the day.
Other than the usual safety kit expected in this segment, Jaguar added a new layer known as All Surface Progress Control. The XE is the first Jag with the low speed cruise control system that allows the car to handle low traction situations no matter how bad the weather is. It's a handy feature distilled from decades of Jaguar Land Rover experience in off-road traction systems.
All said and done, the XE offers a different take of what a sports sedan could be. It's one with a decidedly British pedigree.
Although the RM365,000 XE has a few shortcomings, it delivers a spirited drive on demand for those willing to take a chance with an uncommon contender. It's still early days for this new Jag. What we have seen so far shows a lot of promise. It can only get better with time.
The BMW-Merc-Audi triad may scoff at the upstart encroaching onto their turf.  For now, they are still top dogs in terms of drivability, interior appointments and space. But the XE is showing up on their rear-view mirrors. And closing in.