When it comes to having an off-road pedigree, there is one car that takes the cake. This car doesn't just have good breeding, it created a whole pedigree of its own. I'm of course talking about the Jeep Wrangler.
To cut a really long story short, this go-everywhere-take-everything-on machine first started life as a special project by the US army.
The onset of World War II saw these proto-Jeeps spread out across the globe. It was during this time that American G.I.'s gave it the Jeep monicker, possibly after a character from Popeye or by slurring the military designation given to the car, GP (for General Purpose).
After the war, Jeeps left behind in countries that the US operated in, like Japan and the UK, helped spawn nascent auto industries built around utility vehicles.
As for the original Willys Jeep, the model changed hands over the years from one automaker to another, but surprisingly kept its highly recognisable shape, excellent off-road demeanour and its name.
Jeep has come and gone from our shores a few times over the last 75 years, the last time being in the 90s up to the early noughties. When I heard that it was coming back, I waited with bated breath for the launch which finally came in November last year.
While off-roading fans might argue over which marque is the best, I think most of us harbour a curiosity about how well the car performs. I know I was. The car I got to review was Jeep Malaysia's 2-door ultra-luxe variant of the Wrangler, the Rubicon. I have to say I was a bit surprised by its small build.
At just over 4m long and with a wheelbase of 2,268mm, it is about the size of a compact car. That being said, the designers over at Jeep worked very hard to get the most out of the available interior space. Let's just say that there are far larger 4X4s out there that does not have as much leg-space and headroom.
Not to mention the amount of storage "bays" available. I spelt bays with inverted commas as they're not so much bays but more like netting.
Legroom in the back is at a premium, but for your average Malaysian it's still comfy if a bit tight.
The interior is rather spartan for something pegged as a luxury variant. Although, it does have leather seats and trimmings as well as a touchscreen entertainment centre, it doesn't come with a sat-nav.
Nevertheless, I do really, really, like the car's speakers. Nine in total with a subwoofer hidden in your boot.
So if the Rubicon's 3.6-litre V6 fails to wake up your neighbours, it's stereo certainly will.
Overall though, I do like the car's frugal, solid design and was pleased by how comfortable it actually is. There are several trucks I know of which are much larger but are nowhere near as comfortable as this little beast.
The proof of the pudding is in the driving, and this car handles pretty well on the road. To really test its mettle, I picked a spot near Karak to put the Rubicon through its paces.
The route took me through the heart of our capital, out onto the Karak highway before meandering into the small roads of Karak town and finally out into the boondocks to see how the Rubicon liked our Malaysian mud. What I found was that when it came to city roads, the Rubicon fared pretty well.
Its engine has more than enough spunk to overtake and its diminutive size made it easy to wiggle through traffic. Also, parking was a breeze as there are no blindspots to worry about and the Rubicon has an above average turning radius in my opinion.
On the highway, the drive was a bit uninspiring, which is just as well, as this car is no sports-car. On longer stretches, it takes a while to come up to speed.
Personally, I had no issues with that as I was enjoying the drive. This car was made for cruising, so if you keep a steady pace and turn up your radio, it makes for a fun experience. For the real acid test, I mosied up to a patch of jungley farmland belonging to a friend of mine.
As soon as it hit the trail I realised that this was a vehicle with a difference. It literally ate up whatever the trail threw at it. Its massive engine meant you have oodles of torque to play with.
The power kicks in a little bit later than you would expect though, seeing that it is a petrol engine. If you are used to diesel, then you would have been schooled in instant, flat torque band.
This baby gives it to you in one big punch farther up the tachometer which meant I had to unlearn some habits.
But once you get over that you realise that there is not much that the Rubicon cannot overcome.
With a ground clearance of 220mm (loaded) and thanks to its skid plates and rock rails, an armoured belly, it is particularly suited to clambering over rocks and other obstacles. Furthermore, with its excellent approach and departure angles, I more or less had it driving up near vertical slopes!
I do feel that this beast was bred for the drier forests and deserts of the US as it did not seem to be so at home in the mud, as say, its British counterpart, but it did excel in other areas.
It did get bogged down once, but that could have been mainly due to driver error than the fault of the car. One point I did not appreciate about the car was its proximity alert system.
Assuming you were stuck in a traffic jam, the sensors would go off each and every time a motorcycle came remotely close to the car, which in Malaysia, meant that it went off a lot.
Off-road, it was an equally torturous driving experience.
Our whole trek into the forest lasted about four hours, and throughout it all the alarm just went off continuously as it detected every bit of tall grass, tree or rock around it. In my opinion, this  is a serious issue that Jeep has to look into.
On the road, it is just a nuisance but off-road it's a dangerous hazard as not only would it distract the driver, it would make radio communications impossible.
I am at a loss as to why the system is so bad for something that's supposed to be a through and through off-roader.
The only reason I can think of is that trees grow further apart in the United States.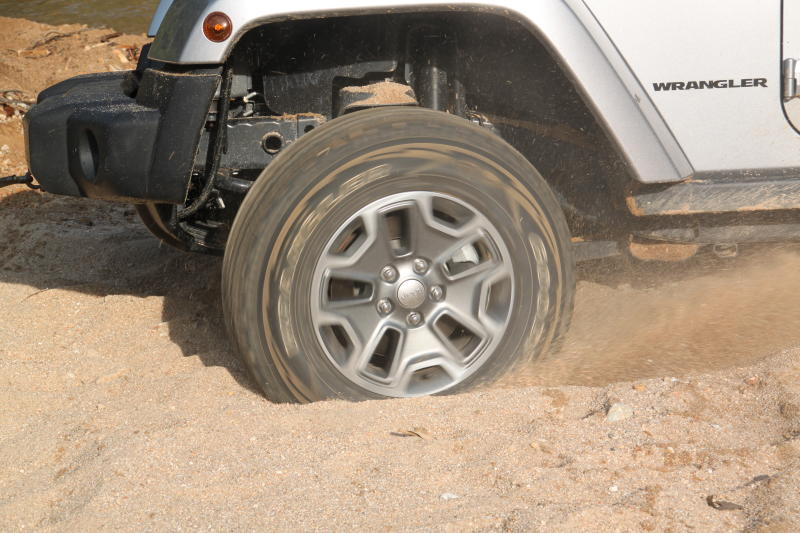 I later found out that you can disable the proximity alert by flicking a switch hidden in a hard-to-reach spot underneath the dashboard.
In my opinion, Jeep should put that switch right on the dashboard. If you want to turn it off now, you have to stop the car and get out of the vehicle, which is not something I'd recommend if you are stuck in heavy traffic.
Aside from that, the car is an excellent bit of kit that would please both the hardcore outdoorsmen and the urbanite looking for a lifestyle car.
Its tiny size is a boon for trail runners but would be a bit of a handicap if you wanted to go touring up to Thailand.
At RM337,000 (on the road with insurance), the price is a bit steep for what you get, but that's because the car is fully imported.
If Jeep decided to have the Rubicon assembled here (or anywhere else in South-East Asia), the price tag could drop by quite a bit.
When that happens, I would be one eager customer. -
NIKLAS ALBAKRI