It's a shame that coupe cars are not popular in Malaysia. Maybe it's the perception that two-door cars are sporty machines which leave hardly any room for rear passengers. And while it rings true for most coupes, the Kia Cerato Koup sets itself apart in this respect.
Simply put, it is spacious in terms of leg and shoulder room for rear passengers, hence making for a comfortable experience seated in the back.
It also has rear air-conditioning ventilation and on top of it, there are three pairs of cupholders in the back - two on each side and one on the centre armrest.
Kia deserves applause for thinking about the comfort and convenience for both the driver and passengers.
While it tends to get overlooked sometimes, it's the little things that matter like rear air-con vents, cupholders, a cooler in the glove box, the air ventilated driver seat with lumbar support and quite a large boot space of 433 litres.
By the way, the rear seats split 60:40 if you need more space. You'll realise just how useful all these features are especially when driving long distance. And Kia has not stinged with the kit in the Cerato Koup either.
The vehicle comes with keyless smart entry and push start button, dual-zone automatic climate control, 4.2in LCD touch screen audio system with six speakers, radio/CD/MP3/AUX/USB, reverse camera, auto cruise control, paddle shifters, sunroof, front and rear parking sensor, ISOFIX and Bluetooth hands-free among others.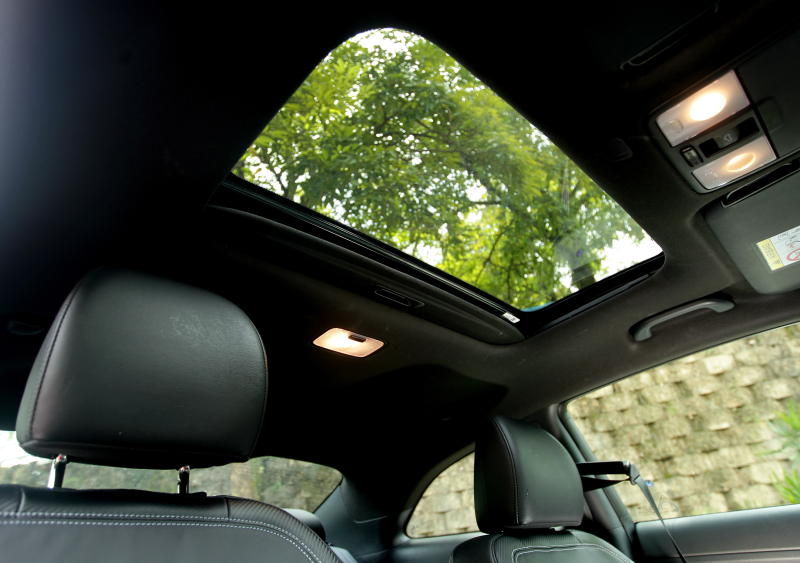 And yet with all this functionality and features, it is housed in a sleek-looking package.
The signature 'tiger-nose' grille design has evolved, now slim and stretched out to meet the feral-looking HID-Xenon projector headlamps with LED daytime running lights. Below this sits a larger trapezoidal grille with carbon fibre-like bar and the circular LED front fog lamps.
It's clean and minimal lines across the body gives the car a lean and atheletic appearance and the rear is all business with the dual muffler and rear diffuser.
The black high gloss trim on the wing mirrors and door handles and 18-inch wheels adds a nice touch to its overall design aesthetic.
The cherry on top though, is the frameless doors. This is how you tell the difference between a coupe and four-door car.
The interior is all black with bucket-type seats for the driver and front passenger. The dashboard though, has a bulbous design to it which seemed to me, a little off considering the overall aesthetic of the car.
However, it is no deal-breaker as the cabin has a cozy atmosphere to it.
It is impressive under the hood as well what with the 1.6L turbo engine mated to an automatic six-speed transmission which pushes out 204PS at 6,000rpm and 265Nm of torque at 1,750rpm to 4,500rpm.
As such, there is nothing sluggish about driving the Cerato Koup. It's definitely torque-y and pulls away nicely with smooth gear changes.
There is minimal turbo-lag but the copius amounts of torque makes it difficult to notice when it kicks in.
For spirited driving, it handles very well during straight-line acceleration and, as expected, understeer is present in corners.
The ride is comfortable and on the firm side which offers a very nice balance. The cabin is pretty quiet as noise, vibration and harshness levels are kept to a minimum.
For everyday driving, especially in the city, the Cerato Koup is just a joy to drive.
Besides all the previously mentioned things going for it, I found that visibility is simply incredible in this car.
The main thing is that the B-pillar doesn't block your vision the way a four-door car does.
I didn't have to turn my head so much when I was driving because I could see either side of the car clearly.
Front and rear visibility is also good and it helps that the seating position is at the right height. Plus those seats are snug.
Finally, Kia pulled out the stops for safety with six airbags, electronic stability control, hill-start assist, vehicle stability management, front and rear parking sensors, reverse camera, ISOFIX anchors, and the auto door lock system which engages when you reach a certain speed and unlocks the doors when a collision occurs.
When it comes to value for money, the Cerato Koup ranks very highly with its good looks, comprehensive features, practicality and drivability.
Priced at RM135,888 on-the-road with insurance and GST, the car also gets a five-year manufacturer warranty and unlimited mileage.