Lion-like power and luxurious appointments in a quiet, refined bubble are the highlights of the updated seventh-generation 3.0-litre Audi A6 sedan, which will burn a half-million ringgit hole in the deep pockets of the wealthy.
Launched in Malaysia late last year with new and enhanced features, the A6 sedan is also offered in a turbocharged 190hp/320Nm 1.8-litre TFSI engined variant, with a relatively more accessible price of RM327,900.
Our test drive unit this time, however, is the mighty supercharged 333hp/440Nm 3.0-litre V6 engined flagship unit, paired with a 7-speed S tronic dual-clutch automatic transmission and quattro all-wheel drive, which provides more traction and better control on twisty roads and tight corners.
Those who demand a high-quality interior should not have complaints; we found a sporty-looking black themed cabin with aluminium trim, plush Milano leather seats, four-zone automatic air-conditioning, powered front seats, a powered sun blind for the rear window, heat-insulating glass, rear air vents, push-start ignition and a space-saving electric parking brake.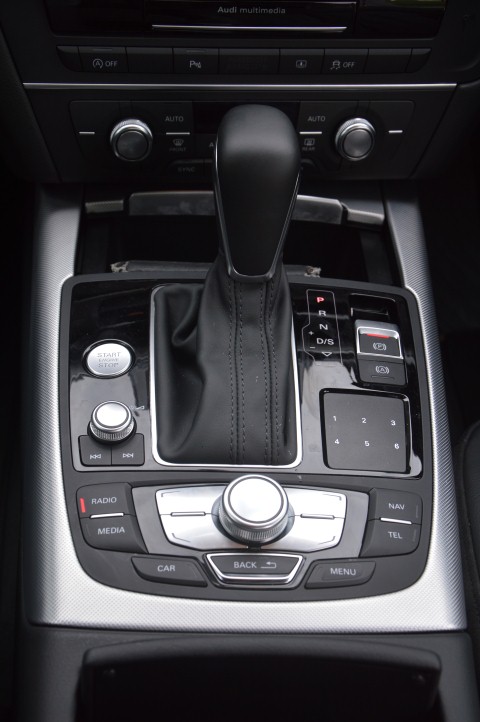 For infotainment and connectivity on-the-go, the A6 has some very nice gadgets.
These include Audi's MMI Navigation plus with MMI touch, which allows you to write letters or digits with your finger on a touchpad interface.
There's also Audi Connect with Google Earth and Wi-Fi Hotspot, which allows LTE high-speed mobile data connection via a SIM card.
Other hardware include a DVD drive, two SDXC card readers as well as an eight-inch colour display, paired to a Bose surround audio system with 14 speakers and a 12-channel amplifier.
Rear headroom is decent, and we found abundant legroom thanks to the 2,912mm wheelbase.
You also get a deep 530-litre boot for golf bags and weekend shopping excursions.
Where performance is concerned, the 3.0-litre supercharged V6 engine has immense power and torque, which is delivered effortlessly via the 7-speed S tronic dual-clutch automatic.
The S tronic has lightning-quick gear shifts, and this translates into instantly brisk and adrenaline-inducing propulsion, even with a full load of adult occupants.
This 3.0-litre A6 is a lively performer, and with quattro all-wheel drive and Yokohama Advan Sport performance tyres sized 255/40 R19, it feels right at home on twisty stretches.
As expected from a luxury business saloon, there was very little noise intrusion in the quiet confines of the cabin.
Even the exhaust roar was quite muted when we hit the rpm redline.
Drivers will also enjoy using the typical Audi drive select feature, which adjusts the characteristics of the engine, transmission and steering for drive modes consisting of "comfort", "auto", "dynamic", "efficiency" and "individual".
Audi drive select is something we have always enjoyed, as the sportiness and fun-to-drive character of the car can be better explored at the push of a button.
As an executive mover, this flagship A6 sedan is as smooth as cream on leisurely drives in quiet urban areas, but is also a punchy performer for long-distance motoring.
It's great for business class comfort, with its plethora of premium materials and gadgets.
This flagship A6 sedan delivers the goods when it comes to top-class refinement, prestige and a supple ride.