The latest Ford Focus has a substantial facelift, and enters an increasingly competitive arena in Malaysia, namely powerful turbocharged C-segment family cars.
It's quite a major change from the third-generation Focus that arrived here less than four years ago.
The previous Focus was renowned as a sporty performer with a 2.0-litre Duratec petrol engine pushing out 170ps and and 202Nm of torque, mated to a 6-speed Powershift dual-clutch gearbox.
Compared with a conventional torque converter automatic transmission, the Ford Powershift is more fuel efficient and delivers lightning fast gear changes.
However, the latest Focus makes a return to a conventional 6-speed torque converter automatic gearbox - so it's goodbye to the lightning-quick gear shift experience.
Imported from Thailand, the new Focus has more muscle under the hood, with a 1.5-litre turbocharged EcoBoost engine delivering a very impressive and class-leading 180ps and 240Nm of torque.
However, with the conventional six-speed automatic, there is some turbo lag and the drive is much less exciting, compared with the fun and sporty driving experience via a dual-clutch Powershift where gear shifts are performed without torque interruption.
The new Focus has sharp and stylish looks, particularly with the adoption of an Aston Martin-like front grille that is also seen on other Ford cars like the Fiesta and Mondeo.
Our test drive unit is the high-grade 5-door Sport+ hatchback variant which is priced RM21,000 higher than the RM118,888 Trend hatchback model.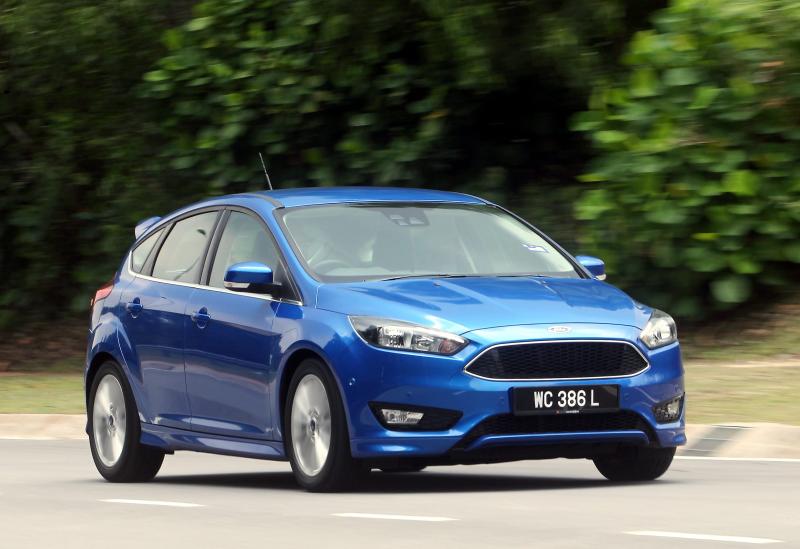 For the RM21,000 price difference, the high-grade variants get extra kit including LED daytime running lights, power-adjustable and auto-folding side mirrors, auto headlamps, rain sensing wipers, dual-zone air-conditioning, 12V powerpoint in armrest stowage bin, leather upholstery, steering wheel-mounted paddle shifters, eight-inch touchscreen display SYNC2 with SD slot and nine audio speakers, rear armrest with integrated cup holders, side and curtain airbags, keyless entry and start, front parking sensors, and cruise control.
The extra money you pay also brings Enhanced Active Park Assist and City Stop, as well as Blind Spot Information System (BLIS) with Cross Traffic Alert.
These extra safety features provide real value, as City Stop can automatically apply the brakes to reduce collision impact while BLIS provides alerts when another motorist is in the driver's blind spot.
Enhanced Active Park Assist provides semi-automated parking help where the car steers itself and the driver just shifts gear mode, brake and accelerate as directed in perpendicular and parallel parking.
We would have preferred a reverse or all-round view camera system instead, but if you are willing to trust the software and sensors that Ford put in the new Focus to reduce parking stress, then it's just something that owners will eventually get used to and appreciate.
We think the high-grade variant is definitely worth the extra money, as you get more airbags, safety systems as well as comfort and better infotainment features.
It is not an exaggeration to say the new Focus is not too far away from entry-level premium German cars.
It's worth noting that the new Focus has Ford MyKey, where owners can programme a spare key to reduce the maximum speed of the car, give an earlier low-fuel warning, limit the volume of the in-car entertainment or even disable the car completely if the seatbelt is not fastened.
You might want to do this when you are unsure about the driving skills of someone you are lending the car to, such as teenage kids.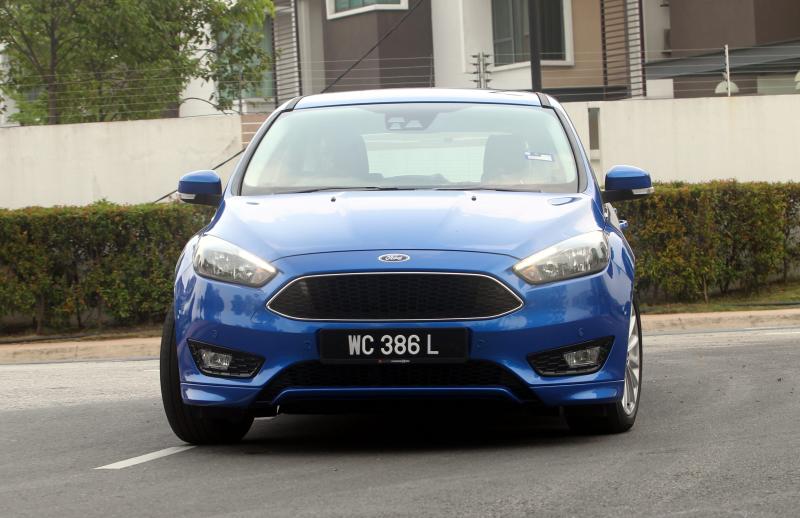 We are told there's also a safety feature called Enhanced Transitional Stability (ETS), which can predict a skid or spin and intervene early to help prevent the driver from losing control.
Obviously, this is a safety feature that we didn't put to the test on public roads.
Our only niggle here is the use of halogen headlamps, instead of brighter and more costly bi-xenon or light emitting diode (LED) headlamps.
Aside from that, the cabin ambience has a premium feel, with leather upholstery and sporty front seats, front and rear reading lights, as well as keyless entry and push-start ignition.
When driven at 80kph on smooth highways, we noted that the tachometer needle was at 1,500rpm. At 110kph, the needle hovered around 2,000rpm.
On the motorway, the new Focus is refined and quiet. We felt quite isolated from the external environment except for the occasional noise pollution from the loudest kap-chais (lightweight underbone motorcycles) and old buses.
According to Ford Motor, the new Focus has lots of sound deadening materials including sound-insulating windshield glass, thicker side-window glass and carpets, increased insulation in the door trims, and improved engine insulation.
It also helped that our test drive unit ran on comfort-biased Michelin Primacy LC 215/50 R17 tyres, which offers excellent noise absorption and fuel economy.
Like a typical Ford car, the ride and handling is where the new Focus also shines; it stays settled and grounded during sporty manoeuvres on curvy roads - unlike the wishy-washy or skittish ride of many C-segment passenger cars.
You get sporty ride and handling, and the Electric Power Assisted Steering (EPAS) is precise and direct.
The suspension set-up is on the firm side, but far from uncomfortable. Everything feels solidly built and well-put together.
In summary, the new Focus is a better-looking car, has more power, and feels more refined than ever.
While you don't get the feistiness or zing of a racing stallion, the new Focus provides the steady and solid temperament of a trained mount.