Un-perilous. Unexciting. Un-fast – these were the characteristics of our recent 348.3km single-tank challenge in a Mazda3 from Bermaz headquarters in Glenmarie, Shah Alam to Johor Baru (JB).
Clear blue skies meant our drive to the south was going to be a hot one after having experienced two simillar challenges previously. One of the most significant predicaments for us as drivers travelling long distances, and at such slow speeds, was how to deal with the heat.
If left un-dealt with, it can cause a lot of fatigue.
To recap, we had the opportunity to take a 1,200km trip from Bangkok to Penang in a diesel-powered Mazda2 and another was a longer 1,400km trip from Kuala Lumpur to Bangkok in a three-pointed star Panzer-wagon.
The physical toll over such long distances for these sorts of challenges can be immense and so a 348km journey was considered a "walk-in-the-park".
Our group had 15 competing cars with SkyActiv engines and were segregated into three categories - five Mazda2 cars, five Mazda3 cars (one of which was ours) and five CX-5 (2WD) SUVs.
The steed for the deed was a 2.0-litre Mazda3 hatchback with a 14:1 compression ratio producing 162bhp at 6,000rpm and 210Nm at 4,000rpm.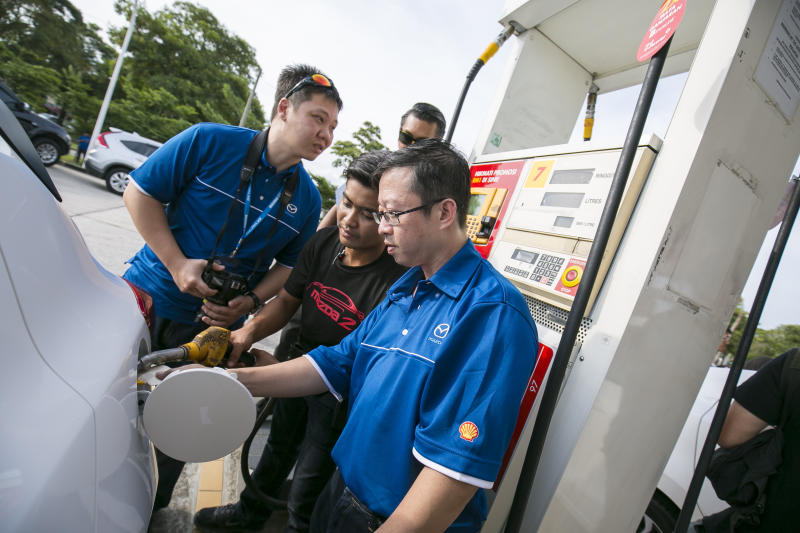 Our locally assembled Mazda3 slots itself between the high and low spec variants and came draped in Arctic White for the journey from Bermaz headquarters in Glenmarie to a Shell Station in Nusajaya (just before reaching the heart of JB).
Priced at RM121,105 (OTR with GST without insurance) it meant that our car only gets some of the bells-and-whistles, which includes a set of 18-inch alloy wheels, automatic climate controls, navigation, auto bi-xenon lights, LEDs for DRLs and rear light clusters, adaptive front-lighting system (AFS) and keyless-entry with push-start.
It also comes with fabric upholstered seats (perfect for our climate), and manual wiper controls.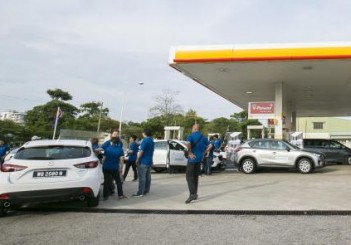 But, Mazda's i-Activsense, auto-dim rear view mirror and the head-up display were absent.
Regardless of the lack of amenities, the Mazda3 is still a comfortable prospect for an everyday drive and is able to accommodate those who have an ever-changing desire to drive it according to their whims and fancies.
To ensure a levelled-playing field, everything was standardised including tyre-pressure, fuel (filled to the brim) and climate controls, which were all sealed to prevent tampering in order to gain an unfair advantage.
Although we had a brief experience in a Mazda3 some months ago, we were still unprepared for this "test" and with over 300km to travel, we were thankful the cabin had good amounts of comfort dialled in.
The journey would take us through a few check points, forcing us to manage our commute accordingly and arrive on time so as not to incur time penalties or worse... disqualification.
Our first stop was Senawang in Negri Sembilan and it was here that we realised that the Mazda3's light accelerator pedal makes it effortless to prod, but took us a while to master – being rather difficult to feather to minimise the unnecessary burning of more fuel.
After a 10-minute break and a quick driver change, we were off to our lunch destination at the Philea Resort and Spa in Ayer Keroh, Malacca, during which we were still trying to gauge how to best drive the car more frugally.
Following our lunch break, we left for Yong Peng and by this time, our feel for the throttle pedal had gotten much better before our southerly jounrey came to an end.
Downward slopes are a god-send, but no matter how gradual, they are deemed necessary in gaining momentum and speed, which means travellers get to arrive sooner and with less fuel used – ideally around the 110kph mark.
Not to mention, consistency is required along with a light and sensitive foot to ensure that not too much is being demanded from the engine, keeping the revs on the tachometer around the 1,500rpm mark.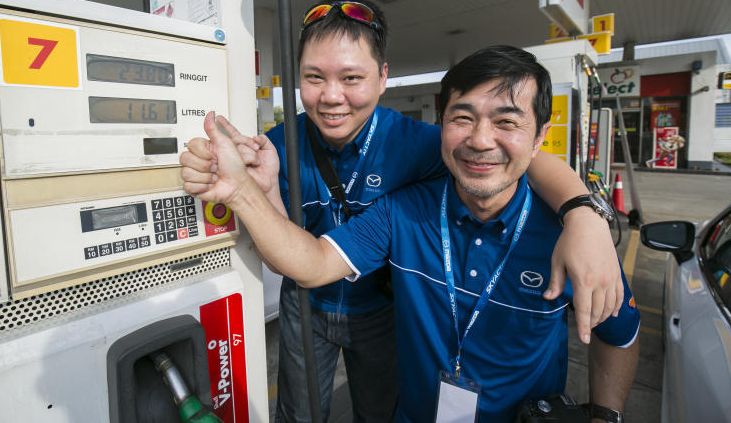 Arriving at our final checkpoint at Nusajaya, our fuel guage was still reading full and the tank was filled to the brim once more.
My co-drive, Yew Hong Chin from
Kwong Wah
newspaper and myself were astonished to find that we only consumed 11.61 litres of RON95 petrol (costing RM23.80 at RM2.05 per litre).
Within the Mazda3 category, fuel consumption ranged between 2.99 and 3.64L/100km and since we were able to achieve a reading of 3.33L/100km, it secured us a third place finish.
The smaller Mazda2 cars were able to achieve better with fuel consumption ranging from 2.78 to 3.13L/100km, while the CX-5s did similarly well to the Mazda3 cars at 3.52 to 3.81L/100km.
With such readings being witnessed first hand, we can't help but acknowledge how Mazda has brought the internal combustion engine to new highs with its combination of power, joyful driving experience (on the way back from JB) and fuel efficiency.