About three years ago, the C-segment in the motoring industry had been experiencing poor sales and lack of consumer interest as there were more attractive offers in the B- and D-segments as well as a rising demand in compact and mid-size SUVs.
It almost looked like the end of the road for the C-segment until Honda Malaysia launched the tenth generation Honda Civic with a 1.5-litre turbo engine option in 2016.
All of a sudden, the C-segment was revitalised with the Civic selling like hot cakes.
Honda Malaysia stated that the new Civic "recorded an impressive 165% increase compared to Honda Malaysia 2015 sales of the out-going model, and became the market leader in its segment with 68% market share within six months of its launch."
With the sudden revival of the C-segment, the competition also dangled their offerings for Malaysian consumers.
CarSifu pitted the popular and award-winning top-of-the-range Civic 1.5 TC-P against the well-specced and more powerful South Korean contender, the Hyundai Elantra Sport 1.6T-GDI.
And just in case you have forgotten, the Civic 1.5 TC-P clinched the "Car of the Year" title at the inaugural CarSifu Editors' Choice Awards back in 2016 and also won the Best Mid-Size Car category for its advanced styling, features, handling, ride comfort and accessible pricing.
Let's see if the new turbo kid can snatch the belt from the reigning champ of Japan.
Honda Civic 1.5 TC-P
By now, whoever hasn't seen the tenth generation Honda Civic on the streets obviously doesn't get out much because it's everywhere.
Even though the current Civic was launched in 2016, the exterior design of the car still holds up and it is one of the reasons people have gravitated towards it.
And if you think the car makes you look good and it's the reason you want to own one, then go for it.
The top-specced Civic 1.5TC-P (turbocharged premium), priced at RM131,880 (on-the-road without insurance) has the bells and whistles compared to the other two variants on offer, which makes it an attractive package indeed.
Looks-wise, the current Civic is quite a departure from recent iterations.
The lines flow upwards from the eye-catching front fascia to the rear giving it an athletic stance and the fastback design of the C-pillar makes for a very attractive car to behold.
It's also lower and wider than the previous generation Civic with a 20% larger bootspace at 519 litres as well as an extra 30mm to its wheelbase at 2,700mm, while being 4,630mm-long (+105mm), 1,800mm-wide (+45mm) and 1,415mm-tall (-20mm).
So that means you and your passengers have a lot of head and legroom room plus plenty of cargo space to boot (no pun intended).
The cabin is lined with leather upholstery for a plush interior and it is a comfortable space to be in as it also has rear air-cond vents to cool down passengers in the back.
Also, the Civic features the Remote Engine Start which allows the driver to start the engine up to 40m away to activate the air-conditioning and cool down the cabin before entering the vehicle.
If you are the forgetful type, this car has another useful function, the Walk Away Auto Lock which will automatically lock all doors when the driver walks away with the smart key beyond 2.5m without anyone in the car.
So you don't have to worry about whether you have locked your car or not as it does it for you. It comes with smart entry and push start and the centre console has an enormous stowage space.
The dash is stylishly laid out without being too fussy so it makes it easy finding your way around the entertainment system - the seven-inch Advanced Display Audio system - and the touch panel dual climate control is clearly defined.
On the safety side, the Civic comes with a multi-angle reverse camera, six airbags, an anti-lock braking system, vehicle stability assist, electronic brake distribution, brake assist, auto brake hold, hill start assist, 4-corner reverse sensor and emergency stop signal.
For a car which was born to be driven hard for racer boys and girls, the latest Civic has definitely grown up to be more inclusive for practical reasons - yes, you even have ISOFIX anchors.
But does it make it any less exciting to drive? Not at all.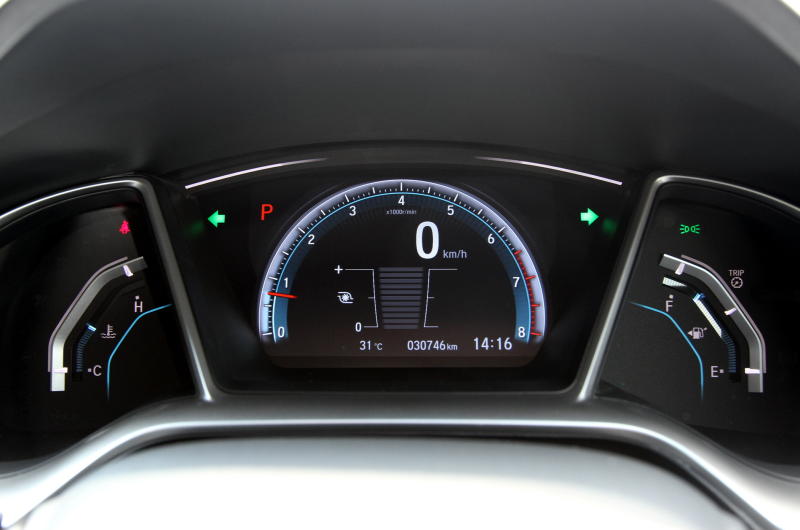 If you take it for what it is - a 1.5 VTEC turbo engine producing 173PS and 220Nm of torque mated to a continuously variable transmission (CVT) - without comparing it to the VTEC of yesteryear, you can have a lot of fun behind the wheel.
For one, the driver is seated low to the centre-of-gravity with a wide, clear view which is good when you are driving at speed.
It does feel and look premium in the driver's seat as the instrument panel has a digital display which looks modern and exciting.
And having paddle shifters is always a plus.
I found the steering response to be sharp as it takes only slight turns for the car to start turning so there is not much play here.
The acceleration is also impressive as the car pulls away with such ease, confidence and grip. And the car handles corners and turns just as well.
The suspension however, is set up for everyday use and is not the most firm, so you may not want to push it too hard into the corners or through uneven surfaces.
The only complaint here is the lack of an exciting exhaust note but other than that it is a delightful car to zip around in.
Even though it does not have the Elantra Sport's horsepower, the Civic makes up in having more refinement and is still a fun car to drive.
SPECIFICATIONS
Honda Civic 1.5 TC-P
Engine: 1,498cc, four-cylinder, 16 valves, DOHC VTEC
Maximum power: 173PS at 5,500rpm
Maximum torque: 220Nm from 1,700rpm to 5,500rpm
Transmission: Continuously Variable Transmission (CVT)
Features:
Six airbags, anti-lock braking system, vehicle stability assist, electronic brake distribution, brake assist, leather upholstery, navigation, rear air vents, eight-way powered driver's seat, seven-inch Advanced Display Audio system, eight-speaker sound system, remote engine start, walk-away auto lock, electric parking brake and auto brake hold, dual climate control with touch panel control, auto LED headlamps, LED daytime running lights, LED foglamp, paddle shifters, cruise control, ECON button and a multi-angle reverse camera, auto brake hold, hill start assist, 4-corner reverse sensor, emergency stop signal, USB/HDMI ports, MP3/iPod and ISOFIX anchor points
Price: RM131,880 (on-the-road without insurance)
Warranty: Five-year unlimited mileage and free labour service applicable up to five times within 100,000km or five years (terms and conditions apply)

Hyundai Elantra Sport 1.6T-GDI
The Hyundai Elantra Sport, with its turbocharged Gamma 1.6T-GDi engine, is the car to helm for those who are young and young at heart and can obviously afford the RM131,488 asking price.
While rolling on 17-inch wheels with 225/45 series tyres, the Elantra Sport's dimensions exude a touch of sportiness about it due to the more aggressive front bumper, the inclusion of a rear diffuser and a set of twin exhaust tips.
Also, it's rear torsion-beam suspension system has been switched out for a more capable multi-link set and the brakes make use of larger 16-inch (front) and 14-inch (rear) disc brakes.
Inside, the cabin seems rather overexposed by the bright red leather upholstery, but what eggs the driver on to enter is the fact that under the hood lies a 1,591cc, 204PS/265Nm turbocharged engine that's managed by a seven-speed dual-clutch transmission for some quick-shifting fun.
In short, it's a car that's almost certain to make owners smile.
Getting seated, a flat-bottomed steering wheel handles the greetings before the conventional dashboard, centre console and "analogue" handbrake says hello.
Engaging the push-start button conjures up the usual sound of a four-potter.
Nothing special in this department, nor upon blipping the throttle and there's nothing sporty about its exhaust note throughout the rev-range.
The familiarisation spin in the Elantra Sport actually had us initially thinking it was not going to be much of a performer and could potentially leave us wanting.
Boy, were we wrong!
With the low-profile tyres, the suspension felt communicative, yet rather compliant over uneven surfaces and thankfully not as stiff as some had previously claimed.
The ride, however, is still a bit stiffer than the Civic's and rewards with less body roll in fast corners.
Shifting down a few gears via the paddle-shifters in Sport mode, the engine responds quickly and the turbo's boost helped to propel the car forward.
The response is almost immediate and coupled with a good all-round view of what's outside, it made it all the more easier to bob and weave through sparse traffic.
Body roll remained relatively muted and drivers will feel the tyres working for them as the suspension takes care of most unsettling situations.
The larger 16-inch (front) and standard 14-inch (rear) brake discs do well to slow things down with a firm bite, resulting in a confidence-inspiring drive that can be addictive.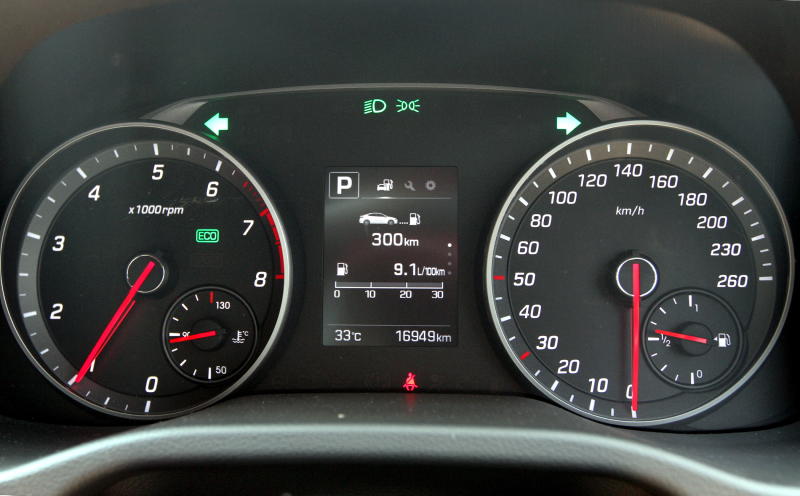 The gear changes are smooth and fast, and the motor-driven power steering felt more direct and responsive compared with the Civic's.
Pushing the Elantra Sport just beyond its grip capabilities and its electronic stability programme and vehicle stability management systems will kick in with a noticeable power cut.
Switching back to Normal mode and the throttle feels dull, Eco mode only dulls it even further, while the steering feels progressively lighter.
Undoubtedly, the Elantra Sport is capable of being an aggressive drive, yet able to handle reasonably well.
Nonetheless, it is able to adapt to most road-going situations and power is delivered on demand, regardless of driving mode.
But do be wary because a heavy foot on the accelerator will mean more trips to the petrol stations.
Unfortunately, the Elantra Sport is hardly taken seriously as a contender among its other turbocharged peers within its segment just because it wears a Hyundai badge and comes from South Korea.
For what it's worth, this turbocharged Elantra Sport is well specced with items such as a smart trunk system, cruise control, reverse camera, keyless-entry with start-stop button, 7.0-inch colour touchscreen with Android Auto, Apple CarPlay and Bluetooth connectivity, leather upholstery and blind-spot detection to name a few.
Also standard are six airbags, anti-lock braking system, electronic stability control, and vehicle stability management. —
JAY WONG and RIZAL JOHAN
SPECIFICATIONS
Hyundai Elantra Sport 1.6T
Engine: Gamma 1.6 Turbo GDi
Power: 204PS at 6,000rpm
Torque: 265Nm from 1,500 to 4,500rpm
Transmission: 7-speed dual-clutch transmission with manual mode and paddle shifters
Suspension: Front McPherson strut, rear multi-link
Brakes: Front 16-inch, rear 14-inch
Features:
Six airbags, antilock braking system, electronic stability control, vehicle stability management, brake assist, hill-start assist, blind-spot detection with rear cross traffic alert, tyre pressure monitoring system, high intensity discharge headlamps with LED daytime running lights, rear LED light cluster, keyless-entry with push-start button, cruise control, auto light control, reverse camera, automatic wipers, smart trunk, leather-wrapped flat-bottom multifunction steering wheel, 8-way semi-powered driver seat, dual-zone climate controls, 7.0-inch TFT touchscreen LCD with Bluetooth connectivity, Android Auto, Apple Carplay, USB port, AUX jack and 17-inch wheels with 225/45 series tyres.
Price without insurance: RM131,488
Warranty: 5 years or 300,000km)
VERDICT

While the souped-up Elantra Sport is the outright powerhouse with 204PS and has a faster acceleration compared with the Civic, it's also the smaller of the two.
The Elantra Sport's appeal seems to be tailored to those who enjoy edgier driving thrills and sportier interior.
The Civic, on the other hand, has a more sophisticated appearance, making the Elantra Sport seem rougher around the edges and does little to suggest performance from its good looks.
Both cabins are worlds apart, with the Elantra having the more cosy environment, while the Civic has a more spacious air.
Boot space in the Elantra Sport is limited to 420 litres while the Civic has 99 litres more at 519.
Some may take a liking to the Elantra Sport's red-out leather interior and that relatively aging centre console, but the Civic's conventionally dark approach for the interior with a futuristic design seemed to have the advantage.
On the road, the Elantra Sport is the outright winner with its zippy nature, superior power, handling and fast acting dual-clutch gearbox.
On the flip side, the Civic is the more comfortable ride and isn't as thirsty, thanks to its smooth continuously variable transmission.
And with the Civic costing RM131,880 to own, just RM392 over the Elantra Sport's RM131,488 price tag, it becomes this comparison's winner with better levels of economy, space and brand value.
Hyundai Elantra Sport 1.6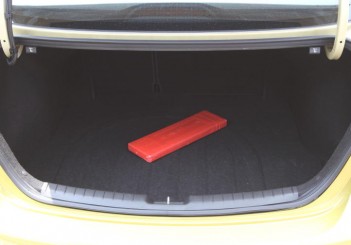 Honda Civic 1.5TC-P