Landing in Kota Kinabalu, East Malaysia is always a pleasure with the immediate sense of Kuala Lumpur's fast-paced lifestyle hitting the brakes all the way to a nice. Slow. Cruise...
Thanks to Mitsubishi Motors Malaysia, we were able to try out the new Triton VGT with a manual transmission and the VGT Adventure with an automatic gearbox.
But before we could try out the two Tritons in East Malaysia's "outback", we first had to take a 180km southwest bus ride (shadowing the coastline) from the airport to Hotel Seri Malaysia in Lawas.
During the comfortable three-hour journey, we watched nature's flora and fauna go by while others took the opportunity to catch a nap.
The hotel would be our final stop of the day to rest our weary heads, not before getting a brief on what's to be expected for the next few days – a convoy of 15 Triton pickup trucks and lots of bumpy love.
The convoy consisted of the mid-range Triton VGT with a manual transmission and the Triton VGT with an automatic transmission as well as the range-topping Triton Adventure – only available with an automatic gearbox.
Off the bat, the Japanese pickup truck already seems impressive with a best-in-class turning radius of 5.9m, while playing host to luxury amenities such as a 4WD selector and keyless entry with push-start button.
Other luxuries include a six-speaker audio system with a seven-inch touchscreen CD/MP3/USB player, 16-inch wheels with 245/70 series tyres and a three-spoke steering wheel with volume controls as well as tilt and telescopic adjustability.
The range-topping VGT Adventure model, however, adds automatic Xenon headlights, daytime running lights, paddle-shifters, reverse camera, automatic wipers, dual-zone climate controls, cruise control, leather seats, bluetooth, voice commands and 17-inch alloy wheels with 245/65 series tyres.
Under the hood, it's still a 2.5-litre turbo-diesel, but now it produces 176bhp and an additional 50Nm at 400Nm of torque over its predecessor - thanks to the inclusion of a variable geometry turbo (VGT) system.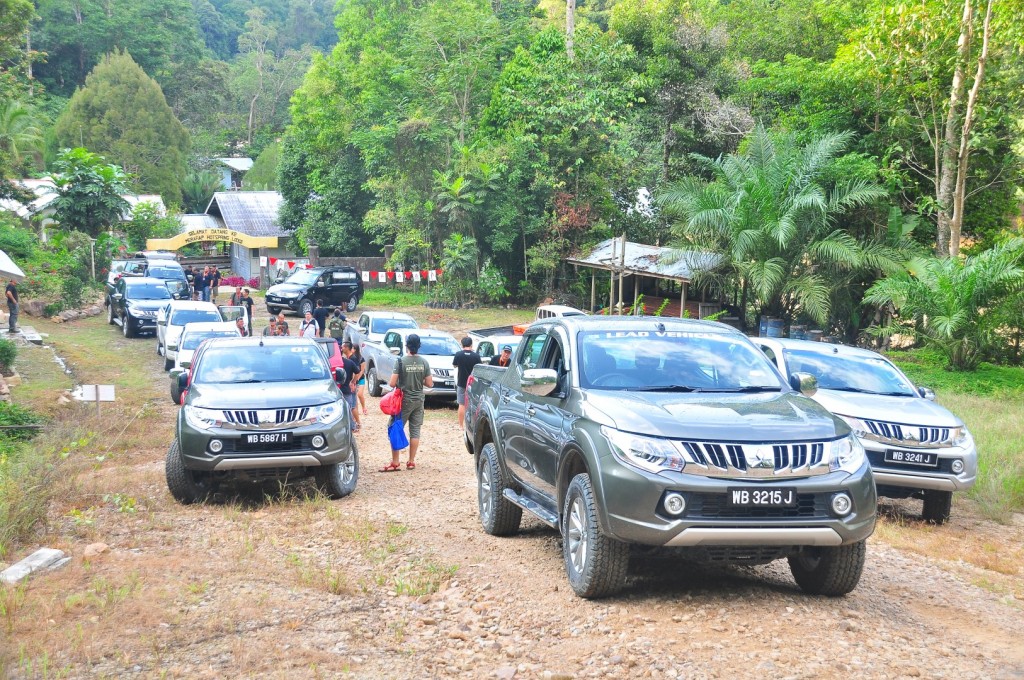 Rising early the next morning, it would be a full day of dust as we bounced our way through one of East Malaysia's many logging trails to test out the new Triton's mettle.
For most of the day, we would be in a Triton with a five-speed manual transmission mated to the 2.5-litre turbo-diesel that added some fun while working with all three pedals on the bumpy trail.
Shifting gears were smooth and working the clutch was nothing short of effortless, with some sections of the 60km route deemed flat enough to gun through the dirt and gravel.
But the main challenge was keeping the Triton from stalling when navigating through steep angles that should have required 4L (low ratio) mode.
Aside from the manual gearbox, having a manual 4WD selector (2H, 4H and 4L) does help to speed things up a little more compared to the automated 4WD selector dial located on the central tunnel - especially when using 4L mode, which simply requires a quick stop in neutral, shift into 4L and off we go.
By mid-day, we had reached Long Lidong and took a short break before pushing on to Merarap Hot Spring Lodge where we soaked our battered bodies in therapeutic hot spring water, feasted the night away and retired as the cool winds began gusting and bringing in a sudden flurry of rainfall that lasted – as Lionel Ritchie would sing – "All Night Long".
By sunrise, the rain had stopped and the river next to our lodge left a wet and muddy trail for our enjoyment later in the day.
Our final leg of the trip for the new day would take us north, to Sutera Habour Resort back in Kota Kinabalu and this time it would be in the range-topping Triton VGT Adventure for the next 230km that consisted of muddy trails, logging routes and tarmac too.
Thanks to the rain, we were able to experience the Triton's part-time 4WD system with a hybrid limited slip differential (LSD), which helped in providing some much appreciated uniform traction when traversing through some muddy sections.
The LSD would disallow any one of the four wheels to receive more power than the rest and ensured that all wheels were equally powered, which meant fun tail-wagging sessions became a rarity.
Finally, back on tarmac, and chatter between everyone in the cabin came to a halt, perhaps secretly appreciating the "smooth" road that would be the last bit before the journey ended.
The Triton would keep itself well poised around the bends and pitch and roll was well taken care of by the suspension's front independent-wishbone with coil springs and rear elliptical leaf springs for a stiff yet surprisingly well-damped ride.
Regardless of the road ahead being of nature's terrains or man's tarmac, the chassis will always feel rigid due to the predominant use of high-tensile steel.
With the Triton's 2.5-litre turbo-diesel mill equipped with a VGT system, power delivery was right on the money, especially with 400Nm of much needed torque for when playing in nature's backyard.
And together with paddle shifters, coupled with the steering wheel's tilt and especially telescopic adjustability to really dial in those preferred ergonomics, it all helped to enhance comfort levels and ultimately driving pleasure.
During some parts of the entire journey, we were able to experience the rear seat, albeit through the mountains, which proved to be surprisingly comfortable with a generous amount of legroom thanks to the "J-line" that's been designed into the Triton - right between the cab and the cargo bed.
Although the Triton isn't the most powerful in its class, it does feel 'well put together.
It also does well to stand out with its abilities such as the assuring traction from the hybrid LSD and class leading 5.9m turning radius.
With the amenities it affords, like paddle shifters, leather upholstery (Adventure only) telescopic steering wheel and comfortable rear bench to name a few – it's simply a proposition that not many could say no to with the Triton VGT (M/T) and Adventure being priced on-the-road with GST without insurance at RM92,115 and RM108,274 respectively.
Read our take of the fifth generation Mitsubishi Triton during an 
off-road experience
 or during its
launch
.