Borneo Safari 2016 was no easy feat but it still draws in adrenaline junkies and car makers hoping to use the challenge to prove a point or two.
It's been some 25 years since this city-slicker has spent a night under the stars and it was certainly well-worth the experience - insects and all, for what was to be
The
toughest 26th Borneo Safari International Offroad challenge.
There they were, Mitsubishi Motors Malaysia's (MMM) pride and joy - two recently-launched 2.4-litre Tritons each with a MIVEC turbo-diesel engine mated to an automatic gearbox and two older 2.5-litre Tritons with a variable geometry turbocharger (VGT).
The new 2.4-litre (2,442cc) Tritons are powered by a more fuel-frugal 4N15 aluminium turbo-diesel engine that uses the Japanese carmaker's Mitsubishi Innovative Valve-timing Electronic Control (MIVEC) system.
That means the engine dishes out 181PS of potency at 3,500rpm and 430Nm of torque from 2,500rpm, while mated to a 5-speed automatic with paddle-shifters. Depending on variant, they are priced on-the-road with GST and insurance from RM105,780 to RM128,800.
Inside, each Triton was equipped with radio transceivers, a 12,000lbs winch, steel front and rear bumper bars, snorkel, raised suspension, lightweight wheels fitted with Giti Compete Extreme (mud) Terrain tyres as well as bright LED bars and spot lights.
We navigated through a 400km plus route from Kota Kinabalu along the foot of Mount Kinabalu and across the districts of Ranau and Kota Marudu and back to the Sabah capital from Oct 30 to Nov 6.
But it would be a 40km hardcore section from Kampung Garung that tested the mettle of both man and machine.
With a special guest, Malaysian motorsport celebrity Leona Chin was along for the ride, braving the harsh conditions that would take us four gruelling days just to get through the insane stretch.
Although rain was projected everyday throughout the challenge, it was usually relegated to the late evenings or wee hours as we slumbered.
No, it had to start that very afternoon on the fifth day, (Thursday), of the challenge, allowing the precipitation to soak well into the soil, before we passed through the gates of no-return and into the hardcore section sometime around 4pm.
By that time, the ground had turned into soggy, sticky 'play-doh' and traversing the steep descent past the gates leading to the obstacle required very delicate braking finesse or it'd be a pile-up of epic proportions thanks to the new 'slip and slide' ride down.
At 600m from the staring point of the hardcore section, we were in sticky ankle-high muddy goo and, in total darkness by 6.15pm. We hurriedly tried to get everyone across as quickly and safely as possible before calling it quits for the day.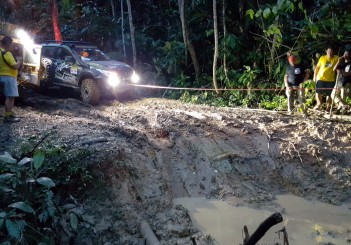 After a quick dinner, it'd be a cold wet night spent on a slight incline with a praying mantis for a bunk mate and the chaotic mix of buzzing insects and reverberating snores to usher all of us into dreamland.
The word 'why' continually ran on a loop for the next few days.
Conditions varied from pure slush to sticky-yet-slippery mud, but the Tritons soldiered on, enduring and rolling with the conditions, until we arrived at a refreshing river on Friday to cool everyone's heads and rid ourselves of odour.
On Saturday, the trees were traded in for thick vegetation that towered above the already-raised Tritons and the lights (no matter how bright they were) could only illuminate the immediate surroundings, only to fail to do anything beyond that.
We weren't going to let the rain dampen our spirits and decided to keep moving through the jungle till aching bodies were pleading for rest.
And so we shifted into 'P', savoured every 'slurp' of our piping hot cup noodle, closed our eyes and tried to catch as many forty-winks as possible while listening to the pitter-patter of rain.
By sunrise, the Tritons were still being pelted by rain, but as we emerged from the confines of the cabin, motivated by the call of nature and the need to seek sustenance, we ogled the watery brown slush that was once dirt. Now it just drowns feet and ankles.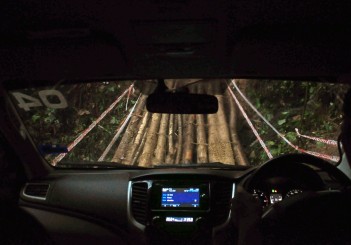 It would be our last day in the 'wild' with the route finally beginning to smoothen out as we hurtled towards completing the final few kilometres.
We were keen to return to more modern familiarities and leave behind the cold nights, hot days and the need to winch our way out as we slipped and slid through the endless trails of sticky watery mud.
But as buildings appeared in the horizon, there was a sense of sadness.
The pain and suffering endured throughout the entire ordeal had built a strong sense of camaraderie within the group and that was soon accompanied by a new sense of respect for the machinery that bares the three diamonds for its logo.
The Tritons had succeeded in passing its ultimate tests without succumbing to breakage on its official and inaugural offroad challenge.
Unfortunately, incidents were unavoidable with the convoy having been reduced to 20 vehicles from its initial 22.
Along the way, we lost a 4X4 to a broken gearbox early into the hardcore section while another, that was our medical vehicle, snapped an axle and had to be abandoned for later with the necessary parts.
Thankfully, all four Tritons managed to reach the relative safety of the city's limits, but not without baring its battle scars proudly, as onlookers ogled on.