THERE was an excited sparkle in the eyes of Porsche head driving instructor Matthias Hoffsummer as he briefed participants on what to expect at Porsche Asia Pacific's first-ever E-Performance Nights event in Malaysia.
Hoffsummer's excitement was infectious as he told participants about the finale for the night laps at Sepang International Circuit (SIC) - a taxi ride in the ultra-rare Porsche 918 Spyder on a wet and rain spattered F1 track.
Powered by a naturally aspirated 4.6-litre V8 engine and a plug-in hybrid system, with a seven-speed Doppelkupplung (PDK) transmission, the two-seater halo car with 887hp can do the zero to 100kph sprint in 2.6 seconds and onwards to 200kph in 7.3 seconds.
All 918 units of the limited production super sportscar with a top speed of 340kph have been taken, and it was the first production street-legal car to break the 7-minute barrier on the north loop of the Nürburgring race track with a time of 6 minutes and 57 seconds in September 2013.
That record was held for four years until the arrival of the Lamborghini Huracan Performante.
So, it was with some trepidation that we put on our crash helmets, and awaited our individual turns for a few laps in the 918 Spyder, with Hoffsummer at the wheel.
With raindrops falling, no sooner had we strapped ourselves in tightly in the passenger's seat, then Hoffsummer gave us a wild grin, and the 918 Spyder pulled away swiftly from the pit lane.
With an astounding 1,280Nm of system torque, the super sportscar got up to high speeds very quickly, albeit with a distinct whirring sound as the electric motors power up and also allow all-wheel drive functionality.
Once the V8 engine started roaring, the 918 Spyder became ludicrously fast and we saw the digital speedometer hitting 256kph on the straight before Hoffsummer braked and tackled a sweeping curve.
There was supreme stopping power from the perforated front ceramic brake discs on the low-slung, mid-engined racer as Hoffsummer confidently took the tight hairpin turns at Sepang.
With less traction on a wet track, we were sure Hoffsummer held back a bit but the two laps on the F1 circuit at ridiculously high speeds was just sensational, especially as the 918 Spyder tore into the bends with tenacious grip and fantastic stability.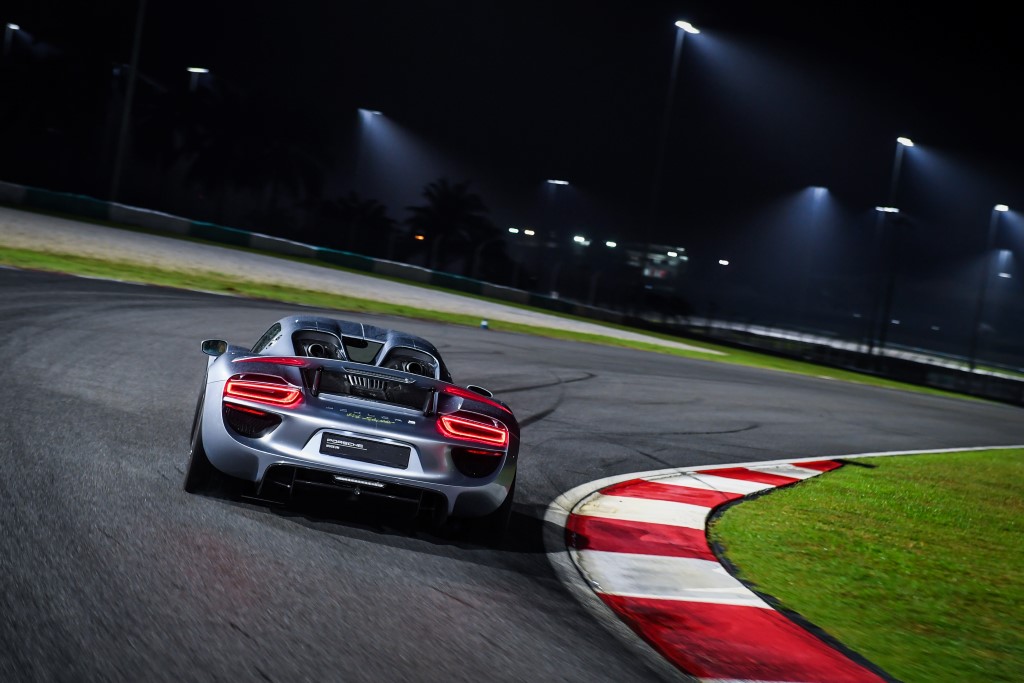 Porsche Cayenne E-Hybrid
But let's get back to the E-Performance Nights, which Porsche Asia Pacific organised on two nights in October at SIC for selected guests and media members, to showcase its top echelon of Porsche plug-in hybrid models on the racetrack after dark – giving a taste of Le Mans style driving.
"E-Performance is a core tenet of our future strategy. In 2025, we envision that around half of the new cars we sell will be electrically-powered Porsche models, whether fully-electric or hybrids. The E-Performance Nights event is the perfect way for us to demonstrate our plug-in hybrid models that embody the Porsche DNA, whether it is urban driving in Kuala Lumpur or driving on the racetrack at Sepang," said Arthur Willmann, managing director of Porsche Asia Pacific.
The Porsche cars brought in for the event also included the plug-in hybrid variants of the Panamera and Cayenne, which the guests drove under the expert supervision of a team of Porsche driving instructors including 23-year-old Malaysian racer Weiron Tan.
After a light dinner, we took a new Cayenne E-Hybrid, armed with a 3.0-litre bi-turbo V6 petrol engine and a system output of 462hp.
Its maximum torque of 700Nm is already available just above idling speed; the boost strategy matches that of the 918 Spyder supercar.
The Cayenne's plug-in hybrid drive enables a 0 to 100kph sprint in 5.0 seconds.
Those are powerful performance numbers, but Porsche Asia Pacific wanted us to check out the electric powered drive character of the Cayenne E-Hybrid (capable of 44km on electricity alone) instead - so we had to be contented with a timed cone-marked slalom in the North Pit at SIC.
We had to do the slalom in the electric "E-Power" mode only, which meant we could not be too hard on the accelerator pedal or the petrol engine would start.
This was where those not familiar with "E-Power" drive modes found it a little disconcerting to start driving, as the car is completely silent and vibrationless.
However, once one gets used to the idea of driving in all-electric mode, this becomes second nature.
As expected, the Cayenne E-Hybrid was very agile around the cones, and we had to keep reminding ourselves not to step harder on the accelerator and go faster in the powerful Cayenne E-Hybrid.
Porsche Panamera Turbo S E-Hybrid
Next, it was time to let our speed demons loose with four hot laps in the all-wheel drive four-door Panamera Turbo S E-Hybrid, which has a staggering 680hp from a 4.0-litre bi-turbo V8 engine combined with an electric motor.
Even when just above idle speed, the Panamera Turbo offers a massive 850Nm of torque.
That means it can do the zero to 100kph sprint in 3.4 seconds and reaches a top speed of 310kph.
It should be noted that due to its hybrid powertrain, the 2,385kg Panamera Turbo S E-Hybrid weights a hefty 315kg more than the 550hp/770Nm non-hybrid Panamera Turbo.
However, with that huge amount of grunt from the hybrid powertrain, it's a question of keeping the nearly 2.4-tonne car under control and this is where Porsche excels with all its engineering and motorsports wizardry.
While the four-door sportscar can drive on fully electric power for up to 50km, that was not the reason for our four hot laps on a wet Sepang F1 track.
Each session consisted of a group of two to three cars behind the race instructor's car, and no overtaking was allowed.
In the first warm-up lap, we were told to switch to the performance-focused "Sport Plus" mode where all the battery's energy is used to boost torque - a strategy derived from the 918 Spyder supercar.
In "Sport Plus" mode, the battery is recharged as quickly as possible to ensure maximum performance..
The result was ferocious acceleration when we stepped hard on the accelerator pedal, and in the very tight turns on the rain soaked track, we struggled not to lose control of the rear.
But thanks to all that innovative Porsche driving technology, the Panamera Turbo S E-Hybrid was a very impressive knife for carving up corners frenetically.
The Panamera Turbo S E-Hybrid underlines the high importance of electromobility to Porsche, as mating internal combustion engine power with the electric motor results in savage performance levels.
Porsche Taycan and future electromobility
Meanwhile, Porsche is set to launch its first pure electric car, namely the Taycan four-door sports saloon, in 2019.
Like the Porsche 919 Hybrid, which has multiple Le Mans victories under its belt, the Taycan (formerly called the "Mission E" concept study) is powered by innovative 800 V technology.
Porsche claims the Taycan's lithium-ion battery can be recharged in just four minutes, providing enough energy to drive 100km, and the car's maximum range is over 500km according to the New European Driving Cycle (NEDC).
A system output of over 600hp can accelerate the Taycan to 100kph in well under 3.5 seconds and to 200kph in under 12 seconds.
It looks like 2019 will be the start of an exhilarating electrified journey for the German luxury sports car brand.
While the future is electrification, it definitely won't happen at Porsche at the cost of performance and motoring pleasure.