Subcompact crossovers or mini-SUVs (sport utility vehicles) are all the rage now among car buyers, and automakers are doing their best to capitalise on this fad.
Honda Malaysia has been wildly successful with the HR-V, which was its second-bestselling model in 2015 with about 20,000 units delivered.
There has also been a lot of buzz surrounding the Mazda CX-3, which was launched locally in December last year.
Featuring a more extreme interpretation of Mazda's Kodo - Soul of Motion styling, the CX-3 is arguably the Hiroshima-based car maker's most aggressive looking production car to date.
As for the Renault Captur, it was Europe's top-selling mini-SUV in 2015 according to automotive intelligence provider Jato Dynamics.
The Captur is also the only turbocharged model in this three mini-SUV shootout, where Carsifu takes closer looks at their strengths and differences.
It's also interesting to note that all three mini-SUVs here are based on B-segment car platforms.
The HR-V uses the Honda Jazz's platform, while the CX-3 and Captur are based on the Mazda2 and Renault Clio hatchback respectively.
The HR-V is also the only locally assembled unit here, as it is produced at Honda Malaysia's plant in Pegoh, Malacca.
The Captur is built at Renault's Valladolid plant in Spain while the CX-3 is imported from Japan.
Mazda CX-3 2.0L (2WD)
The CX-3 is the lowest slung vehicle of the lot here, in terms of height; so if you are looking for a tall car, it doesn't immediately stand out.
The difference in height is not a lot - only 70mm sets it apart from the HR-V (the tallest of the trio here).
Occupants still get a higher ride height, and there's a driver-oriented cockpit that underlines Mazda's Zoom Zoom tagline.
Rear legroom is a bit tight for the long-legged, although the CX-3's 2,570mm wheelbase is only about four centimetres shorter than the HR-V and Captur.
It's a great-looking set of wheels, featuring Mazda's Kodo - Soul of Motion design language.
Inside, the sporty design continues with dark leather suede upholstery, and a dark red accent for the door armrests, knee pads and stitching.
You also get goodies like a seven-inch LCD display controlled by a rotary dial between the front seats, automatic air-conditioning, HUD (heads-up display) showing vehicle speed that is conveniently viewed by the driver above the steering wheel, a reverse camera, automatic headlamps, engine push-start button and keyless entry, and an electrically operated glass sunroof.
In the infotainment menu on the LCD display, you will also find useful car maintenance data including time and mileage remaining before the next scheduled service, tyre rotation and oil change.
While all the comfort kit in the CX-3 is nice, it's the cabin refinement and fun-to-drive factors here that put smiles on our faces.
You get very brisk, linear acceleration as there's lots of torque at low to mid-engine speeds, thanks to the 154hp SkyActiv-G direct-injection petrol engine.
Mazda says the SkyActiv-G power unit has the world's highest petrol engine compression ratio, which results in up to 15% increases in fuel efficiency and torque.
For more dynamic driving, the 6-speed SkyActiv-Drive automatic transmission has a Sport Mode where lower gears are held longer.
The sublime and razor sharp handling is another highlight here.
The EPAS (electronic power assisted steering) is highly responsive; combine this with the taut chassis, spirited powertrain and Toyo Proxes R40 high performance tyres sized 215/50 R18, and you get an exhilarating one-with-the-machine experience.
There's no turbocharged boost here, but the rapid torque delivery is more than ample for red light sprints and quick overtaking manoeuvres.
The six-speaker audio and infotainment system, with two USB slots and a SD card slot, provides nice sound quality which is enhanced by the well-insulated cabin. There is a refined quality to the drive, and when moving at 80kph on smooth highways, we noted that the tachometer needle was at 1,750rpm.
At 110kph, the needle hovered around 2,250rpm. The CX-3 also has Mazda's "i-Stop" engine start-stop technology.
When you stop at traffic lights or on heavily congested roads, the car's engine automatically switches off, and restarts when you step on the accelerator pedal. This "i-Stop" system prevents engine idling, and can result in up to 10% improvement in fuel economy.
We would have liked a central glove box between the front seats, but the two cup holders and a squarish, open compartment here should serve most storage needs.   The CX-3 ticks all the right boxes in terms of zoom-zoom driving, a premium and refined cabin, and it offers both road-carving performance and fuel-saving technologies.
Honda HR-V 1.8L (V-grade)
Whichever way you look at it, the HR-V is sure to turn heads.
The sculpted lines and creases across the body combined with the elegant curves on the roofline, the hood as well as the front wheel arches are testaments to Honda's design aesthetic.
Its modern and sleek appearance benefits from the coupe-like looks but don't fret, it has four doors - the rear door handles are located along the rear door frame.
Interestingly, the passenger side of the dashboard is fitted with wide, three air-conditioning vents to enhance the air-flow inside the cabin.
The climate-control touch panel as well as the touch controlled display audio system - no buttons here - is another modern approach which matches well with the overall aesthetic of the HR-V.
The leather wrapped three-spoke steering wheel has switches for the entertainment system, hands-free telephone and cruise control for the driver's convenience.
The three-dial instrument cluster has a functional design with the speedometer taking centre stage and comes with seven ambient colours to choose from.
The cabin is spacious and comfortable with the wheelbase measuring in at 2,610mm with just enough leg and head room for rear passengers.
Also standard with all variants are the 16-inch wheels, ventilated disc brakes (front) and solid disc (rear) with a MacPherson strut suspension in the front and torsion beam for the rear.
The V variant features all the top trims like smart entry with push start button; LED headlights, daytime running lights and rear combi lights, cruise control, multi-angle rear-view camera, leather steering wheel and gear knob, seven-inch display audio with six speakers and six airbags.
The HR-V comes standard with an array of safety features across the board like vehicle stability assist, hill start assist, anti-lock braking system, electronic brake distribution, brake assist and reverse sensors.
It even features an electric parking brake as the hand brake lever has been replaced with a switch-type.
The automatic brake hold function is really helpful especially in traffic jams as you only need to step on the brakes until the car comes to a full stop and you can remove your feet off the brake pedal while the car remains stationary.
Just step on the gas pedal to get the car moving again.
And driving around the HR-V is a breeze.
It has enough power and torque that it never feels sluggish for a 1.5-tonne vehicle.
You have a slightly elevated view of your surroundings as is common with SUVs and the steering is light and responsive which makes driving a real pleasure.
There is good acceleration and the brake bite is just about right without being too sharp.
The suspension is on the comfortable side and there was only minimal noise, vibration and harshness coming in through the cabin.
The HR-V is a confident car to drive at speed and just as nice driving around town with.
For those who want more space out of their car, the HR-V can fold its rear seats to free up space from the trunk. The rear seats can also be folded up for taller objects and the front seat can also be reclined for longer objects. It's no wonder this car is such a hit.
Renault Captur 1.2L
Here, the Captur is the lightest of the lot in terms of kerb weight, at 1,180kg - thus drivers get to better enjoy the peppy 1.2-litre turbocharged powertrain.
With a lightning quick-shifting dual-clutch automatic gearbox, we found lots of zing and swift acceleration.
This test drive unit has an expensive two-tone finish with a warm Arizona Orange paint job.
The cabin has solid and comfortable black and orange fabric seats.
Those with active lifestyles will like touches like bright orange-coloured elasticated mesh pockets on the front seat-backs which can hold sizeable items such as 1.5-litre water bottles.
The Captur's removable boot floor is reversible and has carpeted and rubberised sides - which is useful for placing wet produce or sweat-stained clothing.
There are also zippable, removable seat covers which can be machine washed at home, and this makes it easier for removing stubborn stains from the car's seats.
The Captur is also well-equipped with conveniences such as automatic headlights and rain sensors for the wipers, a reverse camera, and seven-inch touchscreen with AUX, USB, Bluetooth and navigation functions.
The Captur is also another mini-SUV with marvellous handling.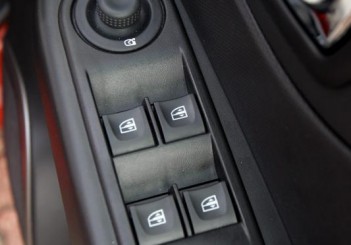 Running on Michelin Primacy 3 205/55 R17 tyres, it is surefooted in tackling road curves and has an electric, variable-rate power steering which is precise and responsive.
Interior materials have a premium European feel and look, and the Captur also provides a smooth and refined motoring experience.
When cruising on the highway at 110kph, we noted that the tachometer needle was at 2,500rpm. At 80kph, the needle was at 1,750rpm.
Its 2,606mm wheelbase offers very decent legroom, and rear headroom is more than adequate for 1.7-metre people.
Those concerned about fuel economy will be happy with the Captur's ECO mode, activated by pressing the ECO button on the centre console.
A low fuel consumption of 5.4 litres per 100km is possible, according to Renault.
The ECO mode improves fuel economy by up to 10%, as it reduces engine torque and changes the gear mapping.
However, this also reduces the efficacy of the automatic air-conditioning, and you would not want to press the ECO button in the current heat wave.
The Captur has a maintenance-free timing chain, to reduce the cost of ownership. It's no surprise that it is such a big hit in Europe, with its fuel efficient, peppy powertrain, sedan-like agility, decently roomy cabin and nice comfort features.
Verdict
This V-grade HR-V is the most expensive and extensively equipped variant, and is the heaviest of the three mini-SUVs here with a 1,249kg kerb weight.
That doesn't mean it has an undesirable power-to-weight ratio, and we found it to be far from sluggish even with four adults onboard.
Powered by a Civic-based single overhead cam (SOHC) 1.8-litre engine, with a continuously variable transmission (CVT), we found the HR-V to be a pleasant and smooth drive in stop-start traffic during peak hours as well as highway cruising.
In terms of the roominess of rear cargo space and versatility of storage options, the HR-V is also the champion here.
The HR-V has a low-floor rear deck and wide opening for easy loading, as well as versatile seat configurations where the seats can be lowered, folded up or reclined.
In other words, when it comes to weekend shopping at the hypermarket, the HR-V is the winner by a landslide.
As for the Captur, it offers premium and radiant European design and a spirited turbocharged powertrain, as well as great driving enjoyment.
The French mini-SUV has an attractive two-tone paint work, which uses a high durability clear-coat finish for improved lustre and greater resistance to scratching.
It also offers nice touches like zippable, removable seat covers which can be machine washed at home and a removable boot floor with a rubberised side to place wet stuff.
TC Euro Cars, the Renault distributor in Malaysia has a great product here, and it's unfortunate the French marque is low on the radar of Malaysian car buyers.
Meanwhile, like all Mazda cars, the CX-3 is designed for driving enjoyment, and it excels in providing both a refined cabin and smile-inducing motoring experience.
There is abundant torque at low to mid-engine speeds thanks to the SkyActiv powertrain, and this also offers thrilling acceleration.
The CX-3 has a surprisingly enjoyable point-and-shoot quality to the driving, and its steering is communicative.
The cabin is well-insulated from road and wind noise, and in summary, we found the CX-3 to provide driving pleasure that lifts it a few notches above the competition. —
Contributing review by RIZAL JOHAN