These two mid-sized SUVs are able to stand toe-to-toe and trade blow-for-blow, but which comes out the winner?
Carsifu takes a closer look at two of the most popular mid-sized Japanese SUVs; both their latest versions were launched in Malaysia this year.
The second-generation Mazda CX-5 was launched in October, three months after the fifth-generation Honda CR-V was launched in July.
Pitted against each other here are the top-grade turbocharged Honda CR-V 1.5-litre TC-P (two-wheel drive) priced at RM167,700 and the naturally aspirated Mazda CX-5 2.5-litre GLS petrol (two-wheel drive) priced at RM160,996.70.
In terms of annual road tax, the Honda CR-V and Mazda CX-5 here will cost you RM120 and RM830 respectively.
As for the after-sales, both SUVs have attractive packages.
Honda offers a 5-year warranty with unlimited mileage and free labour service up to 5 times within 100,000km or 5 years (whichever is first).
All new Mazda vehicles (except the BT-50 pick-up truck) registered from Feb 1, 2017 enjoy a five-year or 100,000km (whichever is first) manufacturing warranty and three-year or 60,000km free maintenance after-sales package.
In terms of power, it is a close call with the CR-V producing 193ps at 5,600rpm and 243Nm from 2,000 to 5,000rpm from its 1.5-litre turbocharged DOHC VTEC engine with Electronic Fuel Injection, while the the 2.5-litre CX-5 is the more torquey machine by dishing out 192hp at 6,000rpm and 257Nm at 3,250rpm from its naturally aspirated 2.5-litre SkyActiv-G DOHC VVT engine with Direct Injection.
The CR-V uses a fuel-efficient Continuous Variable Transmission (CVT) while the CX-5 has a 6-speed automatic gearbox which provides a smooth, sporty driving feel.
Both SUVs claim nearly similar petrol consumption data, with the turbocharged CR-V rated at 7.0 litres per 100km, and the CX-5 2.5L GLS rated at 7.1 litres per 100km.
In terms of cargo space with rear seats down, the CX-5 has more room (1,342 litres) compared with the CR-V (1,084 litres).
However, it's a different scenario with all seats up - the CR-V trumps here (522 litres) compared with the CX-5 (442 litres).
Regarding ground clearance, the difference is quite negligible with the CR-V (sits 198mm from the ground), compared with the CX-5 (193mm).
Honda CR-V 1.5-litre TC-P
This is the top-grade CR-V 1.5 TC-P (two-wheel drive) which took top honours at the CarSifu Editors' Choice Awards 2017, by taking the "Car of the Year" title.
The top-grade CR-V also won the Best SUV/Crossover - Mid-size 4X2 as well as the Most Well-Specced Mid-size SUV/Crossover categories.
Award judges were impressed by its power, sedan-like handling, interior spaciousness and practicality, and comfort and high-end safety features.
The exterior has a sporty and premium look, especially with a LED package for the automatic headlights, daytime running lights, front fog lights and rear tail lights.
As for the black-themed cabin, it has an upmarket ambience with nice Combi synthetic/leather upholstery and smooth, polished wood garnish.
The front powered seats, 8-speaker audio sytem, Honda LaneWatch rear view camera (activates when you flip the turn indicator stalk to signal a left turn), 4 USB ports (shared between front and rear occupants), space saving Auto Brake Hold switch - these are just some of the premium features we enjoyed in the this flagship CR-V.
Another nice touch is the powered tailgate where you can push/hold a rear control button for height-adjustability.
There is a lot of leg and head room for 1.7-metre adults like us, and rear seats can fold flat to create a massive amount of cargo space.
As for the ride quality, the new CR-V is shod with Toyo Proxes R45 tyres sized 235/60 R18, and is quite agile when tackling road bends at speed.
It felt quite planted when we did some spirited driving on twisty roads.
On poorly maintained, potholed-filled roads, the CR-V absorbs road irregularities well enough to minimise occupant discomfort.
The electric power steering is responsive and accurate, and does not feel too numb.
Cabin insulation is decent, although there is loud engine noise penetration when we stepped hard on the accelerator pedal.
Regarding performance, there is some turbo lag, but this is easily overlooked as power delivery from the CVT gearbox is quite predictable and linear once it gets going.
You get the maximum 243Nm of torque from as low as 2,000rpm - so there is ample low-end twist.
We also enjoyed the abundant punch from the 193ps 1.5-litre DOHC VTEC turbocharged powertrain, which came in handy for quick sprints and overtaking manoeuvres on the motorway.
Now, to recap, Honda Sensing consists of seven features, which are Adaptive Cruise Control (ACC), Low-Speed Follow (LSF), Forward Collision Warning (FCW), Collision Mitigation Braking System (CMBS), Lane Keeping Assist System (LKAS), Road Departure Mitigation (RDM), and Lane Departure Warning (LDW).
Features like ACC and LKAS are easily activated via steering wheel buttons, and yes, the technologies do work to an extent - you can keep your hands and feet off the steering wheel and pedals, and the CR-V will follow the car in front and basically, drive and brake itself.
Of course, there are limitations to the technologies (for example, white lane markings might not be clear) and the driver should always be alert and ever-ready to take control.
In a nutshell, the new CR-V continues to be the competent, feature-packed and versatile SUV that sets high standards in its segment.

READ MORE
:
- 
Bookings open for 2017 Honda CR-V; bigger, safer and more powerful

- 
2017 turbocharged Honda CR-V is a better drive: Putrajaya slalom
Mazda CX-5 2.5 GLS
Draped in Deep Crystal Blue and priced on-the-road with GST at RM160,997, the range-topping (petrol-powered category) CX-5 2.5 GLS mid-sized sport utility vehicle (SUV) is nothing short of a sure-footed drive.
It good looks was recently tweaked, that's more befitting of a 'sporty aggressor' thanks to its new front and rear lights that take on a slimmer angled appearance and is accompanied by a larger front grille, newly designed front bumper with a lower lip and now with G-Vectoring Control (GVC).
What GVC does - the system manages torque delivery in order to help keep the car a tad more stable when attacking twisted roads without being intrusive - a feat that took Mazda engineers a good eight years to develop.
Inside, the cabin feels cosy although the seats do feel rather on the rump and back, but there's a good amount of bolstering going for both, which suggests a rather sportiness about it.
Combine that with some dark grey polished wood grain accents, there's now some mature sophistication about it, while control buttons have been nicely spaced out and intuitively litter the cabin.
The only obvious gripe about it is that the dashboard climbs rather high with the rather upright centre dash and while the climate controls have been placed rather low, just fore of the gear knob, those who are unfamiliar will find it hard to visually identify them for use.
With a ride-height of 193mm (8mm-higher than its 2.0-litre petrol siblings) drivers will notice themselves feeling rather perched and upright when behind the wheel for that commanding all-round view.
This is accompanied by an ergonomic feeling when the hand seems to naturally fall atop the joystick-style gear selector when helming this mid-sized SUV.
The 2.5-litre SkyActiv-G petrol engine produces 192hp and 257Nm of torque - allowing it to reach a commendable top speed of 197kph and depending on how the driver feels, throttle response can be either smooth or peppy.
Sport mode certainly brings about more pep from the engine and helps it feel free and willing to rev towards its 6,000rpm red-line, but regardless of engine speed, gearshifts are always buttery smooth.
Its road-holding abilities initially felt similar to its predecessor, but the more it was driven, the crisper and sharper it seemed - naturally it became rather hard to relinquish possession of this SUV.
Shod with 19-inch wheels with 225/55 series tyres, this 1,588kg (kerb) SUV is communicative and well-balanced over uneven roads, which was certainly a welcome surprise for this writer.
Thanks to the well-tuned dampers, the CX-5 feels authoritative when it comes to road-holding duties and is most appreciated when at speed.
Also, rocking side-to-side motion is well mitigated for that sure-footed drive to further bolster confidence levels.
As quick and sure-footed as it can be, the experience isn't able to come to full-circle without the inclusion of paddle shifters.
At least the gear selector properly allows for down-shifts to occur by pushing it forward when in manual mode - a definite thumbs-up from this writer.
Considering this SUV's road-holding abilities that seems rather akin to European makes, the brakes have kept its Japanese roots with a lazy response upon tapping it.
Prodding it deeper will get a firmer bite.
Aside from that, this SUV's on-road abilities cannot be ignored.

READ MORE:

- 
Mazda CX-5 officially launched; 5 variants with GVC
- 
Full specs of Mazda CX-5

CONCLUSION:

These two SUVs would appeal to two very different camps.
The Honda CR-V looks futuristic, both on the outside and inside and has high levels of overall practicality. It has the Honda Sensing safety umbrella which reigns supreme.
However, the Mazda CX-5 is the one to look up to when it comes to road-holding abilities.
Mazda vehicles have always been known to provide nice handling and with the recent inclusion of GVC, it just makes the vehicle that much better.
Its surefootedness also helped to provide more reassurance when behind the wheel.
The CX-5's outlook comes with a combination of understated sporty sophistication, which is accompanied by a touch of aggression from its sharpened front and rear lights, while a cosy sophisticated and ergonomic cabin waits for occupants.
On the road, both
CarSifu
writers do crave for the CX-5's handling finesse and stability at speed when going over uneven sections of road around the Klang Valley.
But prod the brakes and the CR-V's bite has the more direct 'European' feel to it, while the CX-5 requires a deeper pedal travel for that to happen.
In terms of safety equipment and overall practicality, the CR-V obviously takes the overall win.
But due to the CX-5's road-handling abilities, we somehow keep finding ourselves reaching for its key fob.
Mazda CX-5 2.5 GLS 2WDEngine:
2,488cc SkyActiv-G DOHV 16-Valve with VVT and Sport mode (compression ratio 14:1)
Max Power:
192hp at 6,000rpm
Max Torque:
257Nm at 3,250Nm
Gearbox:
SkyActiv-Drive 6-speed automatic with manual shift
Top Speed:
196kph
Boot capacity:
442 litres
Fuel tank:
56 litres
Kerb weight:
1,588kg.
Features:
Six airbags, anti-lock braking system, dynamic stability control, electronic brakeforce distribution, emergency brake assist, traction control, emergency stop signal, speed-sensing auto lock, walk away lock, auto-hold function, hill-start assist, automatic LED adaptive front-lighting system headlights, blind-spot monitoring system, rear cross-traffic alert, lane departure warning, lane keep assist, driver attention alert, smart city brake alert, i-Stop idling technology, G-Vectoring Control, LED daytime running lights, LED rear light cluster, automatic wipers, keyless entry with push-start button, automatic dimming rear view mirror, electronic parking brake, dual-zone automatic climate controls, retractable cargo cover, 10-way power adjustable driver seat, leather seats, 7.0-inch full colour touchscreen display, MZD Connect Infotainment System with voice command, multifunction Commander Control dial, 6-speaker sound system with navigation, reverse camera, AUX-jack, four USB ports (2-front and 2-rear), CD/MP3/radio, Bluetooth connectivity, 19-inch wheels with 225/55 series tyres, spare: 17-inch 185/80 series tyre.
Price (OTR w/ GST):
RM160,597 (Metallic paint + RM400)
Warranty:
5 years or 100,000km (whichever comes first) with 3 years or 60,000km (whichever comes first) free maintenance.
Photo Gallery: Mazda CX-5 2.5 GLS 2WD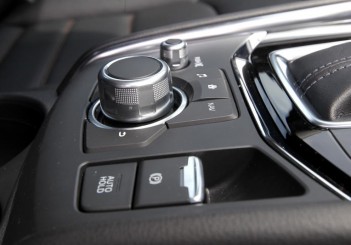 Honda CR-V 1.5 TC-PEngine:
1,498cc 4-cylinder, DOHC VTEC Turbo
Max Power:
193ps at 5,600rpm
Max Torque:
243Nm from 2,000 to 5,000rpm
Gearbox:
Continuous Variable Transmission (CVT)
Acceleration (0-100kph):
8.8 seconds
Top Speed:
200kph
Boot capacity:
522 litres
Fuel tank:
57 litres
Kerb weight:
1,549kg.
Features:
Six airbags, Vehicle Stability Assist (VSA) with Agile Handle Assist (AHA), Auto Brake Hold, 4-corner front and reverse sensors, Hill Start Assist, Multi-Angle rear view camera, Honda LaneWatch camera, Combi leather seats, wood interior garnish, eight-way powered front seats with lumbar support, four-way powered front passenger seat, keyless entry with push-start button, walk away auto lock, paddle shifters, dual-zone climate control, rear air vents, 7-inch touchscreen with Apple Carplay and Android Auto, voice recognition, 8 speakers, automatic highbeam, active cornering lights, programmable powered tailgate, Honda LaneWatch Camera, Honda Sensing system (forward collision warning, collision mitigation braking system, lane departure warning, lane keeping assist system, road departure mitigation system and adaptive cruise
control with low-speed follow), 235/60 R18 tyres and full-size spare tyre
Price (OTR w/ GST):
RM167,700
Warranty:
5-year warranty with unlimited mileage and free labour service up to 5 times within 100,000km or 5 years (whichever is first)
Photo Gallery: Honda CR-V 1.5 TC-P