Hyundai and Kia cars are rivals in most market segments, yet both marques are part of the same family.
Their cars share a lot of parts under the skin, and it's no secret that both Korean marques use the same engineering know-how and automotive technology.
Both Korean car marques had formed the Hyundai-Kia Automotive Group in 1998, and is today, the world's fifth largest automaker by sales (about 8 million vehicles sold in 2015).
However, there are distinctly separate marketing, branding and distribution operations for Hyundai and Kia.
This is also reflected in Malaysia, where the marques are distributed by two different companies.
Here, Kia vehicles are distributed by Naza Kia Malaysia while Hyundai cars are distributed by Hyundai-Sime Darby Motors.
We take a closer look at the Hyundai Veloster Turbo and Kia Cerato Koup, which have funky styling and sporty looks.
It's not surprising that both cars share a few common features and technology.
Both cars have a motor-driven power steering (MDPS) with Flexsteer that provides Normal, Comfort and Sport modes.
Although a tad numb in terms of feedback, the MDPS is precise and can deliver fuel savings of up to three per cent.
They are also imported from Korea, and run on tyres sized 225/40 R18 from Korean tyremakers Nexen (on the Cerato Koup) and Hankook (on the Veloster Turbo).
While both cars have many similarities, there are a few notable differences.
Both cars have the same 1.6-litre turbocharged petrol direct injected engine, but on the Veloster Turbo, it was tuned with a lower power output for some European markets.
Both cars output 265Nm of torque.
It should be noted that although the Cerato Koup is higher powered with 204PS, it delivers this at higher engine speeds of 6,000rpm.
The Veloster Turbo makes its 186PS maximum power and 265Nm of torque at slightly lower engine speeds.
Also, the Veloster Turbo gets a more sophisticated seven-speed dual-clutch automatic transmission which provides faster gear changes, improved acceleration and better fuel efficiency compared with the conventional six-speed torque converter automatic on the Cerato Koup.
In terms of powertrain and engine tuning, the Veloster Turbo has adequate performance.
As for footprint, the Cerato Koup is the longer car (by 280mm) and has a slightly longer wheelbase (extra 50mm).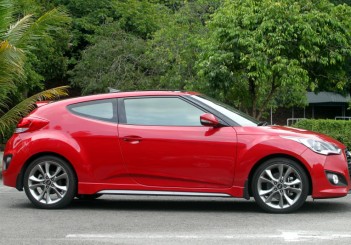 There is more rear cargo room in the Cerato Koup (433 litres), compared with the Veloster Turbo (320 litres).
Also, unlike the Veloster Turbo, the Cerato Koup has rear air-conditioning vents.
Both cars have sunroofs, but the Veloster Turbo gets a larger panorama sunroof - so the cabin gets more natural light.
Kia Cerato Koup

The two-door Cerato Koup has muscular and athletic looks, with a sleek cab-forward styling and eye-catching frameless doors.
It also comes packed with lots of nice features such as keyless entry, push-start ignition, automatic HID (high intensity discharge) projector headlamps, LED (light-emitting diode) front fog lamps and rear lights, dual-zone automatic air-conditioner with cluster ioniser, rear air-conditioning vents, and high-quality leather seats.
While there are no powered seats here, the driver gets a air-ventilated seat which is useful on a hot day.
This is activated by pressing a button, following which cool air is channelled through the seat back and cushion.
At night or in dark areas, we really liked the Smart Welcome Lighting System where the electric wing mirrors unfold, and puddle lamps and door handle pocket lights illuminate automatically as we approached the car with the smart key.
There is a spacious boot, cabin recesses and a deep storage box between the front seats for keeping small items.
It is a two-door car, so you will need to flick a lever on the side of the front seats, to tilt and slide them forward to access the rear seatbench.
The cabin has a high-quality ambience, and you get a dark and sporty interior with an electric sunroof, leather upholstery and chrome door handles.
The front bucket sport seats are highly supportive and well-bolstered, and we found the fit and finish of the cabin materials to be top-notch.
We also liked the audio quality of the Bluetooth-enabled, six-speaker hi-fi system.
Our only criticism concerns the size of the 4.2-inch centre display touchscreen, which we felt to be a tad small.
As a result, we sometimes had to peer hard when the rear view camera is operational.
As for driving performance, this is where the Cerato Koup excels in terms of get-up and go quality.
There is hardly any turbo lag, and it can do the 0 to 100kph sprint in 7.4 seconds.
Its 265Nm of torque gets you ample low-end grunt which kicks in at an early 1,750rpm to 4,500rpm.
For spirited driving, the Cerato Koup will certainly put a smile on the face of enthusiastic drivers.
The suspension is on the firm side but well-tuned for adequate comfort, even on poorly-maintained and bumpy roads off Old Klang Road.
The Cerato Koup comes with ample safety features like six airbags, ISOFIX anchor points and Electronic Stability Control, as well as adequate stopping power with all-round disc brakes.
It is a well-packaged and stylish car that delivers plenty of bang for the ringgit.
Hyundai Veloster Turbo

Unconventional and unique is how we'd best describe the Veloster Turbo, which strangely has three doors to access the cabin.
It comes feature-packed to entice with its sporty 18-inch wheels, leather upholstery, panoramic retractable sunroof, keyless entry with push-start button, Mobis sound system, seven-inch touchscreen with reverse camera and Bluetooth connectivity.
More importantly, paddle shifters have been provided for those playful moments to raise the fun-factor and help the driver feel more engaged during such drives.
Admittedly, the Veloster Turbo's looks isn't something that would make budding owners go "ga-ga" over, even though its so easily identifiable.
In fact, the way it's been styled seem to attract those who want to stand out and depart from the norm.
This makes the Veloster Turbo an eye-catcher for some and perhaps the reason for it to be such a rarity on the roads today, especially when its lacking a rear right door to the cabin.
However, what it doesn't lack is the ability and willingness to put the power down.
Drivers will find that there's plenty of "go" from the pedal when demanded and even after being pushed hard during most of the few days we had it, the Veloster Turbo didn't seem like a heavy drinker from its fuel tank.
To make it even more frugal, its Eco mode allows it to sip even more lightly and when there's demand for more power, there's little hesitation to deliver thanks in part to the quick reflexes of the seven-speed dual-clutch transmission (DCT).
During our previous review of the Veloster Turbo, we didn't particularly enjoy the DCT's behaviour, but this time around, it seemed more well-mannered with smoother transitions on the up and down-shifts when in traffic.
As for the Cerato Koup's six-speed automatic transmission, it too has smooth shifts that feel direct and responsive, while taking just a fraction longer to execute when the engine gets pushed till its limits.
Even though the engines are practically the same, the Cerato Koup feels far more robust and a little more visceral in its power delivery with its additional 18PS, which gives it a 0.6 second edge for 0-100kph sprint times at 7.4 seconds versus the Veloster Turbo's 8.0 seconds flat.
In terms of comfort levels, the Veloster Turbo's stiff chassis and suspension set-up felt more refined with just a tickle more suppleness to the ride over the Cerato Koup's.
Inside, we also liked the fact that the Veloster Turbo's front seats are well-bolstered around the waist for those tight and twisty routes when at speed as well as the symmetrically-designed centre console over the Cerato Koup's.
Although the brakes could come with a bit more bite, we maintain that the Veloster Turbo is a quick, zippy and fun car to own.
But with the oddity of Hyundai leaving out the other rear door and the possibility of getting concussed when the boot closes, at least there's that saving grace where rear-seated passengers are able to enter with a lot more grace than with the Kia.
Verdict
There's no denying the fact that the Cerato Koup is more attractive being RM23,100 more affordable than the Veloster Turbo and the two cars come almost as equally equipped as the other.
In terms of equipment, both come with paddle-shifters, sunroof, projector HID headlights, LED daytime running lights, colour touchscreen with reverse camera, keyless entry with push-start button and leather upholstered seats.
What sets these two Koreans models apart, other than the obvious design cues, is the way the engines have been tuned.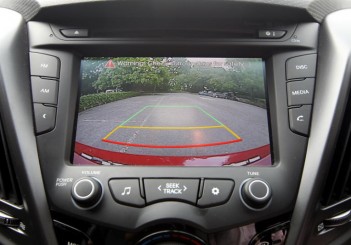 Furthermore, the use of a conventional six-speed automatic gearbox roughs up the Cerato Koup's feathers making it lose ground to the Veloster Turbo's more refined seven-speed dual-clutch transmission (DCT).
Although the six-speed transmission is a smooth operator, it just wasn't able to trump the DCT's almost seamless shifts at higher engine speeds, which allows the Veloster Turbo to remain more poised and calm.
But too much "calmness" also dulls the driving excitement a little as well.
In terms of amenities, the Veloster Turbo may be the 'bigger" winner with its larger 7.0-inch colour touchscreen and panoramic sunroof, but it doesn't have the Cerato Koup's rear air vents and an additional 113 litres of boot space at 433 litres.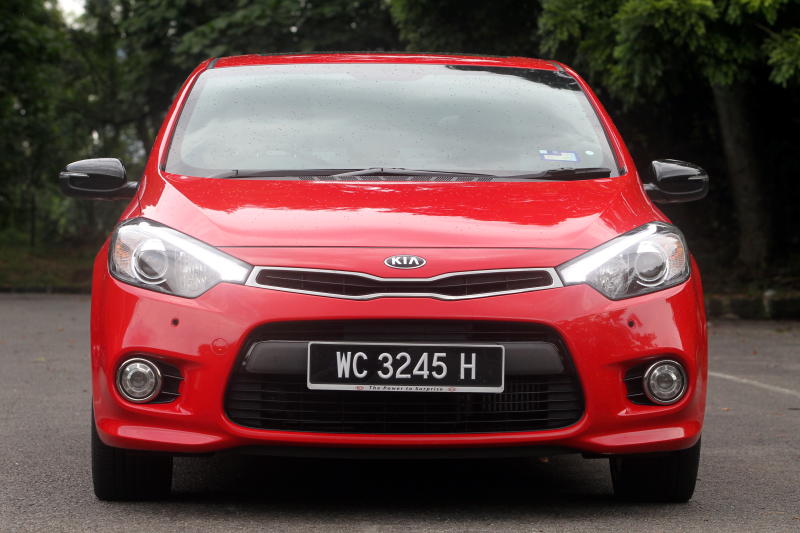 After much deliberation, we concluded that the unique-looking Veloster Turbo with all its goodies just didn't seem convincing enough for the sizeable RM23,100 premium over the Cerato Koup, which had better performance, a little more fun and almost all the amenities of the Hyundai. —
Reviews by THOMAS HUONG and JAY WONG; photos by ART CHEN
Kia Cerato Koup

 Hyundai Veloster Turbo