The arrival of the Toyota Fortuner test unit was entirely fortuitous. It showed up just when the family from out of town came over for a visit. All six of them. The Fortuner was thus the appointed vehicle for the entourage as they were whisked off on a tour of scenic spots and an exploration of culinary delights across the Klang Valley. All in the name of family bonding, you see.
Exterior 
Standing tall, the Fortuner is a sturdy and modern SUV.
The second-generation SUV saw some minor updates in September last year. That was also the time the model line-up was expanded to a choice of four with the VRZ diesel variants in 4X2 and 4X4 guises making their debut, and kitted up to broaden their appeal to city slickers. The VRZ variants are positioned between the top-of- the-line petrol 2.7 SRZ 4X4 and the diesel Fortuner 2.4 4X4.
In the Fortuner 2.4 VRZ 4 X 2 trim, it strives to look refined and elegant from every angle especially in the interior. It shares a number of items in common with the 2.7 SRZ
The 2.4 VRZ gets automatic bi-LED projector headlamps with LED Daytime Running Lights, LED foglamps, rear LEDlamps, puddle lamp, and 18-inch alloy rims. Like the front, the rear now gets disc brakes for better braking performance.
The sleek LED headlights and taillights that wrapped around the corners do wonders to perk up appearances though the decorative stripes near the C-pillars don't do the Fortuner any favours.
In fact, both front and rear lights wouldn't look out of place in a large sedan. And they are a cue of what to expect from the interior once you hop inside.
It rides on 18-inch wheels shod on highway-terrain tyres.
Interior
In Toyota parlance, the "VRZ" label refers to an SUV that has various upgrades/extra trimmings to give it that premium look and feel. This particular variant hits it off with brown leather upholstery which complement the black sections of the interior.
The dashboard looks pleasant without being busy and is lined by soft touchpoints above the glove box, at the knee level and door hand rests to make it feel a bit more expensive. However, only the driver's seat is electrically adjustable, so you also realise Toyota is building to a price point.
The multi-functional tiller is part-wood, and reminds one of the Camry's. It comes with paddle shifters and looks gimmicky. We suspect most Fortuner drivers won't be using it much –just like us – as the default was to let the auto transmission do its work, which it did well enough for us to almost forget this thing has paddle shifters.
With seven adults aboard, the Fortuner is comfortable for the long haul for five in the first two rows but it feels claustrophobic in the last. The rear-most seats are really for two small kids.That's typically the case for most 7-seat SUVs unless it's a Lexus LX 570, which can actually be comfy in Row 3. But that's a different class of SUV altogether.
Second row seats are 60:40 split and can slide and recline. They tumble forward to allow access to the last row but entry and exit can be troublesome for the portly. The air-conditioning vent in third row, while convenient, is too near the ear and blows loud.
Retractable hookson the back of the front seats are useful for hanging small items. It would have been ideal had it been positioned higher up, as they tend to intrude into knee space.
Practicality

Being a tall vehicle, running boards are helpful to let smaller occupants get in and out easily.
Other than its seven people-capacity, the second-generation Fortuner has enough storage space for small and big items to make each trip a pleasant one. There are side door pockets and nine cupholders, including an in-dash cupholder on the driver side.
Cargo space at 200l is minuscule with all seats in place.
The last two rows of seats can be folded forward to allow bulkier cargo to be transported and its size is big enough for most hauling tasks. The two last row seats can also be stashed sideways against the cabin walls, narrowing the storage gap considerably.
A nice touch is a cooler feature in the upper glove box that can chill a few cans of drinks on a hot day. A digital video recorder is standard issue but it wasn't working properly on the test vehicle.
Other practical amenities are: dual zone air-conditioning for front and rear passengers; powered tailgate with memory function and push-start ignition.
Safety 
The Fortuner offers high safety levels and has been rated 5 stars by Asean NCAP for its improved structural strength and enhanced safety features.
In the mix are seven airbags (driver's knee bag included), anti-lock braking with electronic brakeforce distribution and brake assist, vehicle stability control, hill start assist and Isofix anchor points for child seats in second row.
Active Traction Control and Downhill Assist Control are only offered in higher-priced variants.
Equipment 
Other equipment not mentioned earlier are: cruise control, all-round disc brakes; keyless entry; a 4.2-inch colour multi-info display; 8-way electrically adjustable driver's seat;LED-based fog lamps; powered wing mirrors with puddle lamps; and premium solar and security tint. A DVD-AVX infotainment system with an eight-inch touchscreen and six speakers is standard.
There are also more accessories to customise the Fortuner if you are willing to dig deeper into your wallet.
On the options list are a TRD Sportivo Package, a roof-mounted monitor (present in the test unit), a Panoramic View Monitor and a Blind Spot Monitor.
The Fortuner doesn't come with satellite navigation by default; that's an option as well if you get an upgraded 8-inch touchscreen infotainment system that also offers a reverse camera with guide lines. For many car buyers, integrated navigation is unnecessary as Waze on their phones do just as well.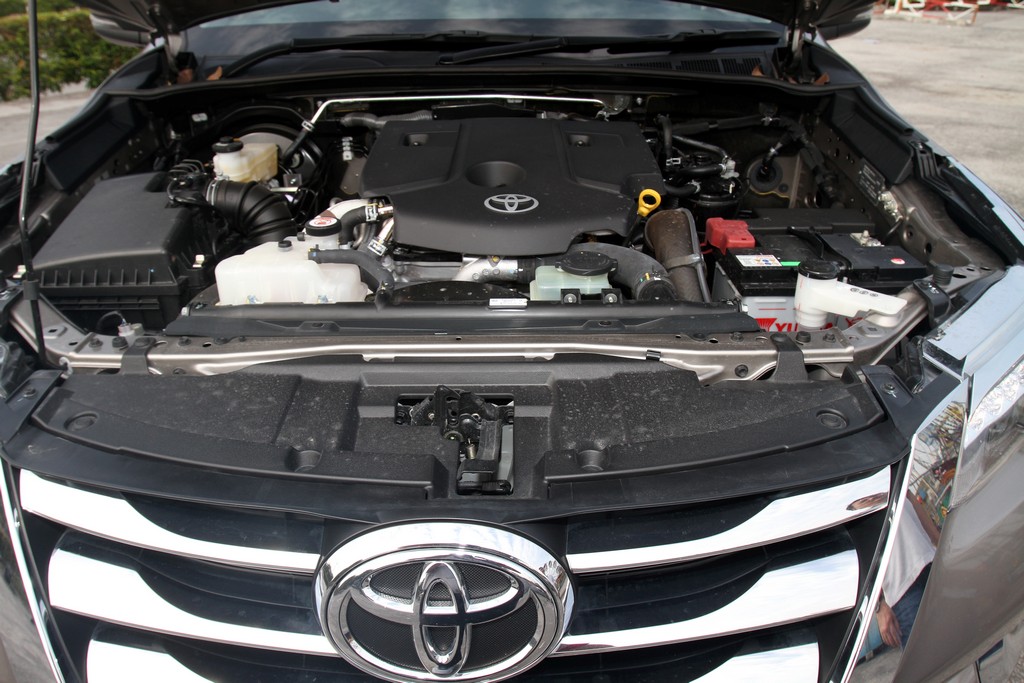 Performance
Bereft of a 4WD drive system and low-range gears, this version of the Fortuner is meant for urban settings. Like the Hilux, it uses the same 2.4L turbodiesel engine that makes 148hp and 400Nm, mated with a six-speed automatic transmission and power relayed to the rear axle.
Peak output arrives at 3,400rpm, while maximum torque comes in from 1,600rpm - 2,000rpm.
Ride & Handling
Most SUV owners here don't go offroading and that's a fact.
So a vehicle with a lighter 4X2 system makes sense and is easier on the pocket – more so now than ever.
Like the Hilux, the Fortuner is based on a ladder frame chassis. Both use independent double wishbone in front but the Fortuner swaps out the leaf springs of the pick-up truck for rear coil springs in the rear for improved handling and a more comfortable ride.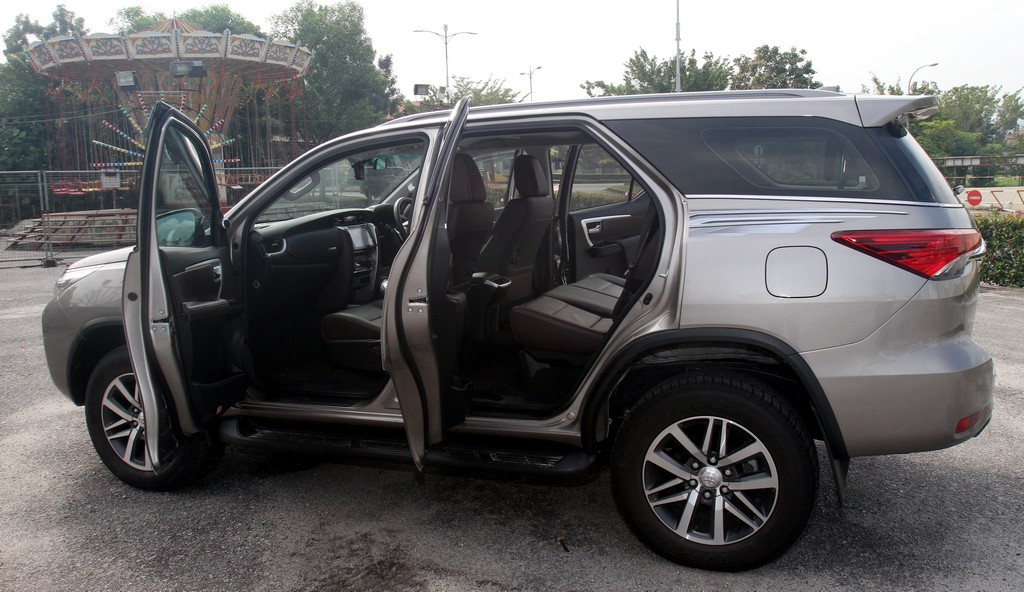 Cabin insulation has been improved so it's relatively quiet when the Fortuner is speeding down the highway.
The diesel clatter isn't that noticeable from inside the cabin and all but disappear once the Fortuner gets going.
Acceleration is smooth and throttle response is good. Going uphill at full load is decently robust without having to push the engine too hard on account of the diesel mill's natural low-end torque. The Fortuner offers the option to save a bit of fuel or make the engine livelier with the respective Eco and Power mode buttons, and that's appreciated.
While looking like a sedan inside, the Fortuner still can't run away from its truck roots even with the suspension changes.
For what it is, the Fortuner feels agile in turns though there's some lean but it's well controlled and won't cause panic attacks in the driver. Some of the vibrations from rough roads do get transmitted into the cabin so it's not as refined as how a sedan would ride on such surfaces. At the end of the day, it's a compromise and an acceptable one in this case.
Backed by low-end grunt, high ground clearance and good approach angle, the Fortuner can still handle some light offroad duties that should see it able to cross gentle terrain and ford shallow streams/flooded roads without calling for rescue service. But the fact it is only a 4X2 means it runs the risk of getting stuck if it enters boggy ground.
Fuel consumption 
Being a diesel vehicle, this Fortuner goes far on 80 litres of fuel. The family adventure with the SUV criss-crossed the valley, and up and down Genting Highlands. It included visits to Kuala Selangor for seafood and firefly watching. And then it was onwards to KL/PJ and Sepang for more shopping and other indulgences.
Some 70% of the trips were on highways, while the rest was city driving. We managed to clock a pleasing 9.2 l/100km.
Reliability 
The Fortuner comes with a 5-year warranty with unlimited mileage.
Price 
The Fortuner 2.4 VRZ AT 4X2 retails at RM175,346 (on-the-road minus GST and without insurance). This is a reduction of RM10,454 following the new government's decision to have zero-rated GST from June 1. Expect the price to go up post-SST (Sales & Services Tax) from Sept 1.
The three other variants are priced as followed: the base 2.4 AT 4X4 (RM160,251); 2.4 VRZ AT 4X4 (RM184,779.); and 2.7 SRZ AT 4X4 (RM171,594).
Summary
The fuel efficiency and 400Nm torque come in useful when hauling a whole lot of people across great distances, and that's nice work from the diesel mill. The Fortuner may not be as pretty or as affordable as some of its competitors but Japanese-grade quality still counts for much in a beefy looking SUV that meets the essential needs of a people-lugger – and then some.