Hot hatches are for the young and restless with deep pockets. Yes, that is the state of compact sports cars these days - they cost a lot of money.
So, when you have RM300K or more to spare on a performance-oriented hatchback, your options would have to include the Honda Civic Type R (FK8) and the Volkswagen Golf R (Mk7.5).
The Civic Type R is undoubtedly the king of the road in terms of handling and performance in the front-engine front-wheel driven world.
Additionally, its aggressively sharp looks and slightly boisterous exhaust note at idle telegraphs its 'performance' nature as it rolls by.
In fact, there's nothing about it that hints 'maturity', 'sophistication' or 'grace'.
It's all brutish and rather unforgiving in its overall feel.
But pump that clutch, engage that short-shifter and some could already hark back to the untenably fun days of an EK9 with a VTEC engine that shocked many almost to the brink of an eye-popping experience.
It wasn't all comfort and luxury. No, it had a purpose which was to appeal to the rebel within who wanted power, speed and the accompanying thrills of road challenges.
That was what the Civic Type R was revered for back in the day - it was simply that capable of holding its own against the competition.
Life then was different and as with everything over time, changes happen.
The Civic Type R (FK8) is very different because it not only appeals with nostalgia but also it's outright performance and proven capability out on the 'Green Hell' with a time of 7 minutes 43.8 seconds versus the Golf R's 8 minutes and 14 seconds. The FK8 is outrageously quick.
Still, both are legendary in their own right.
The Civic and the Golf are known throughout generations of race enthusiasts and now, in 2019, just how does the Civic Type R and Golf R stand against each other?
Honda Civic Type R
If there is a car who wears its heart on its sleeve then it would be the Honda Civic Type R.
One look at it and you know what this car is all about.
It's difficult not to call attention to itself what with its battle-ready stance, sharp edges and one of the most aggressive wings to come stock out of the production line.
The Civic Type R was the dream machine for boy racers then and it does the same now.
The latest version of the Type R, the FK8, with the 2.0L turbocharged engine and six-speed manual transmission (there is no automatic option by the way) unleashes 310PS and 400Nm of torque and does the century sprint in just 5.8 seconds.
There are no two ways about the Type R, it's meant for spirited driving and has the spirited design to go with it.
However, that doesn't mean it's for everyone. The design of the car for one can be polarizing. You either like it or you don't.
There's a lot of elements which make it busy with its creases, skirtings, bold wheel arches, rear wing and triple tailpipes.
We like the fact that the car's design honestly represents its intentions but it can be too much for some.
The interior is decked out in a combination of red-and-black, especially the seats with red accents along the dashboard, which is sporty but the red is on the garish side.
However, the seats are comfortable and wrap around you quite nicely when you're taking fast turns.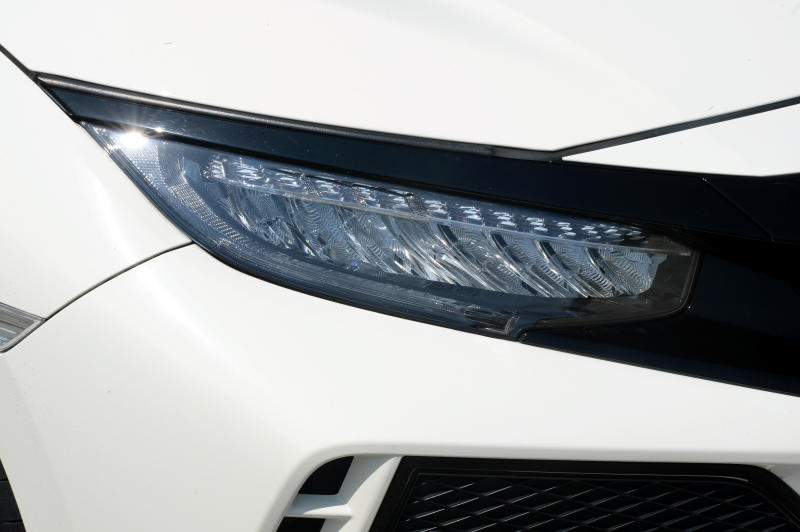 The Type R nameplate with a serial number just behind the gear lever is a nice touch.
It is a spacious cabin for a hatch what with the wheelbase measuring at 2,700mm and the headroom is decent too.
It also has an impressive boot space of 420 litres which extends to 786 litres with the rear seats folded.
Driving the Type R, while fun with the amount of power it pushes out, with its manual transmission can be trying when you're driving around the city.
If there are no traffic jams to deal with, then it wouldn't be an issue but if you're living in the Klang Valley, the Type R is not what you would call a 'daily driver'.
Saying that, shifting gears in this car is a joy. The clutch has just the right amount of weight and the throws are short and decisive.
Plus, in this Type R, you don't have to 'heel-and-toe' as the car does it automatically for you when you're downshifting.
Having a Brake Hold function in a manual car makes a lot of difference as you can lift your right foot of the brakes when the function engages and just push down on the clutch, get it into gear and go.
Now for the fun part. This car is just raring to break loose and when it does, it does so effortlessly and it is nothing but exhilarating to be behind the wheel.
The Type R has generous amounts of torque which gets you going so quickly that you don't really notice the turbo lag. And where the drive mode is concerned, Normal is a good place to be as Sport and +R is more suited on windy hill roads or the track.
Also, there is power on-tap on all the gears including sixth which means you don't always have to downshift to get moving.
The Type R is steady on the straight and handles quite flat around the corners. The only complaint here is that the turning radius is on the large side.
Now the Type R has an impressive list of safety features as it should being a hot hatch. However, it does not come with a reverse camera and parking sensors which is simply puzzling.
The rear-view vision for the Type R is narrow and is also somewhat hampered by the rear wing, which makes the car a bit difficult to park.
That aside, the Type R is a car that has a unique appeal and it does appeal to a fan-base who are very loyal.
And if you consider yourself a fan then the Type R is the car for you.
SPECIFICATIONS

Honda Civic Type R
• Price: RM330,002 (on-the-road without insurance)
• Warranty: 5-year with unlimited mileage, Free Labour Service applicable up to 5 times within 100,000km or 5 years (terms and conditions apply.
• Engine: 1,996cc, 4-cylinder, 16 Valve, DOHC VTEC turbocharged
• Max power: 310PS at 6,500rpm
• Max torque: 400Nm from 2,500 to 4,500rpm
• Transmission: 6-speed manual
• Top speed: 272kph
• Acceleration (0-100kph): 5.8 seconds
• Features: LED Headlights, Auto Headlights, LED Daytime Running Lights, LED Front Fog Lights, Type R Rear Wing, 20" alloy wheels, Drive Mode Switch (COMFORT, SPORT,+R), Rev Match System, Walk Away Auto Lock, Smart Entry with Push Start Button, Cruise Control, Dual Zone Air Conditioning, Type R Leather Sport Steering Wheel, Type R Sport Seats with Integrated Headrest and Red Suede Style Fabric, Rear Foldable 60:40 seats, 7-inch Advanced Display Audio, MP3 / iPod, 2 USB and HDMI ports, 8 Speakers, Airbags, Rear Seat ISO Fix, Vehicle Stability Assist (VSA), Anti-lock Braking System (ABS), Electronic Brake Distribution (EBD), Auto Brake Hold (ABH), Brake Assist (BA), Hill Start Assist (HSA)
Volkswagen Golf R MK7.5 (three-door)
Volkswagen's Golf range in Malaysia has been well-received with its value proposition revolving around practicality, comfort, power and driving enjoyment.
Enter the Golf R and because it is performance-oriented, the added power does come at a cost of comfort.
Not to mention, the Golf R that was provided for our test by Volkswagen Passenger Cars Malaysia was a three-door variant which was limited to just 10 units for Malaysia and there are some differences to note against its five-door stablemate.
Firstly, at RM268,888 (before registration), the three-door variant was only available in the signature colour of Lapiz Blue.
Also, the same 2.0-litre TSI turbocharged mill with 290PS and 380Nm of torque from 2,000 to 5,400rpm still lives under the hood.
It also maintains the wet clutched-type seven-speed direct shift gearbox (DSG) that sends power to the 4Motion all-wheel-drive (AWD) system to spin the 19-inch Pretoria wheels.
The headlights with Dynamic Cornering Lights as well as the taillights with Dynamic Indicators still make use of LEDs.
Inside, the seats are upholstered in signature R 'Vienna' perforated leather and the centre console houses a large 9.2" Discover Pro infotainment system with App-connect and gesture control.
Furthermore, a crisp 12.3-inch Active Info Display instrument cluster is nice to stare at.
Other than the lack of two extra doors, practically everything is status quo, until its owner reaches for the handle expecting the doors to unlock while the key FOB sits in the pocket. Not happening.
Volkswagen's KESSY system isn't present, neither is the push-start button, powered seats and exterior mirror memory function.
For those reasons, it had a price tag of RM268,888 (before registration), which was seen as highly affordable for a car with such performance figures and capabilities.
But regardless of its shortcomings, which are seen as liveable by many others' standards, this three-door variant rode pleasantly.
In all honesty, with keyless-entry and push-start button system becoming common even in sub-RM100,000 cars, these features missing in the Golf R will raise eyebrows.
The Golf R is rather bland-looking and doesn't shout performance per se, except for its lowered stance, 19-inch wheels with 235/35 series tyres.
Also, there are silver exterior mirror caps, quad exhaust tailpipes and 'R' badges on the front grille and boot as well as the gloss-black front brake callipers.
Other than that, it's almost a 'wolf in sheep's clothing', posing as something conservative yet capable of waiting for the opportune moment to pounce. And pounce it can.
The Golf R has a very youthful zest to its performance and handling yet capable of remaining conservative enough inside and out for a more mature audience.
The interior is a familiar Golf Mk7 or rather 'a Volkswagen' in general, except for satin-finished aluminium accents but the biggest heartfelt departure from the Golf Mk7 was the organ-type throttle pedal.
This was the one main characteristic of a Teutonic vehicle that VW decided to omit.
The interior is dark thanks to the grey headliner, black leather upholstery with perforations and a rubberised dashboard that gets contrasted by satinated metal surfaces and white stitches.
Colour is provided by a large instrument cluster screen that stares back at its driver and an additional infotainment system and eight-speakers.
Thankfully, the powered seats were omitted so that additional passengers could get in without having to wait for the motor to get the seat far forward enough to get in or out.
Although this is Volkswagen's performance machine, the German carmaker hasn't gone all out to keep reminding its owner that it is.
Instead, it has provided the Golf R with elements that are associated with luxury to help to soften the already sporty perception of the vehicle with the addition of piano-black finish for the plastics that are best left untouched and untainted by fingerprints.
The glossy plastics not only match the blacked-out interior but also add a conservative element that adequately thumbs down the aggression...until flooring the throttle.
The sports seats do well to cup the body and are somewhat plush for comfort, which is quite surprising for a hot-hatch with such performance figures.
Steering feel is taut with a sporty weight to it when in Race mode and combined with a stiffer than the usual Golf's suspension along with low-profile 235/35 series tyres, large 19-inch wheels and an AWD system, things are starting to look even more exciting.
The exhaust note gets a little more boisterous and the accelerator pedal got a lot more sensitive for a nearly instantaneous response from the engine.
The level of grip feels ever-present and the handling has a neutral-feel when cutting through tight corners.
The AWD system simply wants to keep the car gripping to the surface like suction cups and helps to keep its driver feeling the notion of safety, security and controllability.
Ultimately, drivers will enjoy this particular R's communicative behaviour.
Gear changes are lightning quick in this mode and can feel abrupt with a confident engagement.
Downshifting through the gears and the DSG will blip the throttle to prevent the car from pitching forward and overload the front tyre's grip levels to induce understeer.
While puttering about in traffic, the Golf R is capable of being well-behaved, gently wafting along in heavy traffic passing by other motorists unbeknown to the 290 'ponies' residing under the bonnet.
Because the Golf R is simply capable of fulfilling the needs of a broad audience, many have been naturally smitten by it, including ourselves at
CarSifu
.
SPECIFICATIONS

Volkswagen Golf R (MK7.5) 4Motion
• Price: RM268,888 on-the-road price (inclusive of 0% GST, excluding insurance)
• Warranty: 5-year with 3-year free maintenance and 5-year roadside assistance.
• Engine: 1,984cc 4-cylinder petrol, direct injection, turbocharged
• Max power: 290PS from 5,500 to 6,500rpm
• Max torque: 380Nm from 2,000 to 5,400rpm
• Transmission: Seven-speed (wet) direct shift gearbox (DSG) 4MOTION all-wheel-drive system
• Acceleration (0 to 100kph): 5.1s
• Top speed: 250kph (electronically limited)
• Features: Seven airbags, 4MOTIONallwheel drive system, Adaptive Chassis Control (DCC) with Driving Mode Selection, 9.2-inch touchscreen "Discover Pro"Navigation infotainment system with USB and iPod/iPhone interface, 10GB jukebox, SD card slot, AUX-IN, Bluetooth, eight-speakers, App-Connect smartphone connectivity (MirrorLink, Apple CarPlay, Android Auto), 12.3- inch high definition Active Info Display,full LED headlights with LED daytime running lights, Dynamic Light Assist(DLA) advanced light beam control, full LED taillights with dynamic indicators, Pretoria Black 19-inch alloy wheels, Proactive Occupant Protection System, XDS+ Advanced electronic differential lock, electronic stabilisation control, manoeuvre braking, driver alert system, rearview camera and ISOFIX
Summary
Both cars are undoubtedly capable runners that will get adrenalin coursing through the veins quickly.
The Civic Type R may have higher performance figures with 20 more horses and 20Nm of additional twist, but it's the Golf R that has the faster sprint time of 5.1 seconds from 0 to 100kph.
The Type R will try to reclaim its honour, with the air intake and turbo hissing away while the revs climb towards red-line, but all it will see is the Golf R's rear end pulling away. Such is FF versus AWD.
In terms of driver engagement, the Type R wins hands-down with the short throws of the shifter and the crisp engagement of the gears as it enters the gate to allow its driver to extract as much performance as allowable.
However, this is something only hardcore fans can accept, especially in a world where most drivers are skewed towards automatic transmissions.
Although the Type R's road-holding behaviour seems second-to-none with a subservient rear end that's quick to fall in line with the front to give that planted feel when slinging around corners.
It simply sucks itself to the inside of corners when the pedal is applied.
The Golf R is capable of delivering all that, just not as well because it has a stronger semblance of comfort at the cost of its road-holding abilities.
Don't get us wrong, it's not to say that the Golf R is significantly worse off, but rather slightly edged out in this respect.
The AWD system does very well to find traction and its driver will appreciate this very much while seeking and navigating through gaps in traffic, but all it has its accelerative qualities to keep the Type R at bay.
Indeed both cars have a harsh side to them, but it's the Golf R that has a softer side with a smooth dual-clutch transmission for crawling in traffic and a suspension that's much more compliant compared to the Type R's.
It was agreed that the Type R just didn't seem like our 'cup of tea' and the way it exuded itself seemed rather unbecoming of ourselves - a little too immature for a pair of middle-aged men.
Not to mention, the Golf R's cabin looked snazzy with its large screens that deliver crisp images and highly legible information.
The dark interior and plush perforated leather seats added to the effect of a 'welcoming cabin' that made the Golf R feel far more appealing (and the decision) - Wolfsburg it is. —
RIZAL JOHAN & JAY WONG