Porsche organised an interesting trip for motoring journalists to visit the historically-rich Kingdom of Cambodia, where we went off-roading at a remote location in Siem Reap with a pair of newly revised Sports Utility vehicles (SUV) - the compact Macan and full-sized Cayenne.
Located in the southern portion of the Indo-China Peninsula, Cambodia - once a French Protectorate from 1867 to 1946 (hence its French architectural influence), is surrounded by Thailand to the Northwest, Laos to the Northeast and Vietnam to the East.
The country is also infamously known for the communist Khmer Rouge party - led by Pol Pot (1975 to 1978); the Killing Fields and Killing Trees (reserved for children) as well as the estimated two million of mostly educated Cambodians who lost their lives.
Also, it is estimated that two to three million landmines are still left scattered around arable land, plaguing much of the population till today with an average of two Cambodians losing an appendage or two each day.
But on a more brighter side, with the capital being Phnom Penh, visitors to Cambodia tend to flock to Siem Reap to walk among the ancient ruins of Angkor (built sometime in the seventh century), which has been regarded as the largest pre-industrial city in the world with an estimated population of over a million people at that time.
Within its grounds there may have been over a thousand temples (Wats), but none is as well-known as Angkor Wat (Temple City), which is featured on the country's national flag and popularised by the movie Tomb Raider - starring Angelina Jolie.
We arrived in Siem Reap during a dry spell and that meant we were going to be cooked at an average temperature of about 38 degrees Celsius on a daily basis.
The winds would carry with it powder-fine sand from the sun-scorched beds of rivers and lakes and this had us bowing our heads, squinting the eyes and keep the lips sealed when being ferried around on a Tuk-Tuk - in search of Fish Amok, Beef Luk Lak, coffee or Pub Street to sample the night-life.
While vehicles in Cambodia have their steering wheels on the left, navigating through traffic required some quick acclimatising to and a watchful eye on the nearly chaotic mess, with nothing going faster than 50kph. But thankfully, Angkor Wat was only 5.5km away from the main town of Siem Reap.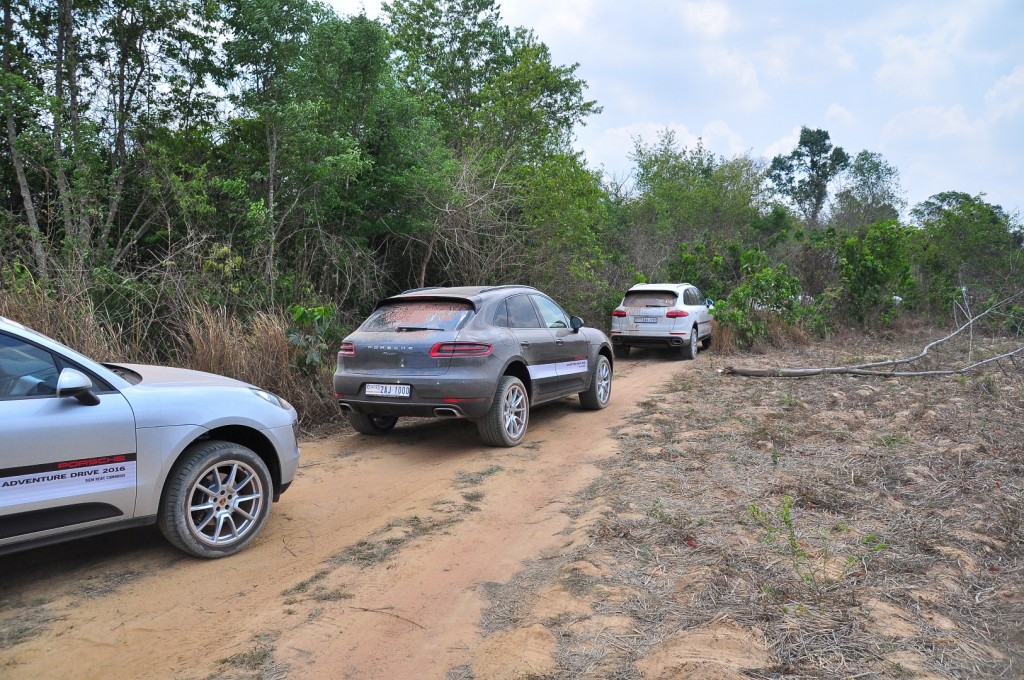 Instead, we had to navigate through some of Siem Reap's rugged landscape in both the Macan and Cayenne - both rolling on 20-inch wheels with 265/45 Michelin Latitude Sport 3 ultra-high performance road-going tyres.
We headed East towards Banteay Ampil temple from our lodging at Hotel Sofitel Angkor Phokeethra Golf and Spa Resort on Charles de Gaulle road, which took us well over an hour to get to via unpaved paths.
The soft soil in Siem Reap is powdery fine, which helped provide for a more supple ride, and was easily kicked up by each passing vehicle – coating everything and everyone soon after with the stuff.
During the drive, both the Macan and Cayenne's suspension simply soaked up any discomfort from the rocks peeping from the ground.
While in the Cayenne, with its naturally-aspirated 3.6-litre V6 engine making 300hp at 6,300rpm and 400Nm of torque at 3,000rpm, we were impressed with how this particular sport-ute's air suspension provided plenty of comfort and did well to soak up as much discomfort as possible from the narrow rocky paths.
We arrived at a clearing where an off-road course awaited and we jumped into the Macan to see how it would fair with its seven-speed dual-clutch gearbox managing a 2.0-litre turbocharged engine that provides 252hp from 5,000 to 6,800rpm and 370Nm of torque from 1,600 to 4,500rpm.
The obstacles included steep declines and inclines, loose dirt, a tight u-turn section and a tilt area, which we found the severity of the course to be more conservative than extreme, but it was probably due to the fact that we were still on road-going tyres.
We found that the Macan tends to provide a surge in power, which can make things a little tricky when there's need for being gentle on power delivery, but it did great ripping up the off-road course.
As for the Cayenne, thanks to it's engine being naturally-aspirated, demanding power from it was easier, which didn't have the Macan's surge, and there was a more obvious feel of it being more planted than the Macan, thanks to the wider stance.
After having been through the rocky section on road-going tyres, we knew both vehicles possessed more potential than the course allowed.
But, with the experience garnered from both SUV's performance on the off-road-ish expedition, we can only say that both the Cayenne and Macan would definitely be able to carry itself through a wild stretch.