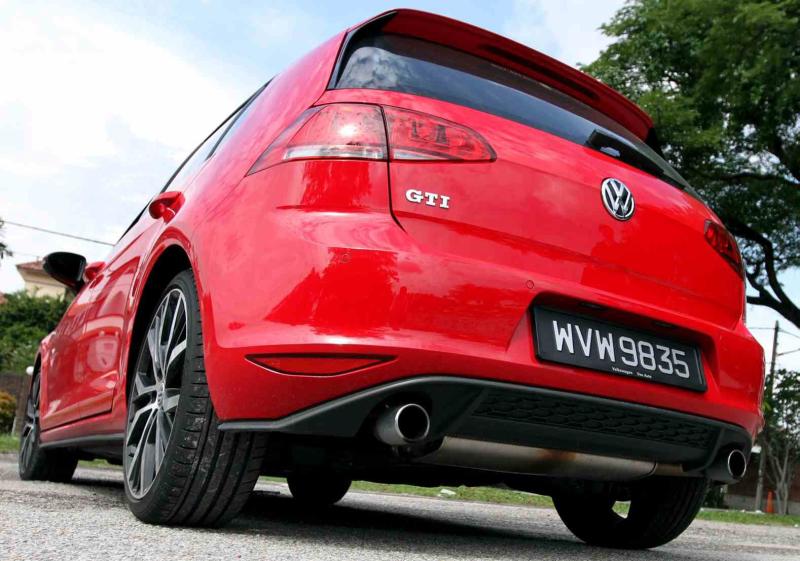 Joy is a many splendoured thing. And it invariably includes a Golf GTI in hand.
The promise of fun is why you would feel compelled to pay nearly RM240K to the
Das Auto
crew. And if you so much as itch for more, Volkswagen wants to hold your attention with its hair-raising Golf R but you gotta cough up RM60,000 more to pump up the whoop-dee-doo. An already pricey model gets even more expensive very quickly, doesn't it?
Let's assume the GTI is what you are after – a hot hatch without pushing the limits of the turbocharged 4-cylinder mill.
The 7th-generation GTI, introduced locally in 2013, is due for a refresh in late 2016 with advanced gesture control and other niceties (we hear full digital instrument cluster is coming). But if you can't wait for that to happen, the present GTI is eager to get to work on you. And it's quite the charmer. Even the Mk6 of yesteryear.
Volkswagen's brochure-ware says the GTI Mk7 is more fuel economical, powerful, lighter and faster compared with its predecessor. It's also slightly longer and wider, and offers more space with its wheelbase increased by 56mm to 2,631mm.
The car carved out the hot hatch segment over 40 years ago and since then, has been the by-word for miles of smiles. It's also a vehicle for the forty-something to "reclaim" some measure of lost youth. You know what we mean.
Externally, the GTI looks the part of the performance version of the standard Golf with crisp lines and a hunkered down stance for better aerodynamics and a lower centre of gravity. It's styling is not as flashy as some other hatches, remaining understated as if to say: "Let my action speaks for itself."
The GTI comes with red-painted brake callipers, honeycomb grille, two chrome tailpipes and sports suspension and a red stripe around the radiator grille and across the headlamps.
Volkswagen Group Malaysia offers a 3-door Pure GTI variant and the 5-door Advanced version, with the latter getting more bells and whistles.
Exclusive to the Advanced are bi-xenon headlights with LED daytime running lights, headlight range adjustment with cornering halogen light, front LED fog lights, as well as front and rear parking sensors, and a space-saving spare wheel.
The test car we got last month was an Advanced unit with options included. The Tech Pack comprised leather seats with red stitching, a 12-way electric adjustable driver's seat, and Dynamic Chassis Control (DCC) with five driving modes. We do wish VW could have included electric front passenger seat to even it out but RM10,000 doesn't go that far these days. The RM225,888 car was also fitted with optional RM3,000 19-inch Santiago alloys, up from the standard 18-inchers, with low profile Dunlop tyres. All these serve to step up the GTI's premium level while heightening the aggressive look.
Sit inside and the GTI starts telling you it's special. Well-formed sport seats, red ambient lighting, a flat-bottomed sports steering with paddle shifters, black roofliner and stainless steel pedals welcome the driver. A 5.8-inch colour touchscreen is sl anted towards the driver from where the driving modes can be accessed.
Put your hand anywhere near the screen, and sensors below will trigger a menu that pops up for you to choose the commands or settings required. It's the early stage of gesture control and Volkswagen will refine this new tech further in the upcoming iterations of its cars. No push/start button here as the GTI retains the traditional key slot to start up.
The GTI is not just about sheer performance; it is designed for everyday practicality as well. The extended wheelbase helps seat five people in relative comfort, enhanced by good cabin insulation that filters out much of the noise, vibrations and harshness.
A central air-cond vent at the back ensure rear row ventilation is taken care of. Two ISOFIX points are included for child seats, while boot space is of decent size. More cargo space is available when the rear seatback is folded forward.
The new GTI has a 2.0-litre TSI turbocharged four-cylinder engine, also found in the Porsche Macan, which pumps out 217hp of maximum power at 4,500 – 6,200rpm and maximum torque of 350Nm at 1,500-4,400rpm.
Armed with a six-speed direct shift gearbox, it can do the 0-100kph sprint in 6.5 seconds. Despite a performance boost, combined fuel consumption is 6.4 litre per 100km, down 14%, attributed to an engine start/stop system with regenerative braking and a lightened body.
All these are just numbers until validation time as you gun the engine and revel in the car's masterly behaviour on the road. Simply put, the GTI is smooth, torquey and keeps egging you on to plant your right foot down, well, for the better part of the journey.
The GTI is also noted for its balanced handling and direct steering. In the straights, an urgent throttle and a carpet of torque lets you shoot for the horizon as fast as you want to, with the inevitable weaving through traffic executed cleanly and precisely.
The ride is very firm but not to the point of being hard. On poorly paved roads, there's significant tyre roar from the low-profile 19-inch rubbers. A choice of five modes – Sport, Normal, Comfort, Eco and Individual – makes the drive more engaging, adjusting the running gear to suit the driving style of the moment.
The electrically adjustable damping system adapts automatically to the setting, as does the electromechanical power steering. The car's DCC system responds continually to changing driving situations and takes braking, steering and accelerating actions into account. We often found ourselves setting the car to Normal or Comfort in urban traffic for a docile experience and Sport mode whenever approaching sweeping corners or tight bends for the cathartic rush, complete with sputters and growl from the exhaust.
Slam it into a corner and exit at speeds and marvel at the immense front wheel traction – thanks to the XDS+ advanced electronic differential lock and a well sorted out chassis.
It's this sort of control that's wonderfully reassuring and endears the GTI to the driving enthusiast. We kid you not.