As the successor to the naturally aspirated 458 Italia, the turbocharged 488GTB shows that the extra 100hp in this bad boy is a sure way to heighten the visceral driving experience.
The 458 Italia's replacement looks every bit as stunning as the first day it was unveiled.
The best part was that we had a full day out with this RM2.4mil beauty (including all duties and RM280,000 worth of accessories fitted).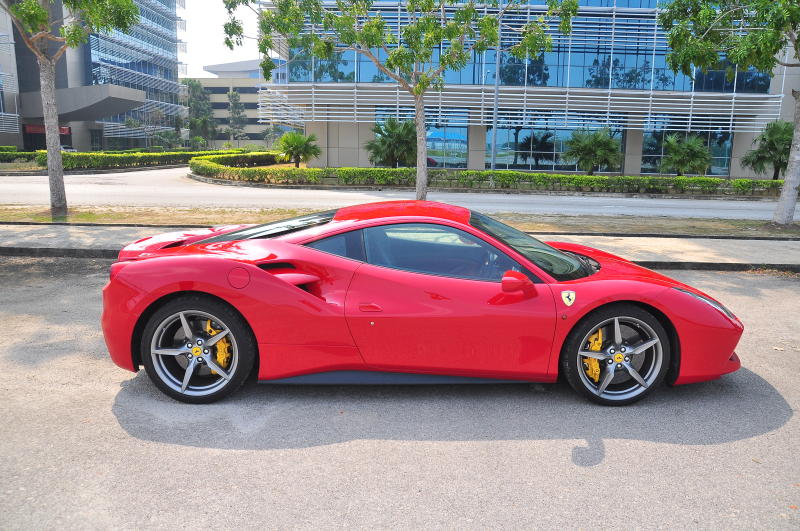 There it sat in the showroom dressed in Rosso Corsa (Racing Red) metallic with its five-spoke Matt Grigio Corsa (Matte Grey Racing) 20-inch wheels flaunting the 399mm (front) and 360mm (rear) cross-drilled carbon-ceramic disc brakes with yellow brake callipers.
The front-end is dart-like and sharp, tightening slightly at its mid-section to accentuate the rather muscular-looking rear haunches - which happens to house its mighty 3,902cc 90-degree dry-sump twin-turbo V8 engine fed by a 78-litre fuel tank.
Only paddle shifters will dictate the actions of the seven-speed dual-clutch transmission, which manages the engine's 670hp and 760Nm before reaching the fat 305/30 Michelin Pilot Super Sport rear tyres, while the front 245/35 tyres take care of directional changes and holds up 41.5% of this Prancing Horse's 1,475kg kerb weight.
At 1,213mm-tall, this 4,568mm-long supercar is 1,952mm-wide - that's 53mm-wider than a Mercedes-Benz S-Class (W222), but of course the Italian supercar's cabin is not nearly as copious as the Panzerwagen's.
Inside, the cabin is generously leather-wrapped.
There's a multitude of buttons that will quickly overwhelm anyone unfamiliar to the cockpit layout and will need some moments to orient themselves.
After adjusting the powered contoured seats dressed in a combination of Charcoal #4304 and Bordeaux #4481 coloured leather with stitches in Beige Chiaro #1209 hold everything together, there's a realisation that will come quickly as to how many of the buttons such as the horn, signal lights, Magnetorheological suspension's control button, wiper activation and engine start-stop button are within thumb's reach on the leather-wrapped and carbon fibre accented steering wheel.
Then there's the Tifosi's (Ferrari fan's) favourite - the 'Manettino' switch, that's a simplified version of what's found in Scuderia Ferrari's (Ferrari stable) Formula 1 cars, which provides five driving programmes of Wet, Sport, Race, Traction Control off and Electronic Stability Control off - all adjustable with a quick twist of the wrist.
As long as the passenger is able to hold his/her composure and refrain from screaming their lungs out when the driver hits the throttle, they can divert their attention directly in front of them to a monochrome screen that displays the current speed, gear number and engine speed if the view gets too blurry.
With much of the nitty-gritty out of the way, it's time to step on the brake pedal and push hard on the springy large red button marked "ENGINE START-STOP" to fire up the throaty V8 engine.
At that instance, the analogue part of the instrument cluster undergoes a staging process that winds the needle up and then back down again while the LCD screens flanking it brightens to life.
Now take a minute to wallow in the magnificence of the bi-turbo's drone, trumpeted by the titanium exhaust.
Since there's no actual gear lever, pulling on the right paddle shifter marked "Up" will engage first gear, while pulling on both "Up" and "down" paddles puts the transmission into neutral.
Easing on the throttle gets the wheels gently rolling.
It just does what the foot demands and the same goes for the brakes.
There's going to be a firm initial bite at first, but if more is required don't be afraid to push deeper and feel the blood surge to the head.
The chassis feels absolutely rigid, unwilling to bend to the laws of physics and there's plenty of road surface information getting sent to the driver's posterior and up the nervous system.
Tight curves are dispatched with ease and even if there was any form of rear-tyre slippage, there still wasn't any fear emerging, instead it seems to will the driver on, asking for more. This is one Ferrari that simply likes getting spanked all the time.
With the ability to reach 100kph from standstill in 3.0 seconds, and onwards to a top speed of 330kph, the 488 can easily get its driver drunk on its responsive performance that will take just 0.8 seconds to react to an accelerator pedal getting stomped into the firewall. Pretty instant.
There's almost no roll experienced with the adaptive suspension taking care of such nuisance to keep it nice and flat around the bends, while the steering feels absolutely direct for a nimble encounter.
Over uneven Malaysian roads, the adaptive suspension takes very good care of them.
It'll still come off as stiff, but there's also a hint of cushioning taking place, post-bump or dip.
With the inclusion of a suspension lift, unusually high speed-bumps or getting on/off steep inclines/declines can be cleared - making it more of a necessity than merely an optional extra.
At unlawful speeds, the 488 simply wants to remain grounded at all times thanks to the bodywork having the ability to generate up to 325kg of speed-generated down force if 250kph can ever be reached.
So who cares if this particular 'prancing horse' only has two seats, 230 litres of cargo space under the front hood, is loud, has the ability to guzzle fuel and isn't able to provide a supple ride.
It's the exhilaration provided that's hard to replicate and once the spooling twin-turbo's hiss intrudes into the cabin and the body quickly starts to leave an imprint on the seat's back rest, it's time to say a prayer that the fuel doesn't run out too quickly while giving thanks to Enzo Ferrari for starting up this company.
Avanti cavallo!

READ ALSO: 
What supercars cost around the world
SPECIFICATIONS
Ferrari 488 GTB
Engine: 3,902cc, 90-degree V8, dry-sump, twin-turbo
Maximum power: 670hp at 8,000rpm
Maximum torque: 760Nm at 3,000rpm in 7th gear
Power per litre: 172hp
Compression ratio: 9.4:1
Transmission: 7-speed F1 dual clutch
Acceleration (0-100kph): 3.0 seconds
Acceleration (0-400m): 10.45 seconds
Acceleration (0-1,000m): 18.7 seconds
Maximum speed: 330kph
Fiorano track lap time: 1min 23sec
Wheels: Front 20-inch 245/35 and rear 20-inch 305/30
Brakes: Front 15.7-inch and rear 14.2-inch
Kerb weight: 1,475kg
Weight distribution (front:rear): 46.5:53.5
Luggage capacity: 230L
Fuel tank: 78L
Features: Four airbags, anti-lock braking system with Ferrari Pre-Fill, traction control (F1-Trac), stability control, seatbelt pretensioners, electronic differential (E-Diff 3), Magnetorheological suspension control and side slip angle control, steering wheel with shift-up indicator, paddle shifters, manettino switch and horn.
Price: RM2.4mil - includes all duties and RM280,000 worth of accessories.