Big SUVs (sports utility vehicles) with at least seven seats are ideal for large families who want spacious cargo capacity as well as high ride height and a commanding view of the road.
They are also suitable for companies that want to ferry business associates in comfort, when going off-road to visit plantations or work sites.
These large SUVs with monocoque have six-digit price tags, and thus feature car-like premium comfort and safety features as well as spacious seven-seater cabins.
A prime example is the latest 2.4-litre Mitsubishi Outlander which arrived in Malaysia in late February, and carries an attractive introductory price tag of close to RM172,000 for units booked and registered before May 31.
This time, Carsifu pits it against a fellow Japanese rival, namely the 2.5-litre Nissan X-Trail (4WD Premium Impul edition) which has a similar price tag.
Both SUVs have their own strengths, and it won't be easy for buyers to choose between these two global products.
They have nice features such as four-wheel drive modes, push-start ignition and keyless operation, automatic LED headlamps with daytime running lights, 18-inch alloy wheels, leather seats, rain-sensing wipers, dual zone climate control, and audio systems with six speakers, reverse camera, USB and Bluetooth connectivity.
Like the X-Trail, the Outlander offers four-wheel drive with automatic and lock modes via a convenient round dial or button control.
However, there is a slight difference in the SUVs' two-wheel drive mode.
The X-Trail has the usual two-wheel drive mode, while the Outlander's 4WD ECO can engage four-wheel drive mode when loss of traction is detected.
Interested buyers might also want to note that the Outlander is imported from Japan and only available in 4WD form (also equipped with heated front seats), while the X-Trail is locally-assembled and also has a 2.0-litre two-wheel drive variant.
Mitsubishi Outlander
The Outlander was given a substantial facelift in Japan last year, featuring Mitsubishi Motors' Dynamic Shield front design and improvements to the powertrain, body and chassis.
With this mid-life update, the Outlander's front end looks more dynamic and powerful, especially with the skid plate styling for the underside of the bumper.
There is a premium feel to the cabin with the black leather upholstery, and ebony wood grain-like panels for part of the dashboard and door trim.
The revised Outlander also gets an improved suspension which results in better driving feel, steering accuracy and response, and body stiffness.
According to Mitsubishi Motors, it also received more than 30 updates to reduce engine, tyre and wind noise intrusion. These included extra sound absorbing and insulation, and anti-vibration materials.
Under the hood is the familiar 2.4-litre Mitsubishi Innovative Valve timing Electronic Control (MIVEC) engine with 167PS and 222Nm of torque. Still, the Outlander gets a new CVT transmission which helps in improving acceleration performance and fuel efficiency.
Running on Goodyear Eagle LS 225/55 R18 tyres on quiet township roads, we found the Outlander to be quite nimble for a large SUV.
We like its steering which was responsive and precise when we took bends at some speed.
We kept it in 4WD ECO mode all the time, as we did not have occasion to take it on off-road or very muddy terrain.
The suspension is biased towards ride comfort, and that's in line with the Outlander's target market of soccer moms, large families or corporate high-flyers.
The second row seats can be reclined for more comfort and they can go further back to improve second-row comfort, but our only major gripe is the lack of rear air-conditioning vents.
However, this was not an issue for our rear passenger who complained of being too cold when we had the blower at near-full blast on an extremely hot day.
As for equipment, you get nice stuff like an auto dimming rear view mirror to reduce blinding glare, a large 6.1-inch touchscreen display mated to a reverse camera, and lots of safety features.
In our opinion, the revised Outlander continues to be a family-oriented and solid, refined, well-engineered SUV with good road manners.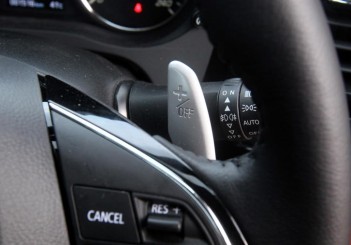 Nissan X-Trail 2.5L (4WD Premium Impul edition)
The third-generation Nissan X-Trail was launched in Malaysia in January last year, and has several world-first and Nissan first technologies for a better driving experience.
These include Active Ride Control for a smoother ride on bumpy surfaces, Active Engine Brake to help drivers to reduce speed when cornering or stopping, and Active Trace Control that automatically applies small amounts of braking to the individual wheels to reduce understeer.
There is ample power on tap, with the range-topping variant here armed with a 2.5-litre engine with 171PS and 233Nm of torque.
The black-themed interior also has a premium look, with dark leather upholstery, chrome door handles and the optional eight-inch touchscreen multimedia display (RM3,800) fitted in this Impul-kitted review unit.
A five-inch display unit comes as standard.
There are lots of cubby holes to store small items with a deep glove box between the front seats, and 10 cup holders.
The X-Trail also comes with what Nissan calls Zero Gravity Inspired car seats, which are billed as reducing fatigue and providing the ideal posture to make long drives more pleasant.
This "fatigue-free" seat technology was jointly developed with Yamazaki Laboratory at Keio University, Tokyo.
As for the X-Trail's RM15,900 Impul package, it provides the SUV with lowered and sportier looks.
The Impul package comprises newly designed front and rear bumper spoilers and side skirts, plus 18-inch Impul Aura SX-50 alloy wheels in chrome bronze and gloss black finish.
With the Impul Sports Springs, the vehicle ride height is lowered by 30mm to provide a more agile and responsive driving experience.
Additional door visors, LED stainless steel kick plates and Continental MaxContact MC5 tyres sized 235/55 R18 complete the package.
The items in the Impul package can be bought separately and are priced from RM424 for the door visors to RM5,830 for a set of the alloy wheels.
While existing owners of the X-Trail can opt for the Impul upgrade, it is interesting to note that buying the 2.5-litre X-Trail Impul edition costs RM172,516, roughly an extra RM8,600 more than the non-Impul version which costs RM163,895.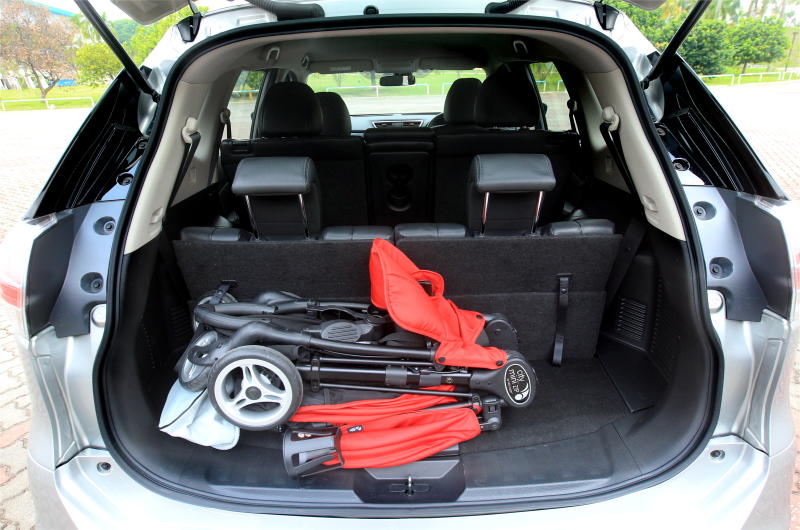 This means 2.5-litre X-Trail Impul edition buyers save about RM7,300 compared with those who opt to have the upgrade later.
We have reviewed the stock X-Trail before, and found it to be an impressive SUV with great handling characteristics, and lots of comfort features and driving technologies.
The Impul edition not only provides more distinctive and stylish looks, but also even sportier handling.
Compared with the stock X-Trail, the ride quality is not as pliant, but we still found plenty of ride comfort for the family on a 120km drive out of town during a recent weekend.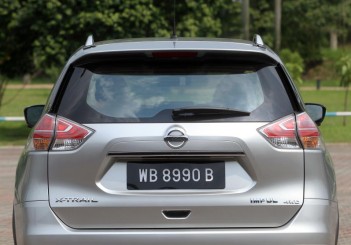 THE VERDICT
It's a tough call as both are really well-engineered and packaged set of wheels.
The Outlander has more cargo storage space with both rear rows folded (1,608 litres compared with the X-Trail's 1,520 litres), and seven airbags for occupant protection (X-Trail has two airbags).
The Outlander has a smaller turning radius (5.3 metres compared with the X-Trail's 5.6 metres), and wins in terms of negotiating tight U-turns, as well as features like a sunroof and the convenience of a push-button to close the electric tailgate.
The Outlander is also the lighter vehicle, with a 1,530kg kerb weight compared with the 1,612kg of the standard non-Impul X-Trail 2.5L 4WD.
In terms of fuel consumption, Mitsubishi Motors Malaysia says the Outlander can achieve up to 12.98km per litre (based on in-house tests) while Nissan rates the X-Trail 2.5L 4WD at 12km per litre.
Regarding size, potential buyers might also want to note that the Outlander is slightly longer (an extra 55mm) and lower (35mm difference) compared with the X-Trail.
Meanwhile, the X-Trail has powered front seats (Outlander only has a powered driver's seat), rear air-conditioning vents and a more torquey engine.
And, we really like the X-Trail's Around View Monitor which uses a four-camera system and makes it so much easier to park a big car like the X-Trail effortlessly, without worrying about knocking into something.
When parking the X-Trail, the centre display screen gives you both a rear and 360-degree bird's-eye view of the vehicle's surroundings.
So how do you choose between two great vehicles?
If cargo space with both rear rows folded and airbag safety are your priorities, the Outlander wins out here.
But in terms of cabin kit and driving assist features, we think the X-Trail is ahead by a whisker, especially as its Around View Monitor makes parking a breeze for this large vehicle. - 
Contributed by RIZAL JOHAN