HIGHLIGHTS

> Perodua Myvi prices between RM44,300 and RM55,300
> 5-star Asean NCAP safety rating
> 5,000 bookings and counting
> 78% of bookings for 1.5-litre variants
> Granite Grey most popular colour
> Standard 5-year/150,000km warranty
PUTRAJAYA: The 2017 Perodua Myvi offers more space, better performance, lower fuel consumption, and improved comfort and safety features.
It comes in five variants, consisting of three 1.3-litre and two 1.5-litre models.
The entry-level Myvi is the 1.3-litre Standard G grade (five-speed manual and four-speed automatic variants).
This is followed by Premium X grade (1.3-litre), and High and the flagship Advance grades (both 1.5-litre) - all fitted with automatic transmissions only, and the Eco Idle engine start-stop feature.
The 2017 Myvi has an impressive list of comfort and safety features, including automatic braking.
Malaysian-centric features of the car include the built in toll reader, which is a first for Perodua and an anti-theft hook which made its debut in the Perodua Axia in 2014.
Standard across the range are LED headlamps with follow-me-home function and headlamp levelling, LED rear combination lamps with light guides and Smart Entry with Push Start.
All Myvi variants get ABS with Electronic Brakeforce Distribution (EBD) and Vehicle Stability Control (VSC). The 1.5L variants come with six airbags while four airbags are standard on 1.3L variants.
Six colours are available – Ivory White, Glittering Silver, Mystical Purple, Lava Red, Peppermint Green (new colour, 1.3L variants only) and Granite Grey (new colour, 1.5L variants only).
A 5-year/150,000 km warranty is offered as standard throughout the range.
Design with Jazz, Swift and Polo as benchmarks
The 2017 Myvi was benchmarked against the Honda Jazz, Suzuki Swift and Volkswagen Polo during its design and development stage.
The underbody uses a Daihatsu platform, and a Perodua team designed the entire upper body, which looks sleek and aerodynamic.
Development work for the new Myvi, including a market survey on what consumers wanted from a compact car, started in 2014.
Many in the Perodua design team were fresh graduates, in order to ensure their design ideas were not influenced by past work on the current crop of Perodua cars.
"The localisation rate for the new Myvi is the highest among Perodua cars - more than 90 per cent," said Perodua president and CEO Datuk Aminar Rashid Salleh, adding that it is the third transformation model designed by Perodua, after the Axia and Bezza.
Aminar said the entire upper body design is not based on any existing Daihatsu or Toyota models.
"If for Bezza, we developed 80 per cent; this one (Myvi), we developed 99.99 per cent. I am very proud of my team," he told reporters.
Engines
• New 1.3 and 1.5 litre Energy Efficient Vehicle (EEV) engines with Dual VVT-i.
• Built at Daihatsu Perodua Engine Manufacturing Sdn Bhd in Sendayan, Negeri Sembilan.
• The aluminium-block engines are lighter, more efficient and meet Euro 4 emission standards.
Aerodynamics
• Lower height, air spats, semi-flush rear spoiler, aeroslim wipers contribute towards a drag coefficient (Cd) of 0.296.
• This is an improvement over the outgoing Myvi's 0.306.
Fuel economy
• The new Myvi is on average 32% more efficient than the previous model.
• 21.1 km/l – 1.3 AT (with Eco Idle)
• 20.5 km/l – 1.3 MT (without Eco Idle)
• 20.1 km/l – 1.3 AT (without Eco Idle)
• 20.1 km/l – 1.5 AT (with Eco Idle)
Body construction and NVH (Noise, Vibration and Harshness)
• Upper body completely designed in-house.
• 2.5 times more high-tensile steel than in its predecessor.
• Additional bracing and reinforcements in strategic areas.
• Increased body rigidity – improved stability and resistance to front and side collisions.
• Acoustic windshield for lower NVH levels.
Suspension enhancements
• Front and rear stabiliser bars with increased diameters.
• New lightweight front lower arm.
• Stiffer rear beam structure with new curved design.
• Redesigned rear cross member for better rigidity.
More space
The new Myvi has dimensions of 3,895mm (length); 1,735mm (width); 1,515mm (height) and 2,500mm (wheelbase).
Compared with the previous Myvi, the new Myvi is longer (+210mm); wider (+70mm); lower (-55mm) and has a longer wheelbase (+60mm).
Compared with the Axia, the new Myvi is longer (+255mm); wider (+115mm); slightly taller (+5mm) and has a longer wheelbase (+45mm).
Regarding rear cargo space, the new Myvi has more storage room with 277 litres (previous Myvi had 208 litres).
Better performance
Both engines in the new Myvi are 4-cylinder aluminium block units with dual VVT-i (Variable Valve Timing - intelligence).
The 1.3-litre or 1,329cc engine is shared with the Perodua Bezza, and outputs 70kW (94hp) at 6,000rpm and 121Nm at 4,000rpm.
It's slightly more powerful than its predecessor, which produced 67kW (90hp) at 6,000rpm and 117Nm at 4,400rpm.
As for the 1.5-litre or 1,496cc engine, this is a new unit that outputs 76kW (102hp) at 6,000rpm and 136Nm at 4,200rpm.
Nice comfort features
Standard or entry-level kit on the new Myvi include LED headlamps (with Follow Me Home function and manual levelling), auto off headlamps, electric side mirror/side turn signal, acoustic windshield, minimum of two USB ports, shopping bag hook, anti-snatch theft hook, 60:40 folding rear seats, smart entry with push-start ignition, seat height adjuster (driver only), electric power steering, and a tilt steering.
With the Follow Me Home function, the headlamps remain lighted for 30 seconds after the engine is shut down.
Higher grade variants (starting from 1.3-litre X grade) get an extra USB port with side pocket (on the driver's seat), an audio system with Bluetooth and microphone, a leather-clad steering with audio and call receiver controls, and Eco Idle engine start-stop.
The base 1.5-litre new Myvi has a built-in toll reader for a Touch 'n Go card, which means you do not need a SmartTAG device.
The flagship Myvi Advance gets leather seats, a multimedia system with navigation and Smart Link, and a Android-powered touchscreen.
Improved safety features
Regarding safety, the new Myvi has a minimum of four airbags, seat belt reminder - all seats, Anti-lock Braking System (ABS), Electronic Brake Distribution (EBD), Vehicle Stability Control (VSC), Emergency Stop Signal (ESS), ISOFIX child seat points, reverse sensor.
Higher grade variants (starting from 1.3-litre Premium X grade) get front corner sensors and Hill Start Assist (HSA).
Both the 1.5-litre new Myvi grades get six airbags.
Meanwhile, the flagship Myvi AV grade adds on security tint film, a reverse camera and safety technologies called ASA or Advanced Safety Assist which can reduce damage from low-speed frontal collisions.
ASA uses a stereo camera, located on the windscreen, which detects vehicles up to 60 metres and pedestrians up to 30 metres ahead.
ASA consists of Pre-Collision Warning (PCW), Pre-Collision Braking (PCB), Front Departure Alert (FDA) and Pedal Mis-operation Control (PMC).
PCW alerts the driver that a collision is imminent. PCB assist drivers by applying the brakes if they are still unaware of the impending collision.
The FDA gives a warning to the driver that the vehicle in front has moved. This is particularly useful in heavy traffic.
Lastly, with PMC, if the driver accidentally selects Drive instead of Reverse when there is an obstacle in front such as a wall, this feature will assist in suppressing the engine if the accelerator pedal is pushed.
The ASA features are limited in their application as the forward facing stereo camera will only operate under the right conditions.
"These features are a first for this price segment. However safety is still in the hands of the driver and the system is only there to assist," said Perodua president and chief executive officer Datuk Aminar Rashid Salleh.
READ MORE:

2017 Perodua Myvi: fuel efficient Dual VVT-i engines

2017 Perodua Myvi: Full in-house design for upper body

Automatic braking & Advanced Safety Assist included in Perodua Myvi


Auto brake test in Rawang
At a special preview session at Perodua's research track in Rawang last month, we had two rounds each in the Myvi 1.3 (manual) and Myvi 1.5 (auto).
Both cars were quiet, handled well enough on the track at speeds under 110kph, and we found plenty of cabin space - lots of legroom.
Rear headroom is decent for 1.7-metre adults.
We also tried the Pre-Collision Warning and Braking assist, via a slow crawl towards a specially set-up obstacle (about 50 meters in front of us) at 20kph.
We put the car in D mode, lifted our right off the accelerator pedal, and just let the car crawl.
As we approached the obstacle, warning beeps were emitted and when we still didn't put our foot on the brakes, the car automatically braked and came to a juddering stop right in front of the obstacle.
Perodua must be commended for providing such advanced safety features in this Myvi Advance which is priced under RM60,000.
Below is the list of specs/features for the 2017 Myvi:
2017 Perodua Myvi 1.3-litre (G grade - manual/automatic)
- LED headlamps with Follow Me Home function, and manual levelling
- Auto off headlamp
- Electric side mirror/side turn signal
- 14-inch alloy rims (175/65 tyres)
- Acoustic windshield (1st in Perodua)
- 2 USB ports (1st in Perodua)
- Shopping bag hook
- Anti-snatch theft hook
- 60:40 folding rear seats
- Smart entry with push-start ignition
- Reverse sensor
- Seat height adjuster (driver only)
- Seat belt reminder - all seats (1st in Perodua)
- Electric power steering
- Tilt steering
- ISOFIX child seat points
- Anti-lock Braking System (ABS)
- Electronic Brake Distribution (EBD)
- Vehicle Stability Control (VSC)
- Emergency Stop Signal (ESS)
- 4 airbags (1st in Perodua)
2017 Perodua Myvi 1.3-litre (Premium X grade)
- 4 speed E-AT (Electronically Controlled Automatic Transmission)
- Front grille with chrome
- Fog lamps with chrome garnish
- Retractable side mirror
- Chrome door outer/inner handle
- Rear seats detachable headrest
- Audio/Bluetooth/microphone
- USB port with side pocket (driver's seat)
- Leather steering with audio and call receiver controls
- Front corner sensors
- Hill Start Assist (HSA)
- Eco Idle engine start-stop
2017 Perodua Myvi 1.5-litre (High grade)
- 4 speed E-AT
- Front and side skirting
- 15-inch alloy rims (185/55 tyres)
- Rear spoiler
- 2-tone rear bumper
- Built-in toll reader (1st in national car)
- 6 airbags (1st in Perodua)
Myvi 1.5-litre (High grade)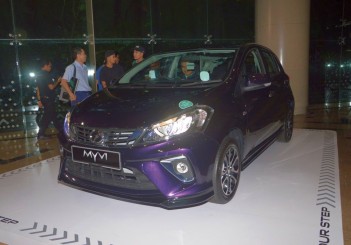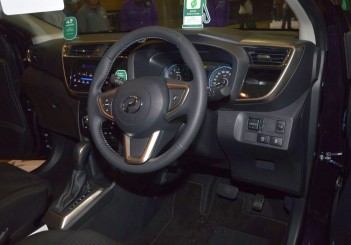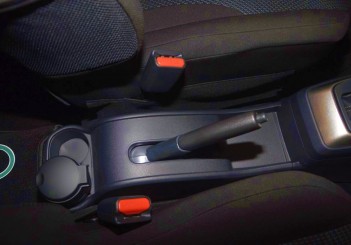 2017 Perodua Myvi 1.5-litre (Advance grade)
- 4 speed E-AT
- Leather seats
- Multimedia system with Navigation and Smart Link
- Touchscreen with Android
- Reverse camera
- Security tinted film
- ASA or Advanced Safety Assist (1st in national car)
Myvi 1.5-litre (Advance grade)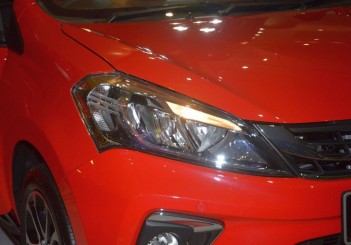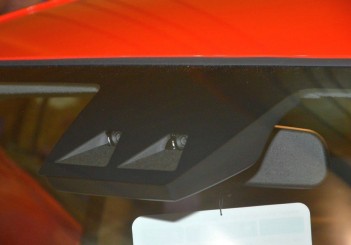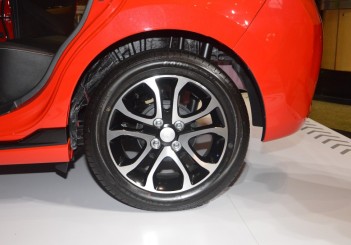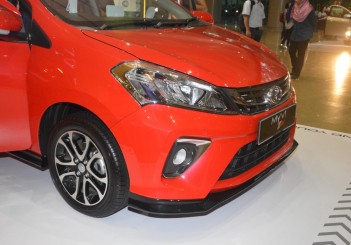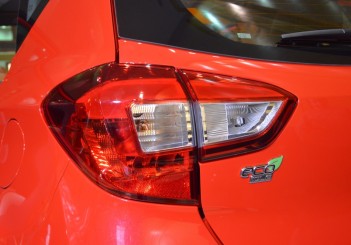 Myvi 1.5-litre (High grade in GearUp kit)
Myvi 1.3 Premium X

2017 Myvi: Exterior shots - assorted variants
2017 Myvi: Interior shots