GENEVA: Aston Martin showcased the Lagonda Vision Concept at the 2018 Geneva Motor Show, marking the start of a new range of state of the art, emission-free luxury vehicles. Production is planned to start in 2021.
Lagonda aims to be the world's first zero emission luxury brand.
"We believe people associate luxury in their cars with a certain traditional and even old-fashioned approach because, to date, that is all that's been available to them," said Aston Martin president and chief executive officer Dr Andy Palmer. "Lagonda exists to challenge that thinking and prove that being modern and luxurious are not mutually exclusive concepts."
The Lagonda 'Vision Concept' is a near future study that previews the design language that could potentially be seen in production Lagonda models as soon as 2021. Alongside the new concept, two 40% scale models will be displayed, one coupe concept and one SUV concept, to show how the Lagonda design language could be adapted for the future.
The Vision Concept carves out space for four adults, each of two metres height or more, for them to stretch out in luxurious comfort.
The Lagonda Vision Concept doesn't have a bonnet because one is not required. But it still needs to travel through the air and to do so as efficiently as possible to preserve battery life, which is why its shape is sleek and dynamic.
The rear hinged back doors open outwards, while the roof sections also open upwards to provide ease of access. Occupants can literally stand up inside and walk out of the car, or step straight into it.
Front seats are not mounted on conventional runners which always interfere with where those in the back would like to place their feet, but instead sit on cantilevered arms extending from the floor outside the seat frame providing an uncluttered floor area. Seats are more like armchairs, with heavily bolstered arms.
The Lagonda Vision Concept is designed for Level Four autonomous driving, meaning the car is capable of driving itself in all routine circumstances and on all recognisable roads.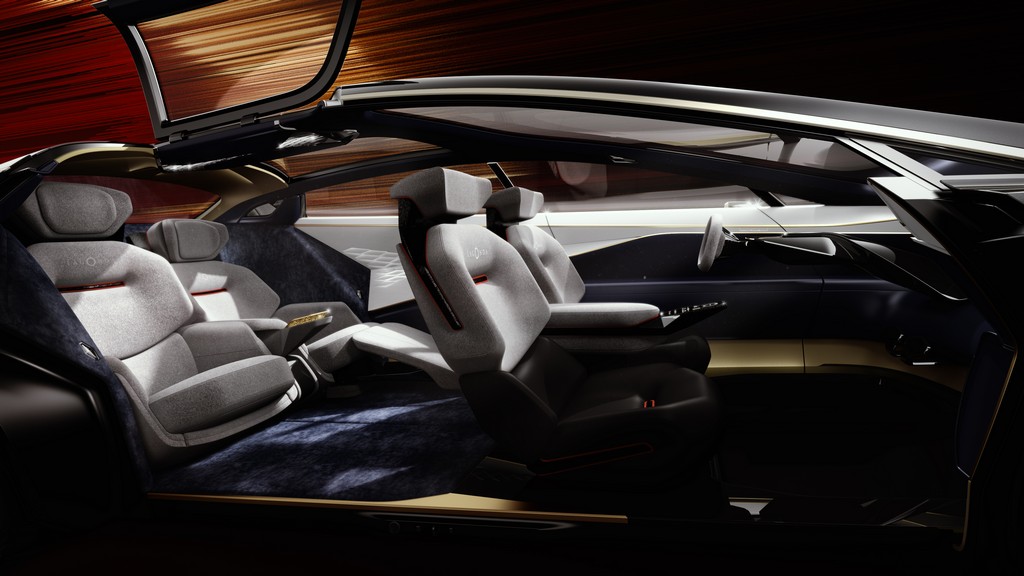 As a result, the steering wheel can not only move from left to right hand drive according to need, in autonomous mode it can also retract entirely allowing front seat passengers to rotate through 180 degrees to engage in face to face conversation with those in the back. The car will not only have 360-degree awareness of the world around it, but also be fully connected to it, allowing occupants access to bespoke concierge services and connectivity.
The Lagonda Vision Concept has been configured to accept powerful solid state electric batteries installed in the floor, enabling it to cover up to 644km between charges, comparable to travelling between Los Angeles and San Francisco. The concept has also has been designed to be compatible with the latest wireless conductive charging technology.
The car will have intelligent all-wheel drive, capable of delivering 100 to zero per cent of available torque to any given wheel on demand.