PETALING JAYA: The 2018 Mazda CX-5 was officially launched today at 1 Utama Shopping Centre.
Its main rival is the new Honda CR-V.
The new five-seater 2018 Mazda CX-5 sport utility vehicle (SUV) comes in five variants, consisting of two 2.0-litre petrol, a 2.5-litre petrol, and two 2.2-litre diesel models.
On the road prices without insurance are RM134,605.50 (2.0-litre GL petrol); RM148,605.50 (2.0-litre GLS petrol); RM160,996.70 (2.5-litre GLS petrol); RM164, 579.10 (2.2-litre GLS diesel 2-wheel drive) and RM175,179.10 (2.2-litre GLS diesel all-wheel drive).
READ MORE:
New Mazda CX-5 rolls out of Kulim plant PLUS full specs
All new Mazda vehicles (except the BT-50 pick-up truck) registered from Feb 1, 2017 enjoy a five-year or 100,000km (whichever is first) manufacturing warranty and three-year or 60,000km free maintenance after-sales package.
Optional upgrades for the entry-level 2.0-litre GL petrol CX-5 are leather seats (RM2,900) and a navigation system (RM1,270).
Also, buyers will need to pay RM2,000 extra if they choose the three new premium colours, namely Soul Red Crystal, Machine Gray and Snow Flake Pearl White.
Soul Red Crystal is billed as having 20 per cent greater colour saturation and 50 per cent more depth than Soul Red, for a fresher, lustrous look.
The premium colours are said to have exceptional depth and lustre, due to Mazda's Takuminuri painting technology, which gives vehicles a precise high-quality finish that looks like it has been hand-sprayed by a master craftsman.
The new paint retains a simple three-layer structure comprising clear, translucent and reflective coats.
Non-premium colour choices for the CX-5 are Deep Crystal Blue, Sonic Silver, Meteor Grey, Jet Black and Arctic White.
The 2018 Mazda CX-5, featuring Mazda's KODO: Soul of Motion design language, has a new honeycomb-style grille, and slimmer front headlights.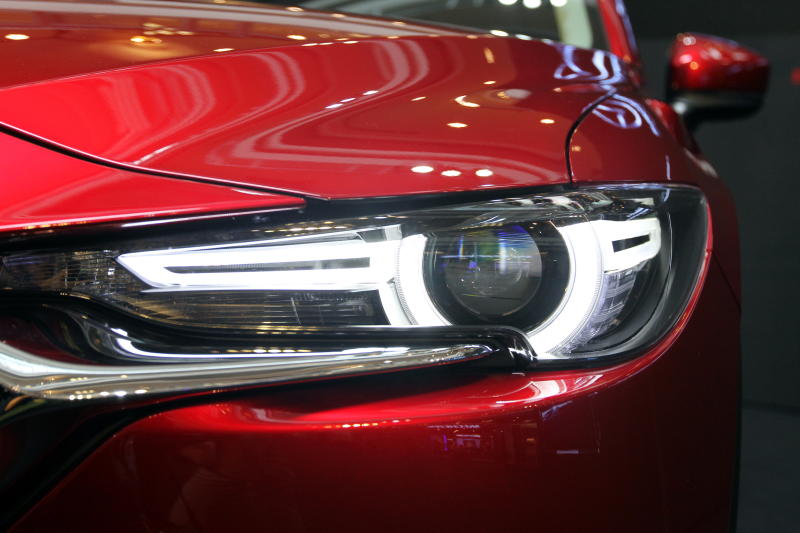 In the cabin, the 7-inch full colour touchscreen display for the MZD CONNECT Infotainment has been redesigned and repositioned to the top of the dashboard.
The interior has 85 per cent soft touch materials with genuine leather stitching, and wood and metal finish.
Standard on the new CX-5 is G-Vectoring Control technology which improves handling, stability and comfort.
Depending on variant, the CX-5 also has Mazda i-ActivSense safety features such as Adaptive LED Headlights, Adaptive Front-Lighting System, Smart City Brake System, Lane Departure Warning System, Blind Spot Monitoring, Rear Cross Traffic Alert and Driver Attention Alert.
Adaptive LED Headlights (ALH) which individually controls a number of LEDs to broaden visibility at low speeds, shape the high beam to help avoid dazzling other drivers and raise beam height at highway speeds to extend vision area.
Adaptive Front-Lighting System (AFS) whereby the headlights are specifically designed to help you see around corners at night. As the driver turns into a corner, the headlights pivot up to 15 degrees in the direction of the turn, improving visibility and allowing driver to spot potential hazards and dangers ahead.
Smart City Brake System (SCBS) monitors the vehicle in front or rear to access the likelihood of a collision. If a high risk is detected it issues visual and audio warnings, and primes the brakes for a faster response. If the driver doesn't brake, SCBS brakes automatically.
Lane Departure Warning System (LDWS) automatically senses lane marking on the road and alerts driver when it predicts the vehicle is going to unintentionally depart from its lane.
Blind Spot Monitoring (BSM) helps detect and alert when objects are in your left and right blind spots by activating a door mirror mounted warning light on the relevant side of the vehicle. If you then indicate prior to turning, the warning lights flashes with an audible alert bleep.
Rear Cross Traffic Alert (RCTA) will alert driver when it detects vehicles approaching from either side during reverse operation. Lane-Keep Assist System (LAS) adds to Lane Departure Warning System by performing minor steering corrections to re-centre the vehicle in its lane upon sensing an unintentional lane departure.
Driver Attention Alert (DAA) reduces accidents caused by inattentiveness due to driver fatigue. The system comes into play at speeds above 65km/h and begins to "learn" the driver's habits, watching inputs and the vehicle's movements in the early stages before fatigue becomes a factor.