Audi's first production electric vehicle has shown that the traditional German car maker has come of age with EV technology, catapulting it into an elite group of trendsetters.
While many traditional car makers have declared electric vehicles (EVs) as the ride of the future, they are still unable to deliver production models that offer range similar to their current fossil fuel-gulping mainstay.
Even those that had ventured into EV production could only deliver models which could at best offer driving range of some 200km before recharging is required.
This limited range has restricted these EVs to roles as novelty city cars without any hope of doing out-of-town trips.
Until now, it's only Tesla Inc, a technology rather than a traditional car maker, whose models come to mind for electric cars that offer useful driving range of some 400km per charge before the batteries run flat.
Just last month, German car maker Audi fired its opening shot in its entry into the EV market with the glitzy launch of e-tron, an all-wheel drive luxury sports utility vehicle in San Francisco.
As the gateway to the Silicon Valley, it makes sense for companies wishing to extol their success with cutting edge technology to use the City by the Bay as a launch pad.
Promising a meaningful driving range of some 400km per charge and supported by a growing network of fast chargers in the US and Europe, the e-tron and its upcoming siblings aim to fulfil Audi's dream in catching and leading the next automotive trend.
Featuring high capacity batteries of 95kWh and energy recuperation system that is 30% better than the competition, the e-tron will allay the range anxiety issue that made EV ownership unpopular to the masses.
Aside from having a long range, the five-seater e-tron can also be charged fast - from empty to 80% in 30 minutes using a 150kW rapid charger.
A standard charger of 11kW will take around 8.5 hours to fully charge the vehicle while an optional 22kW unit will get the job done in 4.5 hours.
Its lithium-ion batteries, together with two drive motors, are equipped with cooling systems to prevent heat build-up during sustained or spirited driving that would affect range and performance.
The batteries weigh 700kg and are located below the floor space of the car for better centre of gravity and space saving.
In normal mode, total system output is rated at 265kW/355hp and 561Nm of torque and the e-tron can do the 0-100kph dash in 6.6 seconds.
Switch on the Sport mode, system output is boosted briefly to 300kW/402hp and 664Nm of torque and a century sprint is completed in 5.7 seconds.
The Charge – world premiere of the Audi e-tron
Top speed is electronically-limited to 200kph for this first electric quattro all-wheel drive that Audi claims has better traction and grip over all terrain compared with current quattro-equipped Audi cars.
The face of e-tron gets a new interpretation of Audi's signature Nuvolari single frame grille with active slats that can close to improve aerodynamics when additional cooling is not needed.
Inside, the Belgium-made e-tron is luxuriously appointed with leather interior and seats.
The SUV also has a sporty feel with a driver-angled dashboard while smart connectivity with driver assistance systems, a large free-standing centre display and fully electronic instrument panel impart the high tech persona.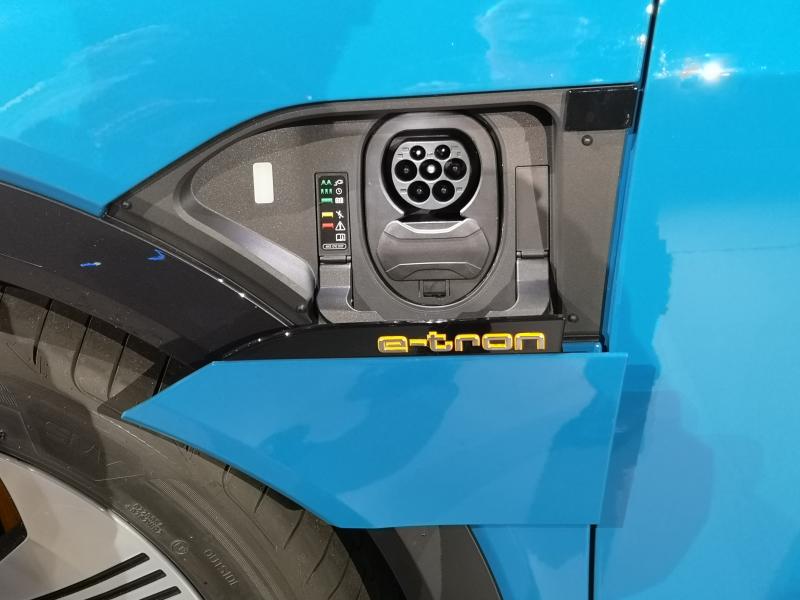 Aside from a roomy interior and generous rear legroom, luggage area is also spacious at 600 litres.
The e-tron also gets Audi's dynamic handling system with seven profiles, with electronic stability programmes with sport and off-road modes.
Its air suspension can raise the e-tron by 76mm from its base ground clearance of 172mm.
Audi also claims the e-tron has an outstanding Cd (drag co-eficient) of 0.28 for an SUV, thanks to a smooth body, an active grille system and an underbody panel with recesses like dimples on a golf ball.
Other innovations included the camera-operated Virtual Exterior Mirrors that are small with decreased wind resistance and noise.
The wing mirrors also reduce forward blindspots caused larger regular mirrors.
Images captured by the wing mirror cameras are projected on a seven-inch OLED screen on the front corner panel of both front doors.
Audi engineer Andreas Prucklmeier said OLED screen offers better contrast compared with normal mirrors.
Aside from zooming features, the view can also be adjusted to conditions such as highway driving, turning/lane changing and parking.
The Virtual Exterior Mirrors are available at an extra cost of 1,540 euros (RM7,389) in Europe.
As they are not allowed by American regulators, e-tron models sold in the US will feature conventional mirrors.
In the US, the e-tron is sold in three variants and priced from US$74,800 (RM309,955) to USS$86,700 (RM359,366). Prices exclude government incentives and subsidies.
In Europe, the e-tron starts from 79,900 euros (RM384,000).
Audi says the e-tron is the first of its new generation Q models designed to boost its market share on the SUV segment and overall vehicle sales.
The company is aiming to roll out 12 Q models by 2025 of which seven will be EVs and the five being internal combustion engine-type with hybrid tech.
As for its up-coming EVs, Audi will launch the e-tron Sportback next year and followed by the e-tron GT and a compact EV model in 2020.
It also promises a line-up of some 10 fully-electrified vehicle models by 2025.