The top three winners for 2019 are (front to back) Camry, XC40 and X70.
PETALING JAYA: The fourth edition of the CarSifu Editors' Choice Awards once again honoured the best cars launched in the past 12 months, and here, we highlight the reasons behind the selection of award winners.
A panel of CarSifu judges arrived at their conclusions after evaluating short-listed cars in key areas such as safety, performance, comfort, fuel economy, handling, styling as well as their individual "wow" factor.
This year's awards saw a major change with the replacement of a single "Car of the Year" winner by three "Car of the Year" winners based on geographic origins (namely Local, Asian and Continental Car of the Year).
This year, the awards presentation organised by Star Media Group was held at Hotel Istana, Kuala Lumpur.
Carlsberg was the official beer sponsor while the official tyre was Toyo Tires and Silverstone.
Local Car of the Year 2019Proton X70 Premium
Even before its official launch in Malaysia, the X70 was easily one of the most searched items on the Internet by Malaysians.
Now with its strong sales achievement, the X70 has not only proven itself as a popular SUV but has also restored Proton as a much desirable brand for Malaysians.
The top-of-the-line X70 Premium comes with value, styling, and convenience as well as safety features that are clearly ahead.
Asian Car of the Year 2019Toyota Camry 2.5V
Featuring a more sporty body styling and intelligent safety features, the Camry has not only set a new direction for its segment but also extended the Camry's nameplate appeal to a wider group of buyers.
Built using Toyota's New Global Architecture, the new Camry easily improves on the handling, ride and comfort levels of earlier generations.
Continental Car of the Year 2019Volvo XC40 T5
The XC40 T5 continues the resurgence of the Volvo brand in Malaysia with a model that is exciting and trendy.
Its compact dimension makes it suitable for urban motoring, while its combination of a powerful engine, premium appointments, and smart and safety features results in a compact luxury vehicle that will appeal to a wider audience.
Best Compact Hatch (below RM70K)Proton Iriz Premium
The Proton Iriz Premium has undergone design changes to make it even more attractive with full-width chrome strip known as the "Ethereal Bow" and Infinite Weave pattern on the front fascia.
The rear features a gloss black strip with the Proton lettering and a larger diffuser for the rear bumper.
The Iriz Premium comes with a 1.6-litre engine that offers 109PS and 150Nm of torque and improved CVT transmission.
It also has new 15-inch two-tone alloy wheels and a black roof, 4G connectivity, voice control and is competitively priced than the previous generation.
Best Compact Sedan (below RM70K)Proton Saga Premium
With a price of just below RM40,000, the Saga Premium certainly gives a lot of bang for the bucks.
In addition to a spacious trunk, the Saga Premium also gets an infotainment system with a large 7.0-inch touchscreen with 16GB of internal storage, smartphone connectivity and three USB ports.
Its safety features are also impressive, among them are a reverse camera, electronic stability control, traction control, hill-hold assist and front parking sensors.
Best Compact Car (above RM70K)Toyota Yaris 1.5G
The new Toyota Yaris 1.5G hatchback comes with the 1.5-litre Dual VVT-i engine with 107PS and 140Nm of torque and is paired to a CVT automatic transmission.
The Yaris shares the same powertrain as the Vios and almost the same dimensions except the Yaris' length is shorter by 280mm, giving it a trendier appearance.
The 1.5G variant adds on rear disc brakes, chrome outer door handles, an Optitron meter panel with 4.3-inch TFT multi-info display and safety features such as Blind Spot Monitor with Rear Cross-Traffic Alert.
Most Fun Car (1.0L – 1.3L)Kia Picanto GT-Line
Kia jazzes up the Picanto with a GT Line variant that adds premium bits such as Autonomous Emergency Braking and a sunroof for such a tiny car.
The RM58K also buys two-tone leather seats, cruise control and automatic air conditioning.
All these are eye candy, what will truly surprise is the riotous driving dynamics that this brash little car offers. It will put a big smile on your face.
Best Mid-size Performance HatchRenault Megane R.S. 280 Cup
Unlike the earlier generations sold in Malaysia, the Megane R.S. 280 Cup now comes with five doors instead of three previously, adding entry and exit convenience for rear passengers.
Featuring an aggressive persona enhanced by Renault Sport, the Megane 280 is equipped with a new 1.8-litre direct injection, twin-scroll turbocharged block that delivers 280PS and 390Nm of torque for a 0-100kph dash in 5.8 seconds.
Its 4Control four-wheel steering system, the first-of-its-kind for C-segment vehicles, ensures breath-taking cornering agility as well as impressive stability at high speeds.
Best Mid-size CarMazda3 2.0 Sedan High Plus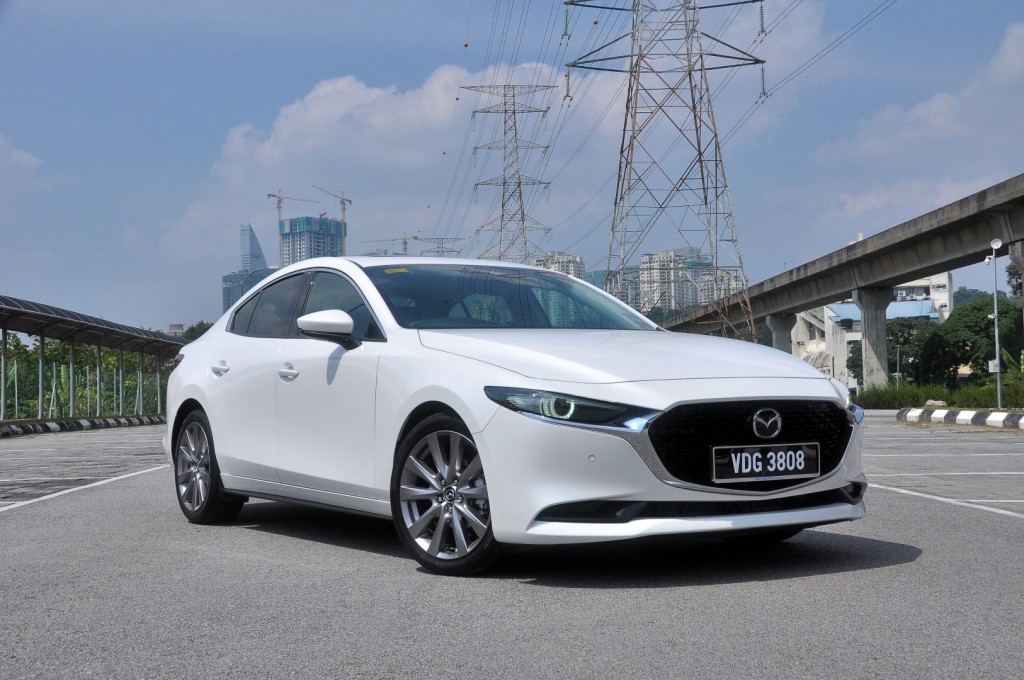 Sculpted in design and dynamic in its drive, the Mazda3 2.0 Sedan High Plus has reset the standard in its segment to become one of the most contemporary sedans right now with its safety equipment, connectivity, comfort as well as driveability, which appeals to both everyday drivers and purists alike.
Best Large-size CarToyota Camry 2.5V
The eighth-generation Camry delivers highly on the luxury quotient as well as improved ride and handling, as it was built using Toyota's New Global Architecture.
It impresses with its sleek and sporty looks, a well-designed premium leather-clad interior and top-notch convenience and safety features.
Best Small-size Luxury CarBMW 330i
Offered with the M Sport package that includes the 18-inch Double Spoke Style Orbit Grey light-alloy wheel, the 330i cuts a dynamic appearance with its new body styling that exudes energy and poise.
In addition to a powerful 2.0-litre turbocharged engine that delivers 258hp and 400Nm of torque, the 330i also gets a suite of smart convenience features, large digital displays and BMW's first-ever lift-related dampers that continuously function to the changing spring travel to cancel out vibrations that occur when going over rough surfaces.
Best Mid-size Luxury Executive CarVolvo S90 T5
Along comes the Scandinavian underdog that works hard at re-interpreting luxury on its own terms.
It pays off for Volvo, with a rich ensemble that comes with a spacious interior and quiet ride.
Its full suite of active safety and driver-assist systems such as City Safety and Adaptive Cruise Control, among others, makes the S90 T5 one of the safest cars on the road.
Best Compact SUVPerodua Aruz AV
The Perodua Aruz does well within its budget segment stretching to close the gap with the Toyota Rush through amenities and advanced safety features that are impressive at its price point.
MORE > GO TO PAGE 2 of 3