Compact SUVs are all the rage these days and most automakers have jumped on board this lucrative segment, offering consumers an alternative when they want something between a sedan and a full-size sports utility vehicle (SUV).
If you are looking for a compact SUV that is stylish, comfortable, practical and with a feature-set of modern amenities that is a must-have, then look no further than the Renault Captur.
The car won the Best Design of the Year category of CarSifu's Editors' Choice Awards 2016, thanks to fresh and yet bold looks brought upon by stunning curves that will make it an instant hit for those seeking a trendy vehicle.
It already has made an impact with its audience at home and in Europe; as of 2015 the Captur is Europe's top-selling compact SUV and one of Renault's most in-demand models, with over 500,000 units sold globally.
The chic Captur is now available at the price of RM117,200 (on-the-road inclusive of GST, without insurance, for Peninsular Malaysia and private registration).
Besides its good looks, the Captur is compact on the outside, but spacious and versatile on the inside.
Its 2,606mm wheelbase offers very decent legroom, and rear headroom is more than adequate.
These attributes, combined with its expressive styling, high driving position and substantial ground clearance, make the Captur particularly suited for today's modern urban drivers who increasingly seek safe and efficient vehicles that can complement their active lifestyles.
It is well-equipped with conveniences such as automatic headlights and rain sensors for the wipers, a reverse camera, and seven-inch touchscreen with AUX, USB, Bluetooth and navigation functions.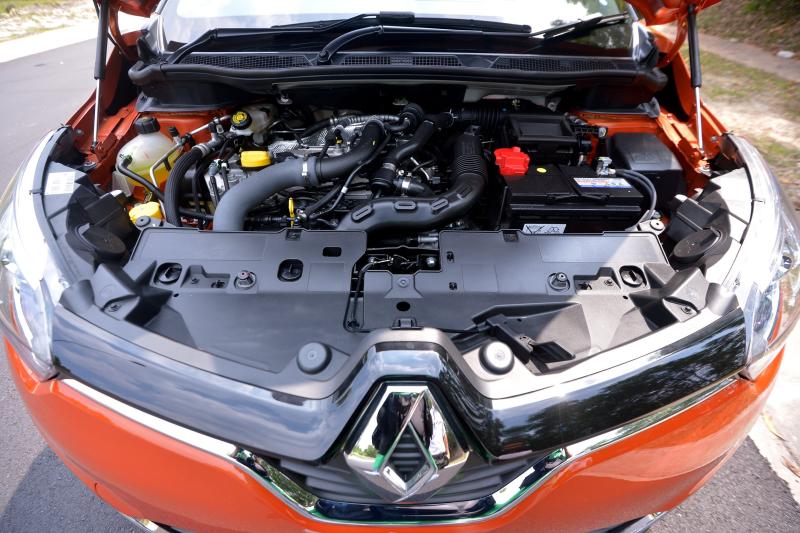 The Captur is powered by the new 1.2L turbocharged TCe 120 engine, mated to a six-speed Efficient Dual Clutch (EDC) transmission, which not only delivers performance equivalent to a traditional 1.8L engine but also enables powerful acceleration from low revs.
This crossover also offers best-in-class fuel efficiency of up to 5.4L/100km.
Renault has paid a lot of attention to detail in the cabin.
Refinements include attractive two-toned seat covers with stylish stitching that are also removable for easy washing, reversible boot floors with carpeting on one side and plastic on the other as well as the sliding and foldable bench seat, which splits 1/3-2/3 for increased boot space.
The Captur also offers four in-vogue two-toned exterior colours which make it stand apart from the crowd.
The four colour combinations are: Arizona Orange (body)/Diamond Black (roof); Pacific Blue (body)/Ivory (roof); Beige/Diamond Black (roof); Ivory (body)/Diamond Black (roof).
It also comes with a five-year unlimited mileage manufacturer's warranty which is fully backed by Renault for ease of ownership.