It may surprise you to know that South Africa is home to a huge number of BMW M fans. More importantly, they also buy plenty of M cars, making the country easily among the top five markets for BMW's sportiest products.
Globally, BMW M GmbH sold a record 102,780 cars in 2018, an increase of 27.2 percent over the previous year with the top sellers being the M2 and X3 M40i.
South Africans' appetite for sports cars is so great that BMW has set up an M showroom in Pretoria in 2016 to meet the demand with more planned across the country.
It's no surprise that BMW wants to leverage on that strength and expand its market share with a wrapper event called BMW M Festival, a platform that brings together its M fan base for a schmooze fest over an October weekend. Such an event also takes place in Germany, Japan, China and Canada.
The first M festival in 2017 brought in nearly 20,000 visitors; this year's could attract over 30,000, BMW South Africa managing director Tim Abbott told members of the international media on the eve of the Oct 26-27 festival.
Cars on display and for the drives at the Kyalami Grand Prix Circuit in Johannesburg were not altogether pure M cars though.
A selection of M Performance cars — one class below the tricked-out Ms — were present as well. Some of the classics had been rolled out to showcase the heritage of the BMW brand such as the M1 supercar, the 325iS and a fully restored
530 MLE
that was the precursor to the M5.
The M division also works its magic on motorcycles and the first of several to come is the M-specced S1000RR that was on display.
For visitors in the mood to buy, a massive pop-up dealership had sprung up over the two days selling M models as well as the standard series Bimmers that included all the X-series at one end of the circuit's convention hall.
Cars are offered at below retail prices during this period. Some of them such as the M2, M3 and X4 M already had "Sold" signs on the first day of the fest. Imagine buying an M3 with 313,000 rand (RM88,000) knocked off from its original 1.49 million rand (RM421,000) price tag.
M Town reveals
The entire circuit was cast in the M Town motif that cheekily declared it's a place "where too much is just right". It's a physical manifestation of a virtual community that BMW created for M owners in 2018 that has spawned an M Town taxi, police car and army car, among many other distinctive features. A makeshift jailhouse was set up for laughs. M Town is here to stay as evidenced by a permanent M Town exhibit recently set up at BMW Welt in Munich.
Adding to the buzz was the South African premiere of six M and M Performance models namely the X3 M Competition, X4 M Competition, M340i xDrive, 8 Series Gran Coupe, X6 and 1 Series. Topping it off was a sneak preview of the
M8 Competition Gran Coupe
ahead of its world debut at the Los Angeles Auto Show later this month.
It wasn't only the latest cars that drew the crowd. Many flocked to watch and admire classics that were entered in competition by their owners at the Gauteng BMW Car Club Concours, an event held alongside the M Festival.
This event has been organised for over 33 years and is said to be the greatest annual South African celebration of BMW heritage. Entrant's vehicles were prepared for up to four months prior to the event and then judged on their condition, authenticity, preparation and presentation.
Highlights for visitors included the chance to book test drives, hot laps with professional drivers, enjoy gourmet food trucks, stalls and drinks, live music by some of South Africa's renowned DJs and artistes, a children's play area and shopping at the BMW Lifestyle merchandise shop.
BMW works driver, Sheldon van der Linde, also made a special appearance at the event and offered visitors hot laps in his Shell BMW M4 DTM car around the circuit. Van der Linde, 20, is the first South African to compete in the DTM or Deutsche Tourenwagen Masters series.
Overall, the M Festival caters as much to petrol heads as it does to families seeking to spend an exciting weekend in the Joburg area of Midrand.
BMW M president Markus Flasch came to town and gave some insight on where M was going. He said there would not be an M-branded 1 Series in the front-drive centric model and that the M2 was an ideal starting base into the M world (update: a more powerful
M2 CS
has just been leaked). A 6-speed manual transmission would continue to be offered as an enthusiast option to customers of the M2, M3 and M4.
M is also exploring all forms of electrification whether it's 48-volt systems, full hybrids or battery-electric vehicles.  Flasch, however, declined to reveal a timeframe to roll out the first electrified M car.
Over the course of two days prior to the fest, we experienced offroading in the diesel X3, an M track drive and the first drive of the new 1 Series.
The third-generation M135i will replace the outgoing 118i sold in Malaysia and is due to arrive in the first half of 2020. We had the chance to drive the hatchback on the open road around Johannesburg, and will give our feedback after the
Malaysian launch
 (the
X1 sDrive18i
debuted alongside the 1 Series).
Offroading
The BMW X-drive Park is a separate location, about 10 mins drive time from the Kyalami circuit. It's where BMW SUV customers are shown how to exploit the potential of their vehicles when tarmac gives way to dirt trails.
Due to water restrictions imposed in Johannesburg, a water obstacle was off the menu.
Any motoring writer who has been exposed to offroading exercises offered by various car makers would find the format familiar whether the vehicle is an SUV or pick-up truck. Climb hills, do a controlled descent, cross a log-straddled gully, trundle over rocky terrain, do a banking manoeuvre (29 degrees in this case) and speed across a sandy stretch.
With the chief instructor's reminder to "go slow and go only as fast as it's necessary", we went offroading on a blazing day.
At every obstacle, there were instructors on the ground to brief and guide the driver through.
The X3 xDrive30d was more than up to the task with a frugal yet punchy engine that doles up dollops of low-end torque to surmount the obstacles. With a 3-litre turbo diesel motor making 262hp and 620Nm of torque, it was frankly a "walk in the park".
In terms of size, the X3 is bigger than the first-gen X5, so interior space has increased to sit 5 people comfortably.
The X3 adapts to surface conditions and traction needs by splitting torque dynamically between both axles, resulting in a vehicle that is surefooted.
Our favourite obstacle course was the run across deep piles of sand. With DSC off, Launch Control set and with first gear in manual mode, we barrelled through the stretch, making sure to keep the engine speed above 2,000rpm.
The X3 lunged forward, and mounds of sand were flung into the air as the wheels spinned furiously. The SUV slipped sideways on a few occasions but it was predictable; a steering correction and keeping the speed up were enough to get us pass this stage.
Track drives
Five models were made available namely X3 M, X4 M, M2, M5 and M340i, with the first three in Competition guise.
Due to the limited time allocated, we managed to sample only the X3 M, X4 M and M340i sedan, enough to get a flavour of what today's M cars could do.
All three are powered by a straight-six 3.0-litre petrol engine and are all-wheel drive.
Both the SUVs are motivated by the newly developed S58 engine, which is the high performance version of the B58 engine found in the M340i.
The X3 M Comp and X4 M Comp use a high-revving engine with M twin turbos that makes 510hp and 600Nm of torque. Both achieve the 0-100kph in a snappy 4.1s.
Meanwhile, the M340i engine setup is different, using a single turbo to deliver a more modest 374hp and 500Nm of torque. It dashes to 100kph in 4.4s.
All three vehicles are a hoot to drive and beautifully appointed to showcase their sporty character. Chassis, suspension and engines have undergone varying levels of M tuning so that comes clearly through the tiller especially in tight corners.
The impressive responsiveness of the M340i and its steering feedback is a foretaste of the upcoming M3 due out in 2021.
In our scenario, the real M drive was with the hefty SUVs. The vehicles conveyed a sports sedan-like ride with taut body control despite their higher ground clearance.
Both offer more power than you really need and corners are attacked with relish while maintaining high levels of grip. Some understeer is inevitable when cornering too aggressively but you can easily nudge both back in line.
If we had to choose which M vehicles to go for, it would be the X4 M Comp for its visually dramatic styling that we think is more in tune with the spirit of M. Never mind its limited practicality when compared  with the X3 M Comp.
Summary
One can never have too much of a good thing. The BMW M Festival delivers speed and power in spades, leaving one to wonder if it could get any more indulgent than this. Time will tell.
BMW M Festival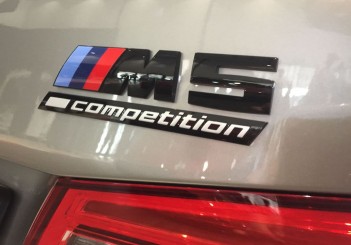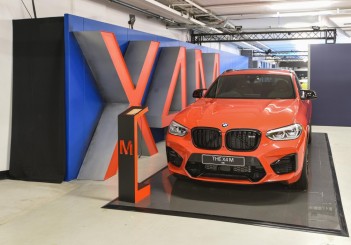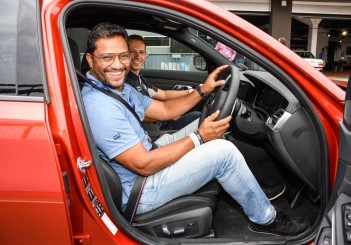 BMW X-drive Park